25 Best North Shore, MN Stops You Don't Know About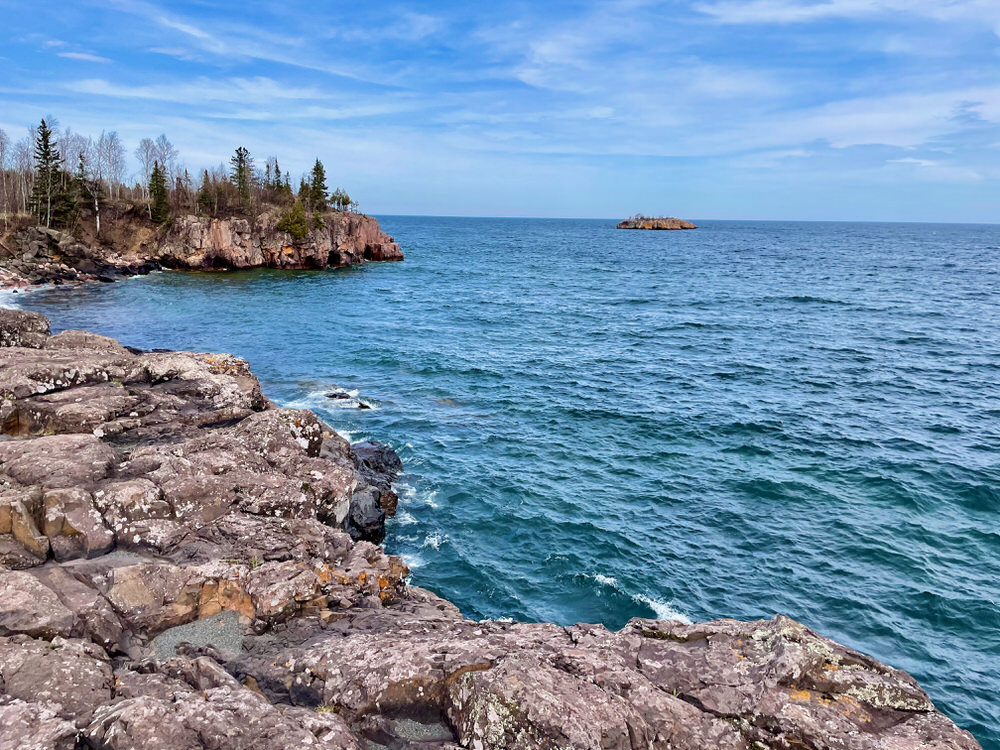 Best to Things to Do on Minnesota's North Shore: A Local's Guide
There's no reason to do the same tired things on your next road trip up Minnesota's North Shore.
The 150-mile stretch of Lake Superior shoreline from Duluth to the Canadian border offers so much more than state parks and waterfalls. As someone who's spent her entire life driving up and down Lake Superior's North Shore I've rounded up all my very favorite stops along the stunningly scenic Highway 61.
While I hesitate to call these North Shore hidden gems, the truth is that many of these activities are hiding in plain sight. For whatever reason, they just don't get the same love as other northern Minnesota destinations. Read on for a deep dive into the North Shore's best: from coffee and pie to beaches and hikes. Northeastern Minnesota has so much to offer. Get ready to explore this special region beyond Canal Park and Lutsen Mountains.
Pin now for your next North Shore, MN road trip! 
Essential Road Trip Stops on a North Shore, MN Road Trip
1. Old Highway 61 – North Shore Scenic Drive
Sure you can whiz up the freeway between Duluth and Two Harbors, but you'll miss so much.
Unless you're pressed for time, you definitely wanted to take the North Shore Scenic Drive (Old Highway 61) from Duluth to Two Harbors. The road runs right beside Lake Superior and on the third Saturday of June serves as the Grandma's Marathon course. Along the drive you'll pass impressive lakeside homes and several resorts, including Larsmont. Favorite stops include the New Scenic Café, Russ Kendall's Smoke House, Great! Lakes Candy Kitchen, and Scandinavian Gifts. Don't forget to grab a coffee at the Mocha Moose.
2. Cedar Coffee Company
Cedar Coffee Company just might be the North Shore's best coffee shop you've never heard of.
Located just north of Two Harbor's Super One grocery store, this café offers specialty coffee drinks as well as a full breakfast and lunch menu. Enjoy your drink at a picnic table nestled in the surrounding cedar grove. The shop includes a selection of items from local artists and Duluth Coffee Company beans. If you happen to be biking on the North Shore's Gitchi-Gami State Trail, you can rent a bike from Spokengear next door. 
3. Castle Danger Brewery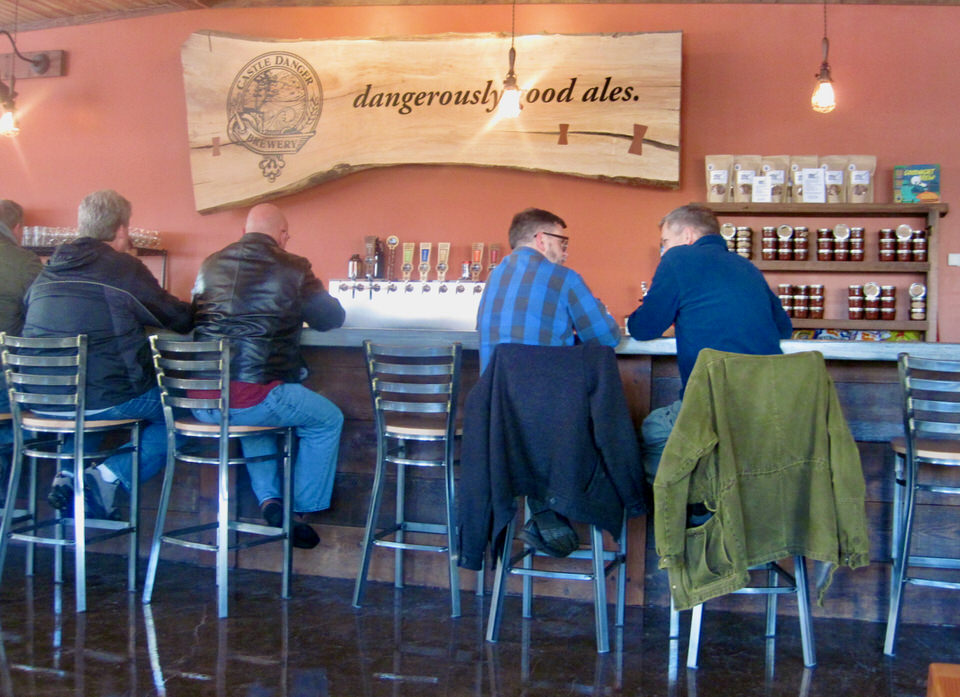 What started in a garage in 2011 is now the North Shore's best craft brewery. Castle Danger brews a fantastic selection of beers. Although they're best known for their Cream Ale, as an IPA lover, they've never done me wrong. Definitely try their Mosaic IPA if it's in season. If you're lucky to be soaking up sun on their large patio or lawn, try their take on a shandy: Summer Crush. You better bet I'm swinging by for a growler every time I pass by. 
4. Rustic Inn Cafe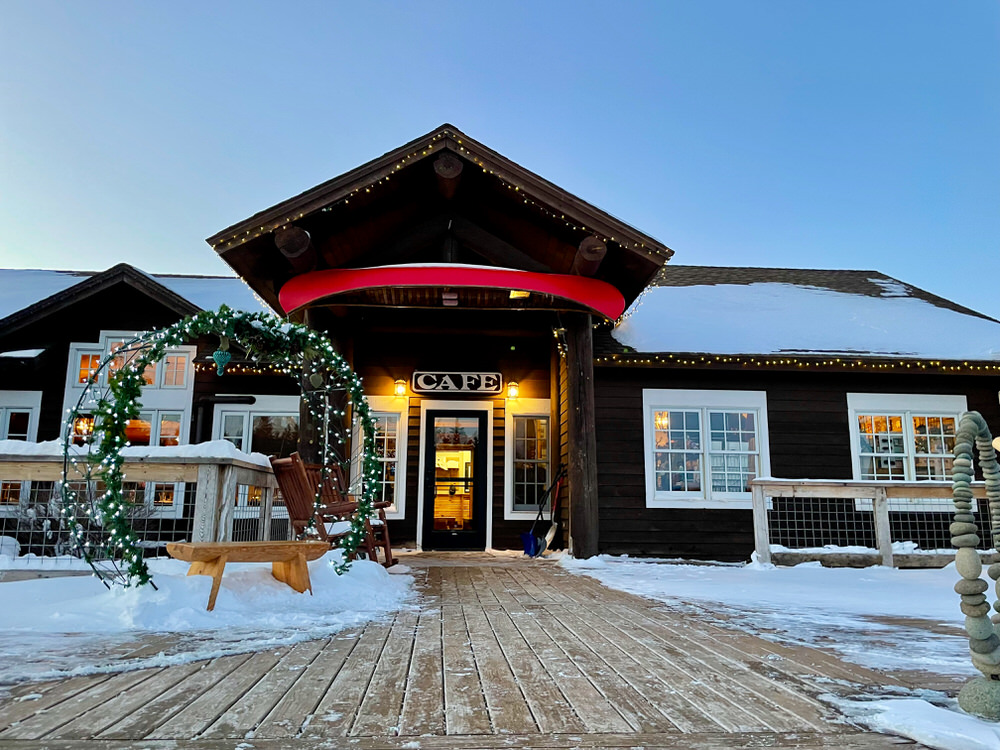 Not to throw shade on another famous North Shore stop, but please skip the very large, very obvious pie shop just north of Two Harbors. Instead, set your cruise control and continue on until you reach the Rustic Inn Cafe.
Although the café has significantly outgrown the little 1920s cabin it started in, the restaurant retains a cozy, Northwoods feel. A homey menu full of Minnesota comfort foods serves up favorites like wild rice meatloaf, walleye cakes, and burgers.
However, the true stars of the Rustic Inn menu are their amazing homemade (yes, as in made from scratch) pies. If you're a raspberry lover like me, definitely try their raspberry cream pie. They also have a large gift shop and a great selection of chocolates.
5. Iona's Beach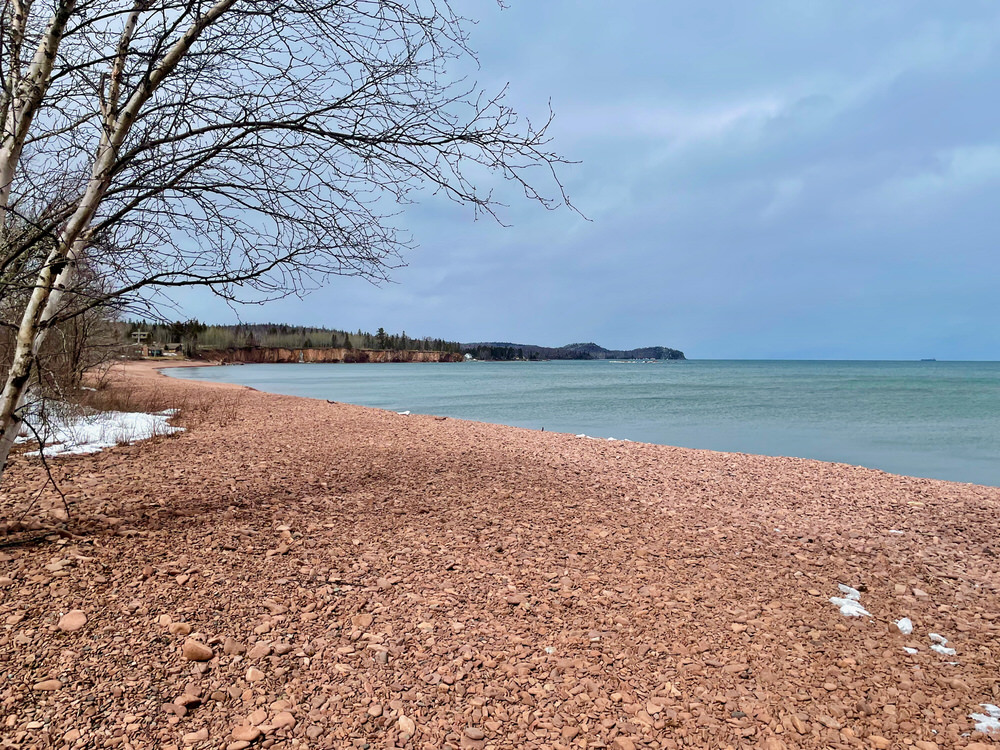 Love the color pink? Then Iona's Beach of smooth, pink rocks, is the Lake Superior beach for you. These unique rocks come from wind and waves breaking off chunks from the pink cliffs visible on the eastern edge of the beach's bay. 
Designated as Scientific and Natural Area (SNA) by the Minnesota DNR, you can't really do much at Iona's Beach other than walk and enjoy the sights. Do keep your ears peeled during your visit. The beach makes a unique tinkling noise as Lake Superior laps the shoreline. However, the SNA designation means no picnics, camping, rock skipping, and absolutely no rock picking!
Iona's Beach sits adjacent to a Lake Superior marina. A short hike from the large parking area shoots you right out onto the beach. You'll find a small cove just west of the Iona's Beach informational kiosk. This area isn't in the SNA, so if you want a lakeside picnic, check it out!
6. Black Beach

Another unique North Shore beach, this beach can "thank" the nearby taconite plant for its beautiful black sand. For decades, the plant dumped their taconite tailings (by-product) straight into the lake. As you might suspect, that's definitely not good for water quality. However those tailings didn't go far. In fact, most of them washed up just one cove over. 
In 2015, the City of Silver Bay assumed ownership of this small beach and turned it into a true destination. Now you'll find picnic benches, toilets, and ample parking. There's even a nearby campground and mini golf course. The black sand really showcases the beautiful basalt rocks that frame the beach and you get a great view of the west side of Palisade Head.
7. Shovel Point
If you're looking at a photo of the North Shore and it's not a photo of Split Rock Lighthouse, chances are, you're looking at Shovel Point. Reach this dramatic spit of land via an easy .6 mile (one way) hike in Tettegouche State Park. The trail starts right behind the Visitor Center. While Shovel Point makes an especially beautiful winter destination, you can visit year-round for a great view of Palisade Head and the Lake Superior shoreline.
8. Wolf Ridge Environmental Learning Center
Neither a nature center nor a wolf center, Wolf Ridge rests high on a hill in some of the most interesting terrain on the Minnesota section of Lake Superior's North Shore. As a learning center, Wolf Ridge serves large school groups during the school year and also operates a summer camp. In short, this center isn't designed for drop-in visitors. Don't randomly swing by and expect a tour of their extensive facilities, which include a climbing wall and ropes course.
However, the public is welcome to use the campus's 18-mile network of hiking and ski trails. Just please check in with the front office so they know you're out and about. You can access a couple lakes and some beautiful vistas via the trails. Also watch for Wolf Ridge's public events like drop-in bird banding events on summer weekends.
9. Sugarloaf Cove
Another Minnesota DNR Scientific and Natural Area, Sugarloaf Cove offers an easy hike and great beach access. In the summer, visit their nature center for area information and special events. There's a small fee to park and explore. Learn more in my full write-up of Sugarloaf Cove.
10. Schroeder Baking Company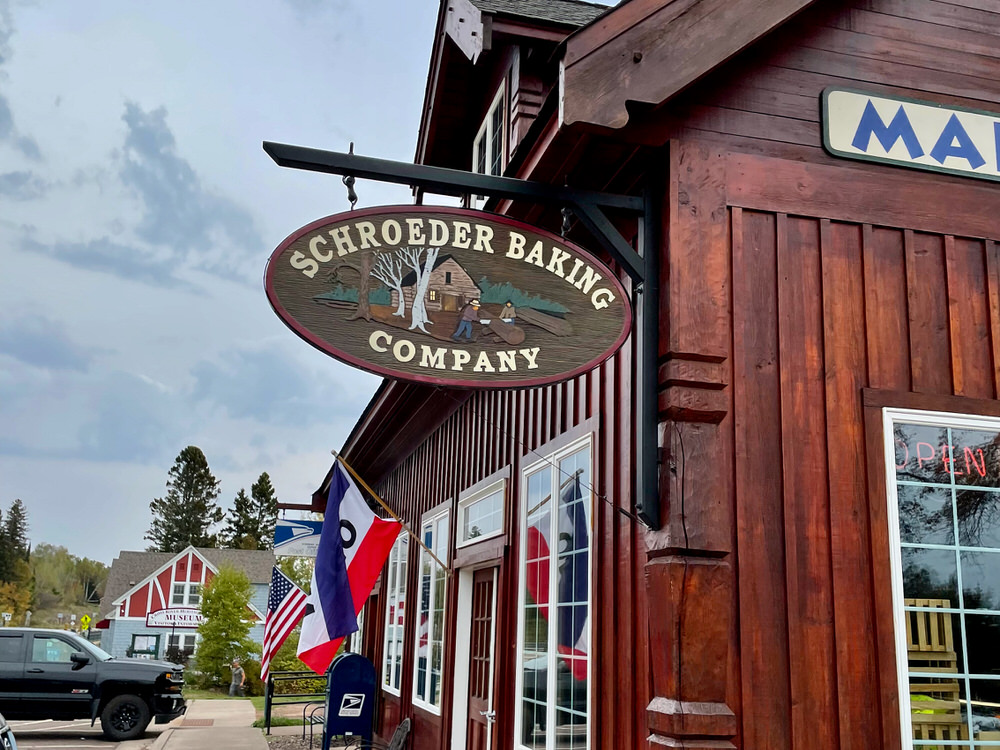 Located right in the same building as the Schroeder Post Office, Schroeder Baking Company makes a perfect road trip pitstop. Swing in to for coffee, pastries, malts, or sandwiches. After you've shot the breeze with the locals drinking coffee, you can enjoy your treats on the picnic benches scattered about the lawn. Otherwise, stroll to the nearby highway bridge for an up close view of Cross River Falls. You can also swing into Cross River Heritage Center next door.
Just be warned, this seasonal business only operates from May – October.
11. Father Baraga's Cross
This peaceful spot at the mouth of the Cross River features a picnic area and beach as well as large granite cross. The cross stands where Catholic priest Father Baraga erected a smaller wooden cross in 1846. He'd been attempting to sail across Lake Superior from Madeline Island to Grand Portage where he hoped to help with an epidemic. An unexpected storm blew his small boat off course and washed him and his bedraggled shipmates into a sandbar at the river's mouth. To express their thanksgiving for their safety, they erected the original cross. Since then, the river is known as "Cross River." In the spring or fall, you might see people fishing for coaster brook trout in the river's mouth.
12. Onion River (Ray Berglund Wayside Rest and Recreation Area)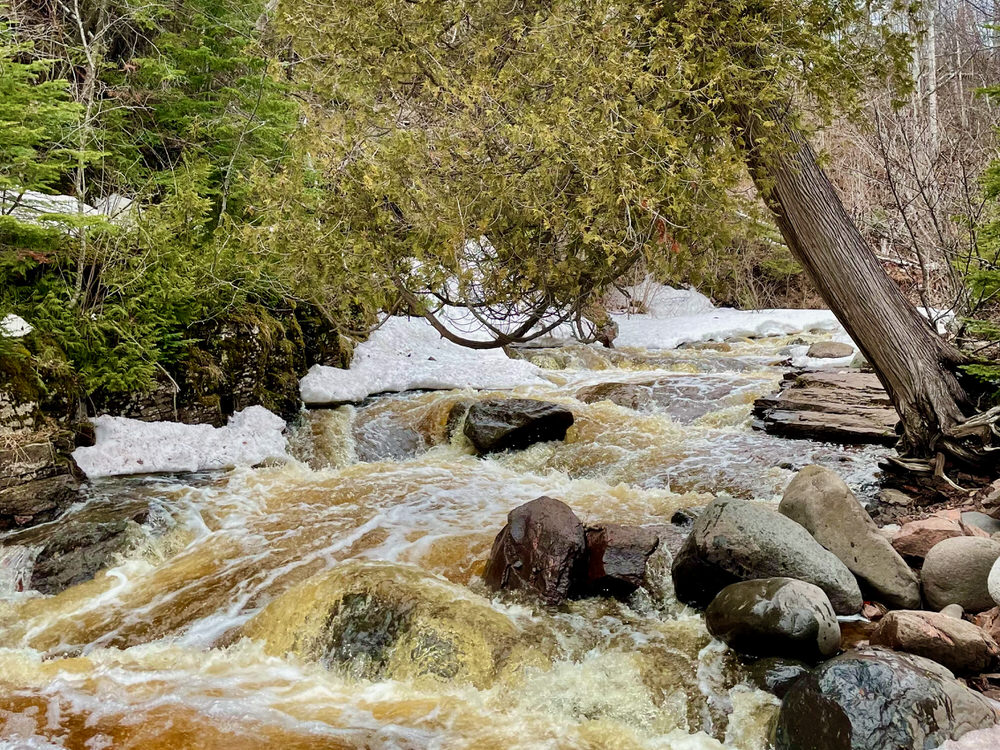 This small wayside rest on the north side of the highway looks pretty uninspiring. But head up the steep staircase near the pit toilets and you'll find a small picnic area and short .7 mile hike along the Onion River. Only a couple tenths of a mile up the trail, you'll reach a large waterfall that's completely hidden from the highway. If you want to do some biking, you can also access the Gitchi-Gami State Trail here.
13. Oberg Mountain
Photo by Lorie Shaull
It's no Bean and Bear Lake when it comes to Instagram love, but Oberg Mountain is another Superior Hiking Trail spur trail with gorgeous North Shore views. The overlook of little Oberg Lake on the mountain's north side is especially "Instagram-able." This easy 2.3 mile hike starts with a fairly steep ascent that levels out as it loops around the mountain. While this trail can be enjoyed year-round, it reaches peak popularity in the fall. The trail's nine overlooks provides ample opportunity to "oooh" and "aaah" over Lake Superior and the surrounding forest.
Find the Oberg Mountain trailhead about 2 miles up the Onion River Road (U.S. Forest Road 336). The hike starts on the far eastern end of a large parking lot. You can also access a 3.2 mile loop around LeVeaux Mountain on the opposite (west) end of the parking lot. 
14. North Shore Winery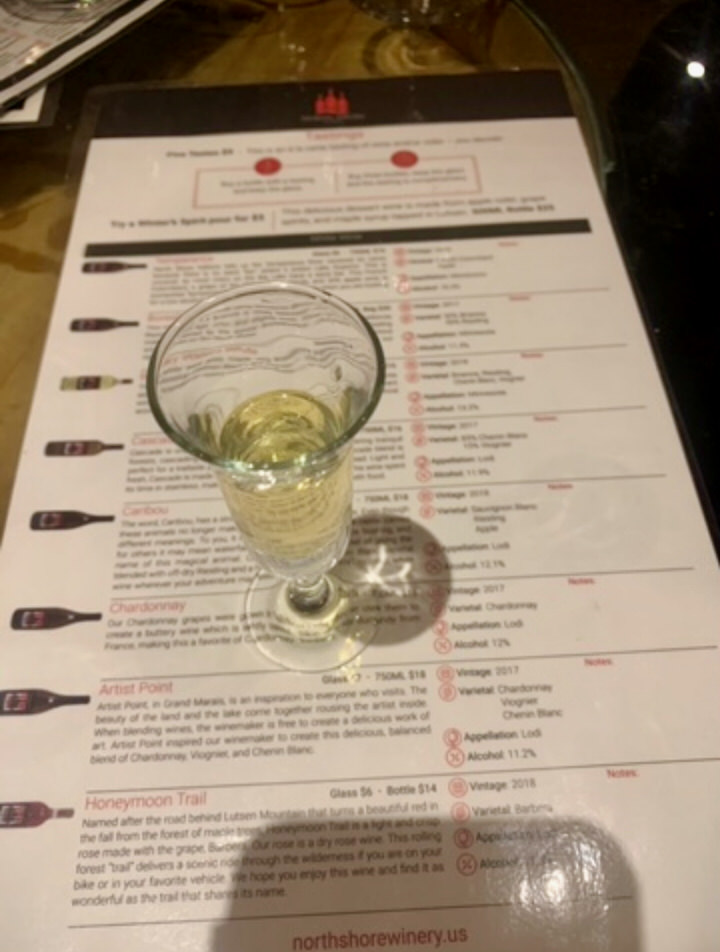 What did we do before the North Shore Winery?
Located at the base of Lusten Mountains' ski hill, this is the perfect place to relax whether you're coming "apres ski" or having a girls' weekend. Sit indoors or out year-round. In winter, bonfires keep the chill off if you opt for wine al fresco. If, like me, you're not much of a wine drinker, they also make several excellent ciders. Check their event schedule before you visit. They often host pop-up shops, paint nights, and live music. Frequently you'll find a food truck parked in front.
15. Fika Coffee / Clearview General Store
This sweet Scandinavian-inspired coffee shop is so cute I can barely stand it. Although they offer very little seating, this small shop is the perfect distance from my Gunflint Trail home to grab a coffee for the road whenever I'm headed down the Shore. I almost always get their 740 Estate drink. This delicious espresso, oat milk, cardamom syrup concoction makes my non-dairy loving heart (and stomach) sing! Purchase Fika coffee beans (roasted in house) either at the shop or in area grocery stores. Be sure to peruse their carefully branded merch too.
16. The North Country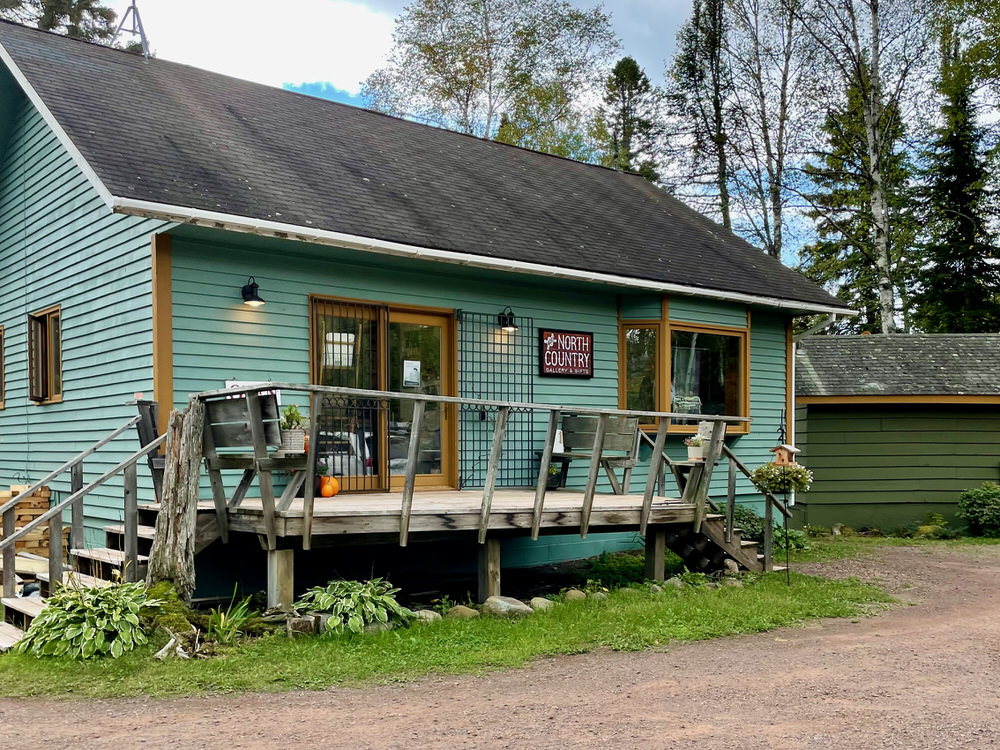 It's easy to whiz past this charming gift shop. Plan ahead and punch its address into your GPS to make sure you don't miss it on a straight stretch of highway set back from Lake Superior. A small art gallery located in a little cottage, The North Country features the art of several local artists. In addition to art, they stock a great selection of cunning gifts including candles, stickers, housewares, and much more. Most of their items draw inspiration from nature . . . with a modern feminist slant.
17. Cascade River State Park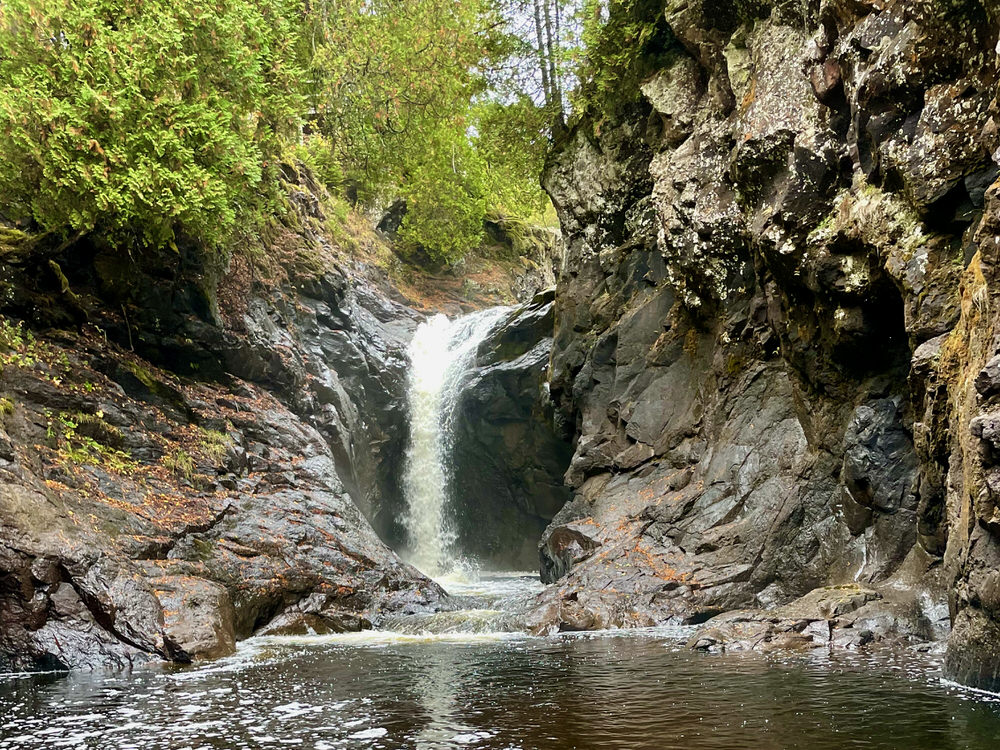 With the exception of George Crosby Manitou, Cascade gets the least amount of love of the North Shore's eight state parks. As the name implies, the Cascade River is composed of a series of dramatic waterfalls. You can actually see the first waterfall right from the highway bridge.
Known as the root beer river because of its dark brown color and foamy consistency, you can access a trail right from the highway pull-off for an easy .5 mile hike that takes you up the west side of the river, across a bridge, and back down the east side. If you're up for a seven-mile hike, you can do a much longer version of this same hike. The park's hiking trails connect with the long-distance Superior Hiking Trail. You'll find a great picnic area near the lake. The park also offers overnight camping.
18. Rosebush Falls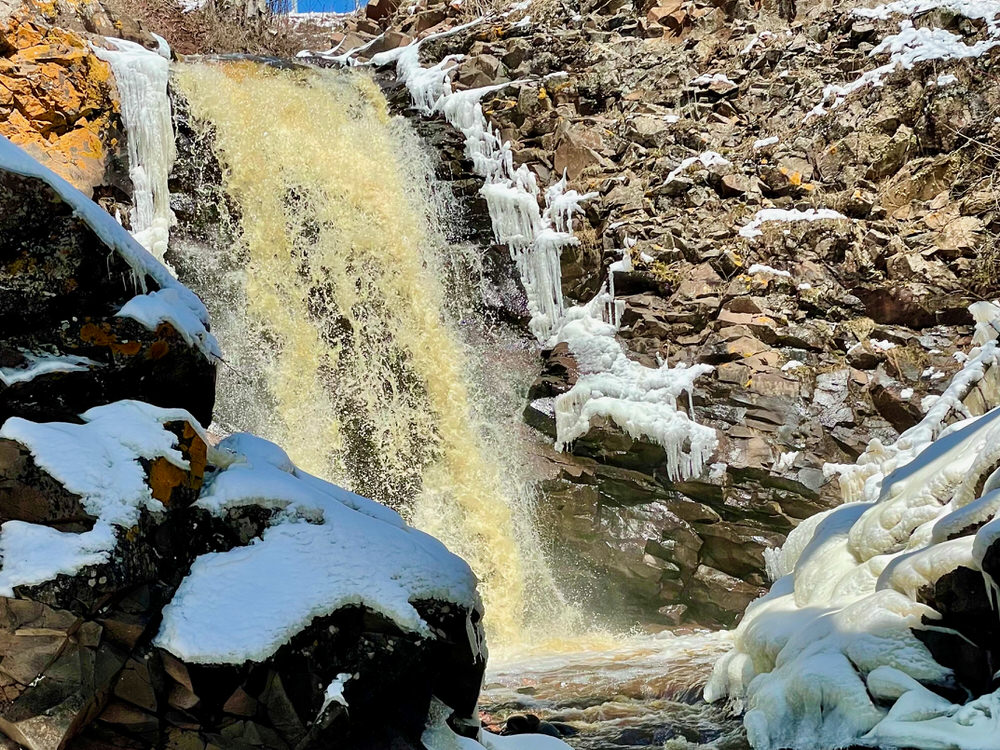 This waterfall might not be as magnificent as Gooseberry or other well-known North Shore waterfalls, but it's still my favorite. Recently, with the competition of the newest section of Gitchi-Gami State Trail, this charming waterfall has seen a surge in popularity. To access, you park on the wide shoulder of Highway 61 about .1 miles north of the Fall River bridge and jump on the bike path. For a real hike, park at the Cut Face Wayside Rest. It's an easy three-mile round trip walk on the paved path to reach the bridge spanning Rosebush Creek/Fall River. While the waterfall is fun, don't forget to hop on one of the user-developed paths to get down to the beach.
19. Grand Marais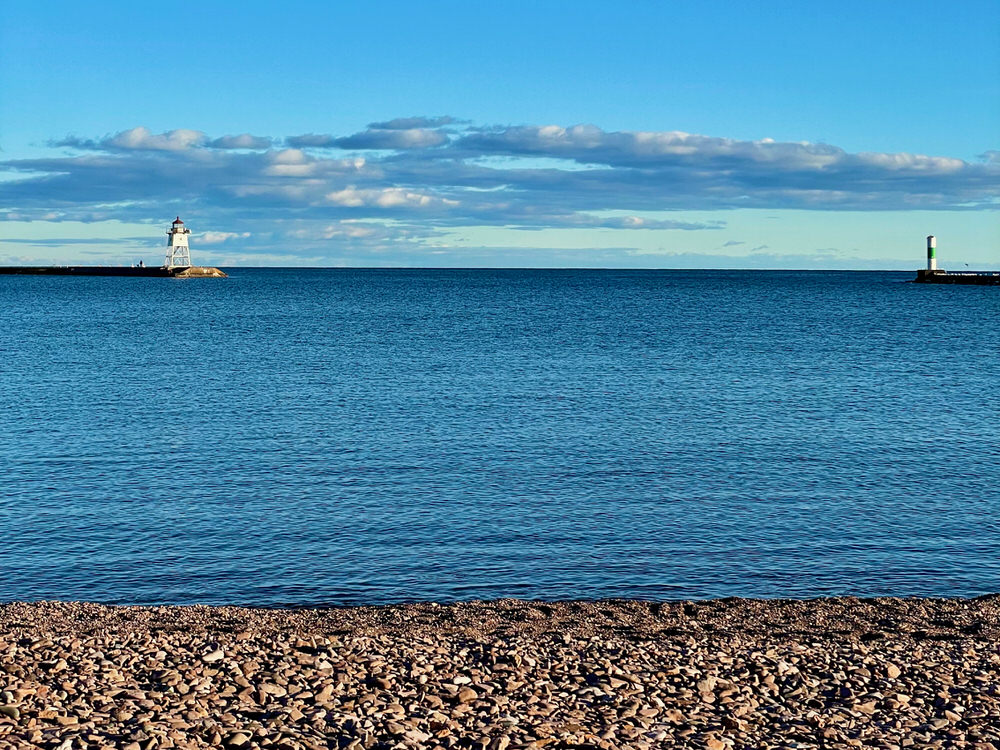 This is my hometown and I'm not going to play favorites. Check out my complete Grand Marais guide for inspiration on how to spend a day in this quaint harbor village.
20. Croftville Loop
You might hear Croftville referred to as "the walkers' road." This 1.5 mile road (Cook County 87) loops on the south side of Highway 61 and runs right along Lake Superior. Most walkers park on the road's west end, hike the length of the road, then turn around where the road reconnects with the highway. Along the way, you'll pass cottages, small resorts, beaches, and old fish houses. Can you spot the old root cellar embedded into the hillside in one of the home's backyards?
Although the road has minimal traffic, vehicles still have the right-of-way. Make sure to step aside for any approaching cars.
21. Devil Track River Gorge
Perhaps one of the more underrated sections of the Superior Hiking Trail, you don't want to miss this "gorge-ous" hike. Hop on the trail at the Lindskog Road trailhead located about .8 miles up Cook County Road 58. From there, you'll follow the path through heavily wooded forest and climb gently above the wide Devil Track River as it opens into a magnificent deep gorge. After about 2.5 miles you'll reach a bridge across the river. Either turn-around here or continue on to Pincushion Mountain for a spectacular overlook. If you're hiking with a friend, leave one car at the Pincushion Mountain parking lot and the other at Lindskog Road for a nice 4.9 mile thru hike.
22. Kadunce River Walk
Have you ever heard it said that the most beautiful things in life are temporary?
That's certainly true of the Kadunce River Walk. Although you can hike alongside the river year-round on a Superior Hiking Trail spur trail, this river is best experienced by using the river itself as your trail. But you can only hike up this shallow river a couple times a year. Either wait until mid-summer when it's warm enough to hike in shorts and water shoes or until the dead of winter when the river (mostly) freezes over.
Because this hike involves scrambling up several waterfalls, it's best done with a safety buddy along. If you do the hike in the winter, make sure you bring along a change of dry footwear . . . just in case. It's worth waiting for perfect conditions to experience the river's slot canyons and gorgeous waterfalls.
23. Naniboujou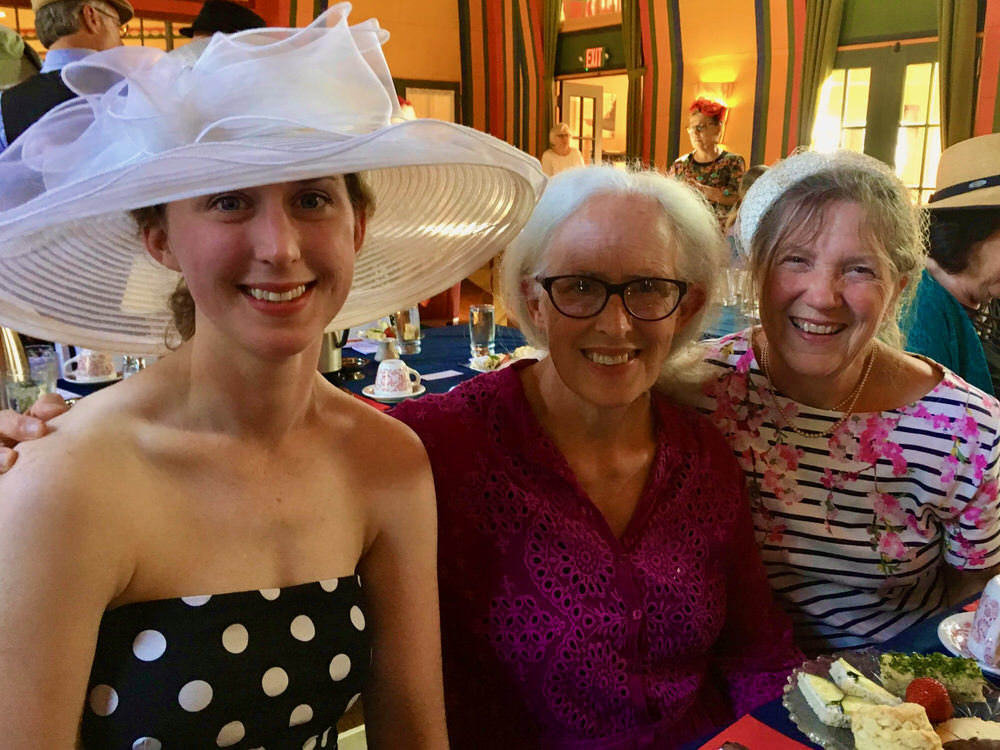 When Naniboujou opened in 1929, it served as a clubhouse for America's elite. Charter members like Jack Dempsey and Babe Ruth signed on for what promised to be a clubhouse with 150 rooms. A golf course, tennis courts, and shuffleboard were meant to cover the sweeping lawn leading to a wide Lake Superior beach. But in just a few short months, the Great Depression ended many of these dreams.
However, the magnificent lodge remains. The dining room features a massive 20' tall stone fireplace and distinctive Cree-inspired designs. Swing in to grab dinner or simply shop their gift shop at this spectacular North Shore must-see.
24. Grand Portage National Monument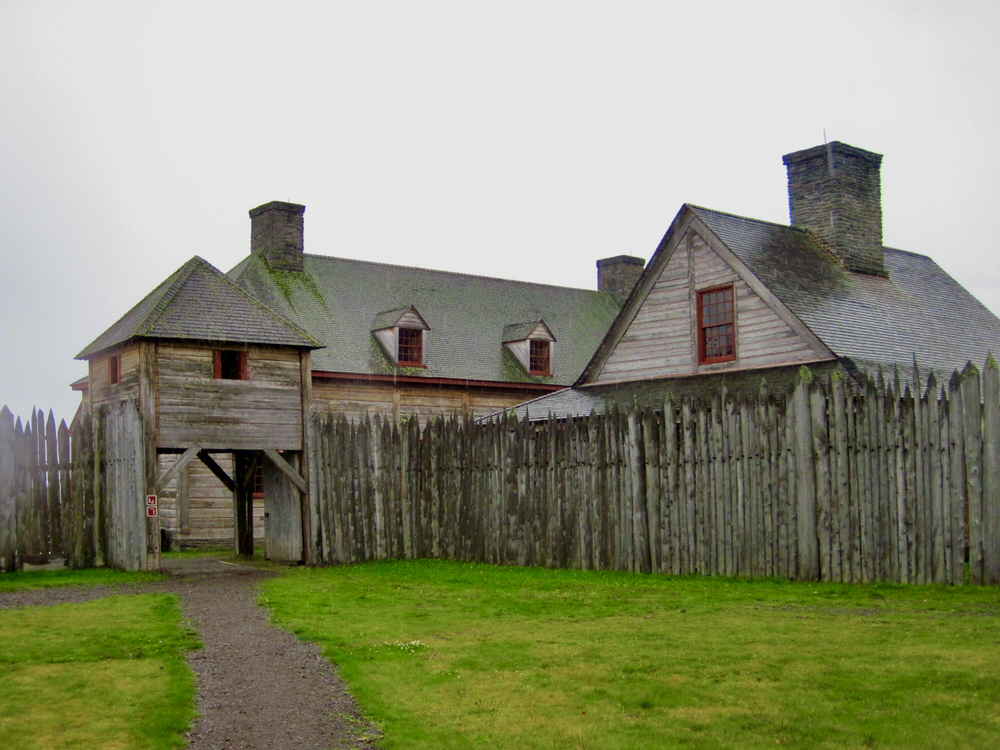 During Fur Trade days, the small Ojibwe village of Grand Portage served as a trading post for the North West Company. Voyageurs came to Grand Portage Bay seeking a way around High Falls so they could continue inland to modern day Manitoba and Saskatchewan to trade goods.
Today the National Monument tell both the story of the North West Company in Grand Portage and also celebrates the local Ojibwe who still call Grand Portage home. During your visit, tour the replica stockade and take in exhibits and films at the visitor center. If you don't want to follow in the footsteps of Voyageurs on the nine-mile long Grand Portage that takes off behind the stockade, you can head up nearby Mount Rose for a short (but very steep) hike to a beautiful overlook of Grand Portage Bay and stockade.
25. High Falls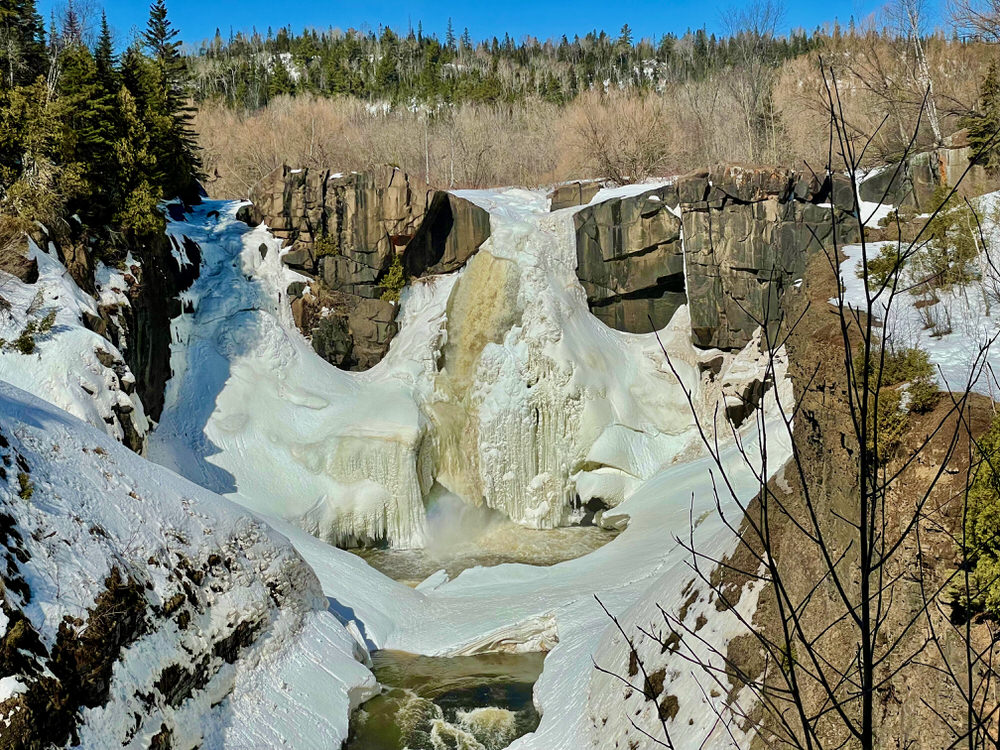 Okay, almost everyone visiting the North Shore knows about High Falls. But no list of North Shore stops is complete with mentioning High Falls at Grand Portage State Park. After all, High Falls is literally the farthest up the North Shore you can go while remaining in Minnesota. The international border runs right through the Pigeon River gushing over the falls' 120' drop.
The tallest waterfall in Minnesota, you reach High Falls via an easy .6 mile paved path that leads to three observation platforms. If you visit in the spring, wear a rain jacket, even in sunny weather. The mist created by all that snowmelt is no joke!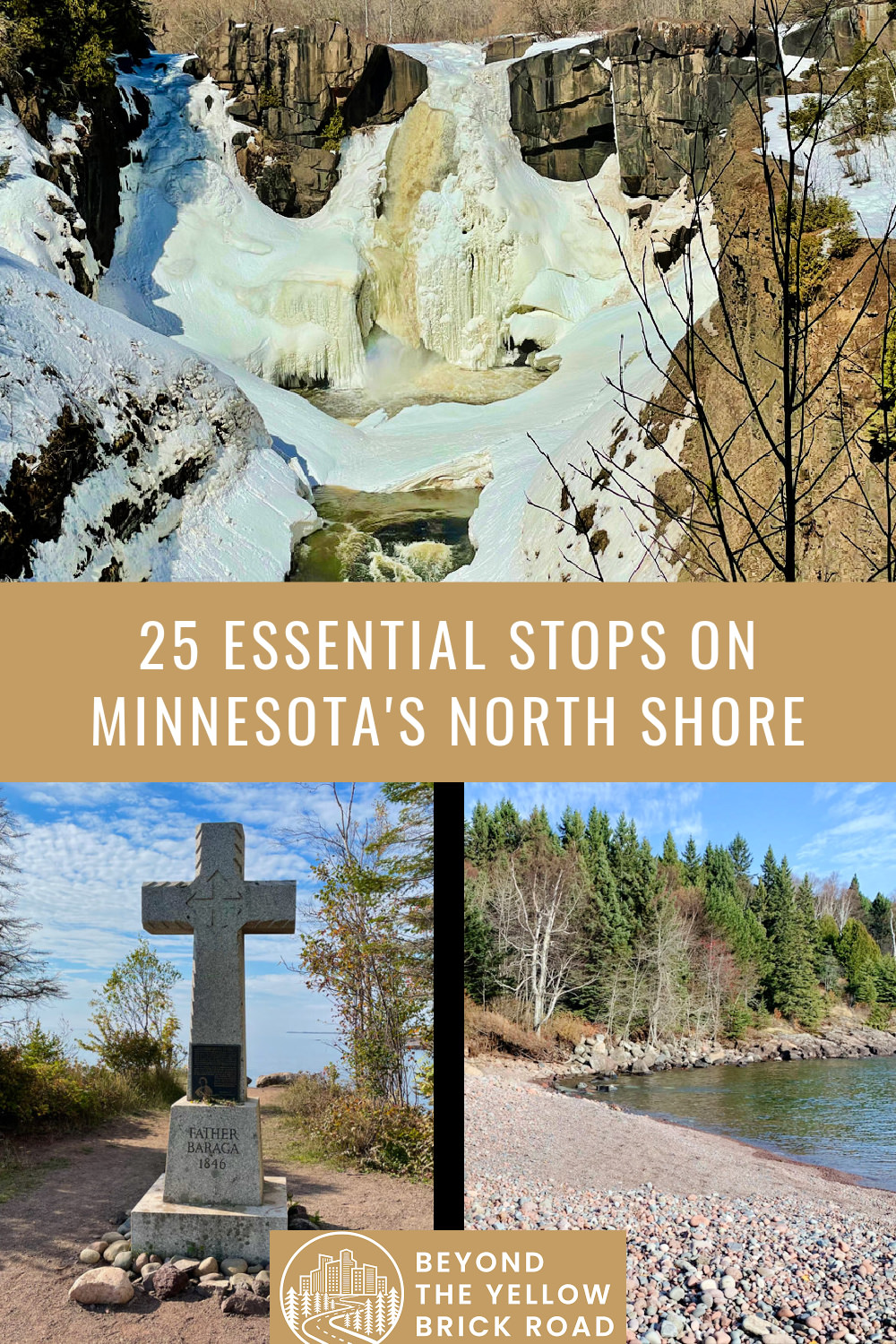 Have you ever visited Minnesota's North Shore? Do you have a favorite "secret" spot?
A state of wide open spaces, there's no shortage of New Mexico places to explore on public lands. Here's a guide to the very best sites from Carlsbad Caverns to Lincoln National Forest and beyond.
read more