The Definitive Guide to the Gitchi-Gami State Trail
This North Shore Bike Trail is a Work in Progress
If you dream of biking Lake Superior's North Shore but don't want to use busy U.S. Highway 61 as a bike trail, it's time to discover the Gitchi-Gami State Trail.
Eventually the Gitchi-Gami State Trail will span 89 miles from Two Harbors to Grand Marais. However, what will one day serve as the definitive paved North Shore bike trail remains only 1/3 complete. Construction started over 20 years ago and continues slowly but surely. Despite the slow progress, the completed Gitchi-Gami State Trail sections have quickly become beloved pieces of North Shore recreation infrastructure for bikers and hikers alike.
In 2021, construction crews completed the 3.7 mile Rosebush section on the west end of Grand Marais. Open to non-motorized use only, this particularly scenic section of the Gitchi-Gami State Trail offers Lake Superior views, secluded beach access, and waterfall viewing.
What is the Gitchi-Gami State Trail?
The brainchild of Highway 61 reconstruction talks of the mid-1990s, the Gitchi-Gami State Trail is a joint project between the Gitchi-Gami Trail Association, the MN DNR, and MN DOT. In 2000, crews laid the first 1.2 miles of trail in Gooseberry Falls State Park. The completed trail in downtown Grand Marais comprises the trail's eastern terminus. Work on the western terminus in Two Harbors hasn't begun, but various sections of trail, totaling approximately 30 miles, parallel Highway 61 up the North Shore.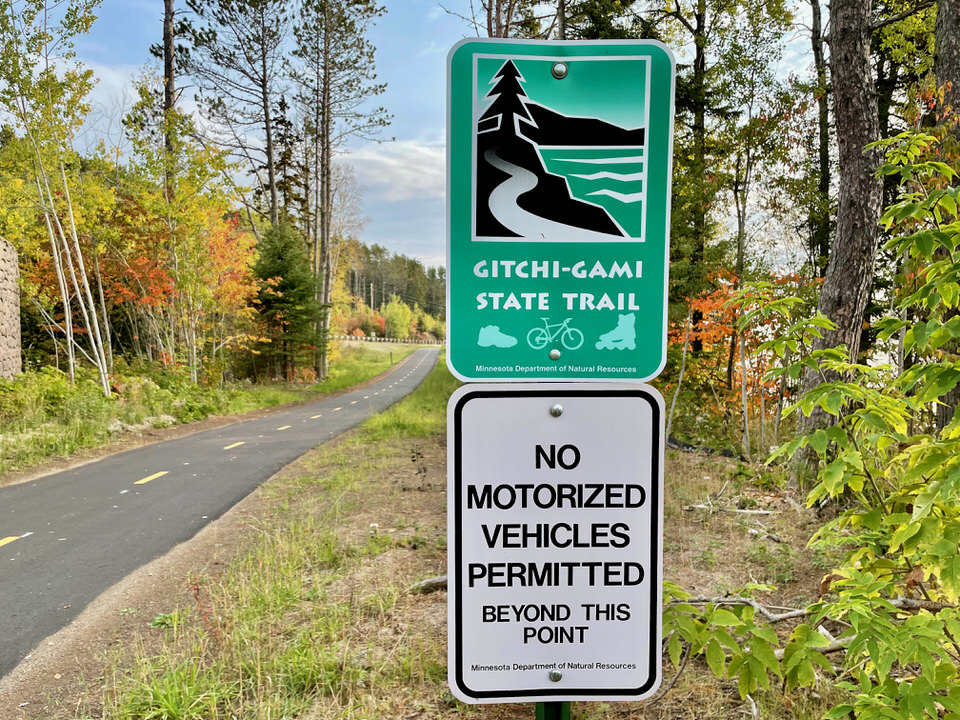 No time to read? Pin this post for later!
What Makes the Newest Section of the Gitchi-Gami State Trail Exciting
I'm no stranger to the Gitchi-Gami Trail. I grew up on the western edge of Grand Marais which boasts one of the oldest sections of this paved recreation trail. Since 2004, the Gitchi-Gami Trail has led up the hill out of downtown Grand Marais for 1.5 miles to . . . nowhere.
Sure, the trail passes western Grand Marais businesses and provides a safe way to bike into downtown, but you can't call this older trail section "scenic." Its short length and lack of any destination limited it to utilitarian use. The newest Gitchi-Gami State Trail section, called the Rosebush section, connects to this older Grand Marais section.
The new Rosebush section means the Gitchi-Gami State Trail near Grand Marais finally runs alongside Lake Superior. (We only had to wait two decades!) Although the trail still dead-ends, it now has a logical western terminus at the Cut Face Creek Wayside Rest Area. Best of all, the new path provides easy to access to a beloved waterfall that's long been a local secret.
Walking on the Gitchi-Gami State Trail near Grand Marais
The Gitchi-Gami State Trail now stretches for five miles from downtown Grand Marais to Cut Face Creek Wayside Rest. In late September 2021, my mom and I hiked the complete length of the Grand Marais section. A 10-mile round trip bike ride sounds pretty perfect for a casual ride. However, I like to cap my casual strolls to about five miles so Mom and I chose to hike the entire length one way only – from west to east. Dad dropped us off at Cut Face Creek Wayside Rest and we picked up my car from the shop where it was getting an oil change on the far eastern end of Grand Marais.
Obviously, land ownership dictates where the Gitchi-Gami State Trail can and can't go. Happily most of the new Rosebush section runs through state-owned land. The first mile of trail from the wayside goes through Cascade River State Park land. The trail run about 30 feet above Lake Superior and provides spectacular views of Good Harbor. Views include a distinctive rocky reef and Artist Point about five miles east in downtown Grand Marais.
After about a mile, you hit a stretch of lake homes. This causes the trail to jag away from the lake and run along the highway. For a mile, your primary view is of driveways and speeding cars. The trail dips down towards Lake Superior again as the trail crosses a section of MN DOT property next to Fall River/Rosebush Creek. Rugged Lake Superior shoreline prevents the trail from getting closer than 50 -100 feet to the water's edge. Instead trail planners opted to put an arched pedestrian bridge over a gorge of the Fall River near a small waterfall.
Grand Marais's secret waterfall: now with a Gitchi-Gami State Trail bridge
Although this new bridge caused much controversy during the trail planning stage, it's by far the most popular feature of the new Gitchi-Gami State Trail. On one side of the bridge, you view the creek making its final 15 ft plunge before hitting the Great Lake. On the other side, Lake Superior sparkles beside a pebble beach.
The bridge's controversy stemmed around people's belief that it would ruin the beach's waterfall view. This may be true, but I also think people were salty that their "secret spot" was being outed. Before the bridge, you could only reach the waterfall by paddling up or bushwhacking down from the highway. My brother and I spent many childhood hours on this beach with our dog. Despite the special spot it's always held in my heart, if you were just passing by on the highway, you'd have no idea you were passing a public waterfall and beach.
People still park on the side of the highway just to access this Gitchi-Gami State Trail section. If you just want to see the waterfall, park about .3 miles east of the Fall River highway bridge and hop right on the paved trail. On the either side of the Gitchi-Gami State Trail bridge, you can pick your way down to Lake Superior on user-established trails. Since it's state-owned land, you can explore this little beach (which happens to be watercraft campsite on the Lake Superior State Kayak Trail) without worrying about accidental trespassing.
Fall River or Rosebush Creek?!
The bridge crosses a body of water known by two names. The stream's legal name posted by the highway is Fall River. However, locals have long referred to the river as Rosebush Creek.
"Creek" is a bit of a misnomer. In the spring melt, it's definitely a churning river. As a local who's always referred to it as Rosebush Creek, I'm chuffed Gitchi-Gami State Trail planners named the section "Rosebush" rather than "Fall River."
Gitchi-Gami State Trail from Rosebush Creek to Grand Marais
About .3 miles after you cross the Rosebush Creek bridge, the trail returns to paralleling the highway. It continues beside the highway for the remaining two miles into downtown Grand Marais. The trail turns pretty urban at this point, passing businesses and homes. While it's not particularly scenic, it certainly gets you where you need to go.
At the intersection of 8th Avenue West in Grand Marais, the trail technically ceases to be the Gitchi-Gami Trail and turns into the Grand Marais Corridor Trail. This trail continues down the hill and runs along downtown Grand Marais's waterfront. After reconnecting with Highway 61 via Broadway, the bike trail terminates at the Gunflint Trail (Cook County Highway 12) intersection.
By the time we reached my car on the far eastern end of Grand Marais, I'd guess we'd been on the trail for about two hours. This included a pit stop at my parents' house and a few photo breaks. Although I knew the trail's path pretty well, it was fun to see a familiar area from brand-new vantage points.
The Best North Shore Trail for Waterfall Season
The Gitchi-Gami Trail can be enjoyed year-round, but this particular section's at its most dramatic in early spring. In addition to a gushing Rosebush Creek Falls, multiple "pop-up" waterfalls caused by snow melt stream off rock cliffs on the north side of Highway 61 near Cut Face Creek Wayside Rest. These pop-up waterfalls occasionally reappear later in the season after especially heavy rainfalls.
If You Hike or Bike the Rosebush Section of the Gitchi-Gami Trail
Other than a few gradual uphills, the Rosebush Section of the Gitchi-Gami Trail is a very easy, urban-style trail. Since it's completely paved, you don't need any fancy gear or footwear to tackle this five-mile hike. Throw a water bottle in a backpack and you're good to go.
If you're hiking, remember to yield for bikers. The path allows only non-motorized use, so you could also rollerblade if that's your style. Just watch out for zippy e-bikes – a source of much controversary among local "regulars" on the path since they're not completely manpowered.
You'll find public restrooms on either end of the Grand Marais Gitchi-Gami State Trail. On the western end, Cut Face Creek Wayside Rest provides simple vault toilets. In Grand Marais you can access public toilets through the south entrance of Grand Marais City Hall.
The trail gets the most use in warm weather months, but in previous years, the City of Grand Marais plowed the 1.5 mile section to provide residents with a year-round recreation trail. Now that the trail extends well past Grand Marais's city limits, we'll see if this plowing continues. I know local residents would certainly enjoy having access to the entire five-mile section during the winter months as a safe place to recreate off the main highway.
Cut Face Creek Rest Area
This seasonal wayside rest area offers pit toilets, picnic benches, access to a small Lake Superior beach known for agate hunting, and great views of Grand Marais and Good Harbor. A barricade prevents you from using its parking lot from November until May. However, you can still access the trail. Just use the wide shoulders on either side of Highway 61 for parking. Remember that the vault toilets are locked during the winter months so take care of your bathroom needs beforehand for off-season trail use.
Other Sections of the Gitchi-Gami State Trail
If you're driving up Minnesota's North Shore, you'll run into the first section of Gitchi-Gami Trail at Silver Creek Tunnel about five miles north of Two Harbors. Since this section is only .5 miles, it's probably not worth unloading your bike at this point, but it's a good opportunity to stretch your legs. The longest section of completed Gitchi-Gami State Trail begins at Gooseberry State Park and continues north for 14 miles, passing through Ionas Beach Scientific and Natural Area, Split Rock Lighthouse, and Gold Rock Point before terminating in Silver Bay. You can also enjoy a 10-mile section that runs from Schroeder through Temperance State Park and Tofte to the Lutsen Ski Hill Road.
While the Gitchi-Gami State Trail is far from complete, that doesn't mean the existing trail infrastructure should be overlooked. The trail offers an intimate way to explore Minnesota's North Shore and highlights points of interest we tend to whiz by at 60 miles per hour.

Bike Rental in Grand Marais
Want to bike this section of Gitchi-Gami State Trail on your next trip to Grand Marais? Sadly, Grand Marais has been without a full-service bike shop since 2020. That doesn't mean you have to bypass this great Grand Marais day activity.
Take care of all of your bike rental needs at Sawtooth Outfitters in downtown Tofte. You can also rent eBikes from North Shore eBike located just north of Lutsen by The North Country gift shop and cottages. If you want to experience all the Gitchi-Gami State Trail sections up and down the North Shore, SpokeNgear in Two Harbors can also help with bike rentals.
Do you use urban recreation trails when you travel? Do you prefer to bike or hike?
Christmas in Duluth is a magical time filled with events, markets, and more. Here's everything to do in the Christmas City of the North this holiday season.
read more