A Local's Grand Marais: The Only Guide You Need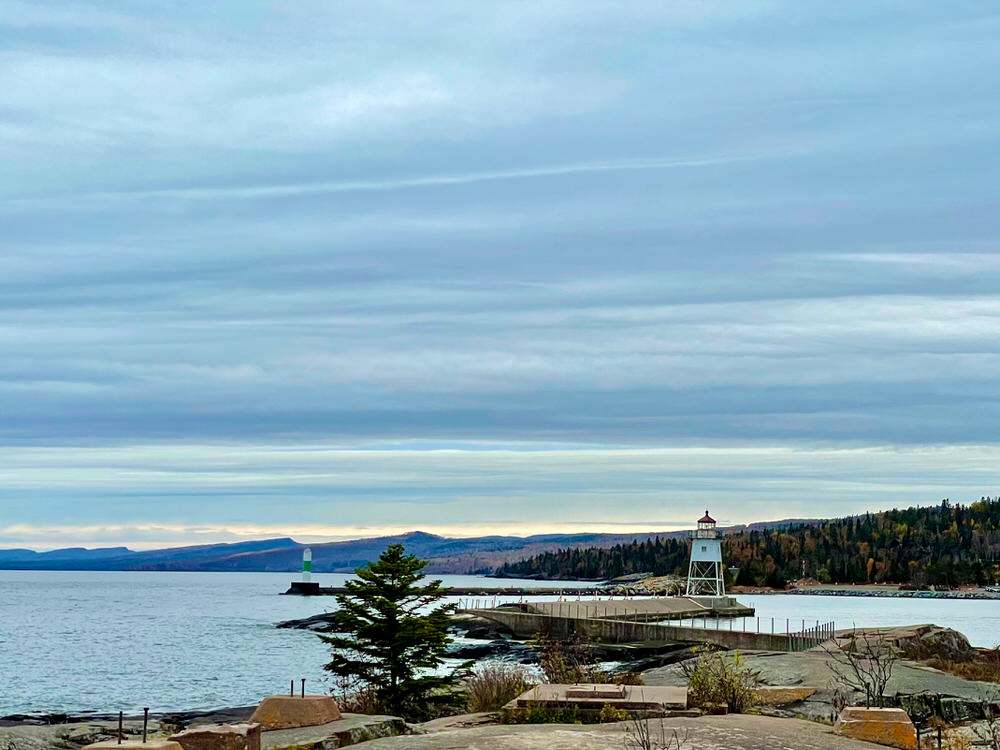 What to do in Grand Marais, MN . . . From A Local!
Lots of people want to tell you what to do in Grand Marais, MN.
Nestled along Lake Superior's North Shore, some 100 miles northeast of Duluth, this little harbor town has charmed many an upper-Midwest traveler. As someone lucky enough to call this favorite Minnesota destination home, I've watched Grand Marais evolve over the decades. (For what it's worth – and around here it's worth a lot, iykyk – I'm a fourth generation "local.")
While I love seeing other people's Grand Marais itineraries, the same places and activities always get recommended. Today, I stop hoarding all my local insight. Without further ado, here's my definitive guide to what to do in Grand Marais, MN.
After reading through this behemoth, you'll never need another Grand Marais travel guide again!
A Local's Guide to Grand Marais
Can't stick around? Pin now to help plan your Grand Marais travels later.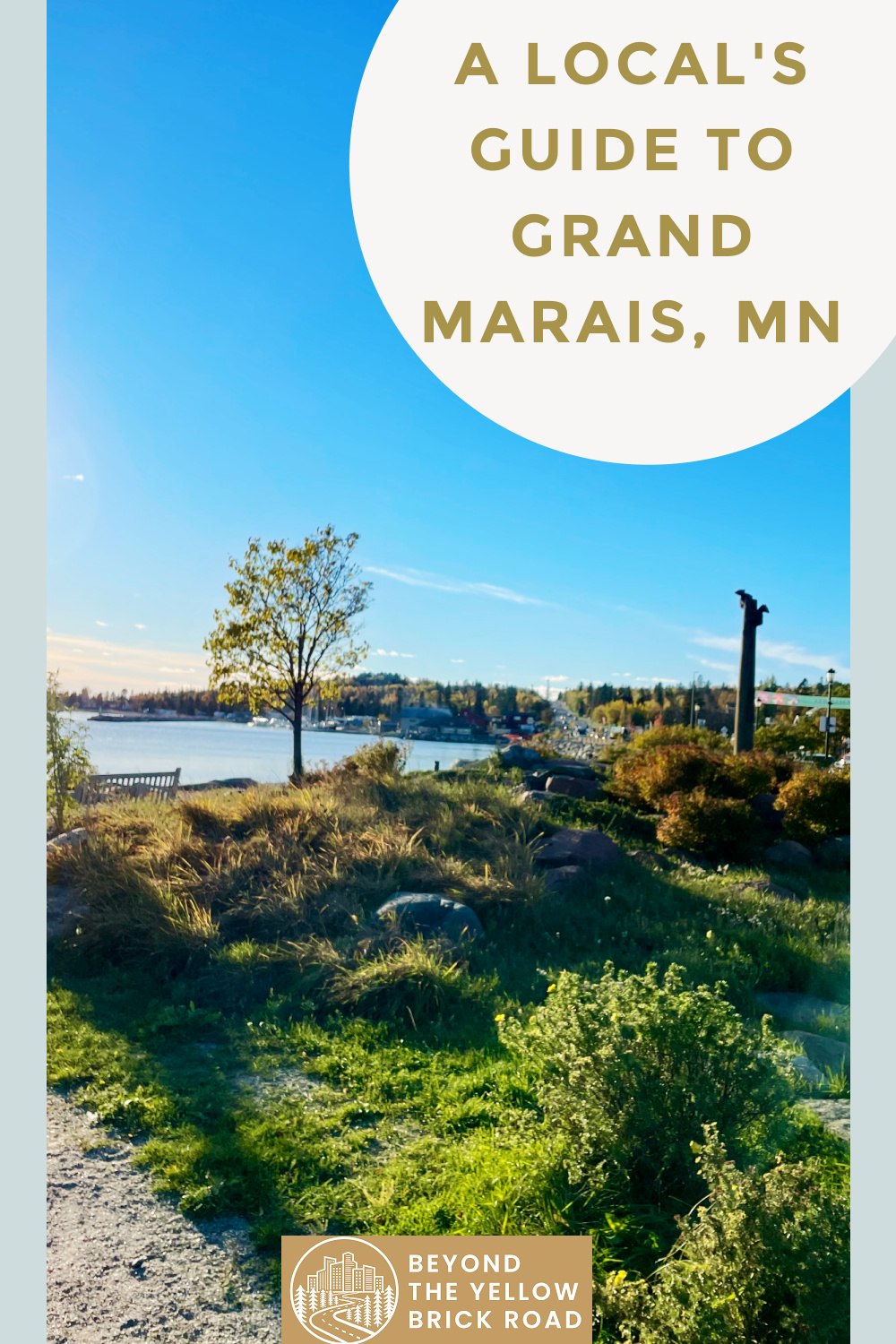 Grand Marais, MN Need to Know Fast Facts
Prior to white settlement, the Ojibwe called this land Gitchi-Ba-Too-Biig, which translates into "Double Bay." The location of present-day Grand Marais served as a summer village for the local Ojibwe population.
The American Fur Company used the harbor area for outposts in the 1820s and 30s.
Grand Marais literally translates to "big marsh" in French. The town lives up to its name; a good portion of downtown sits on filled wetlands. If you're in Grand Marais after a significant rainfall event you might find a flooded Coop's parking lot trying to revert back!
White settlers built a town here hoping to establish a commercial shipping area. Into the 1970s, Grand Marais's major industries were fishing and logging.
We're weirdly proud of the fact that the town only has one stoplight.
How do you pronounce "Grand Marais?"
Grand Muh-ray = Grand Marais. This French name that harkens back to northeastern Minnesota's Voyageur heritage. Since it's French and most final consonants aren't pronounced, you don't say the "S" in Marais.
When's the Best Time to Visit Grand Marais, MN?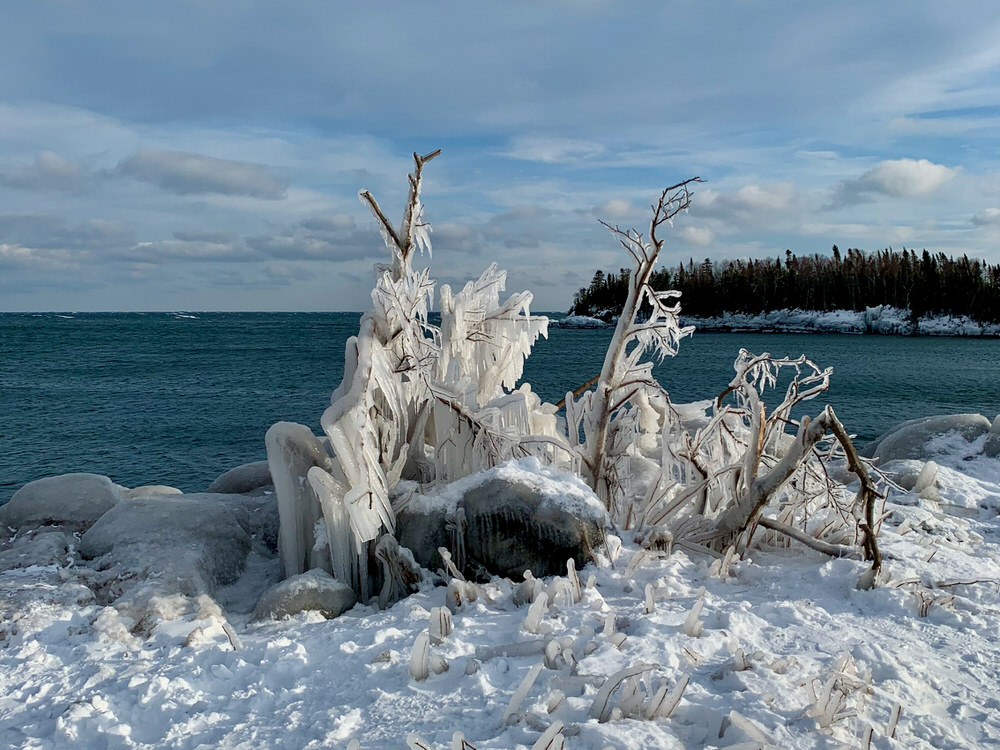 Although tourism has greatly increased in recent years, Grand Marais still operates mostly seasonally. Memorial Day weekend kicks off the season which wraps up in mid-October. Although Grand Marais does a fair amount of winter business, many businesses (including the beloved donut shop) are closed for the cold weather months.
Grand Marais high season runs from late July – late August. Around mid-August, visitors start to taper off as school extracurricular activities start up and State Fair festivities begin.
However, Minnesota's North Shore is an extremely popular fall color destination. Grand Marais gets a final surge of visitors in late September and early October. If you plan to visit during fall color season, book well in advance.
To many locals, the off-season (especially November and April) is sacred. If you plan a visit during this time, be prepared for very limited dining and lodging. More than a few "closed" signs will greet you in downtown businesses' windows.
Where To Stay in Grand Marais, MN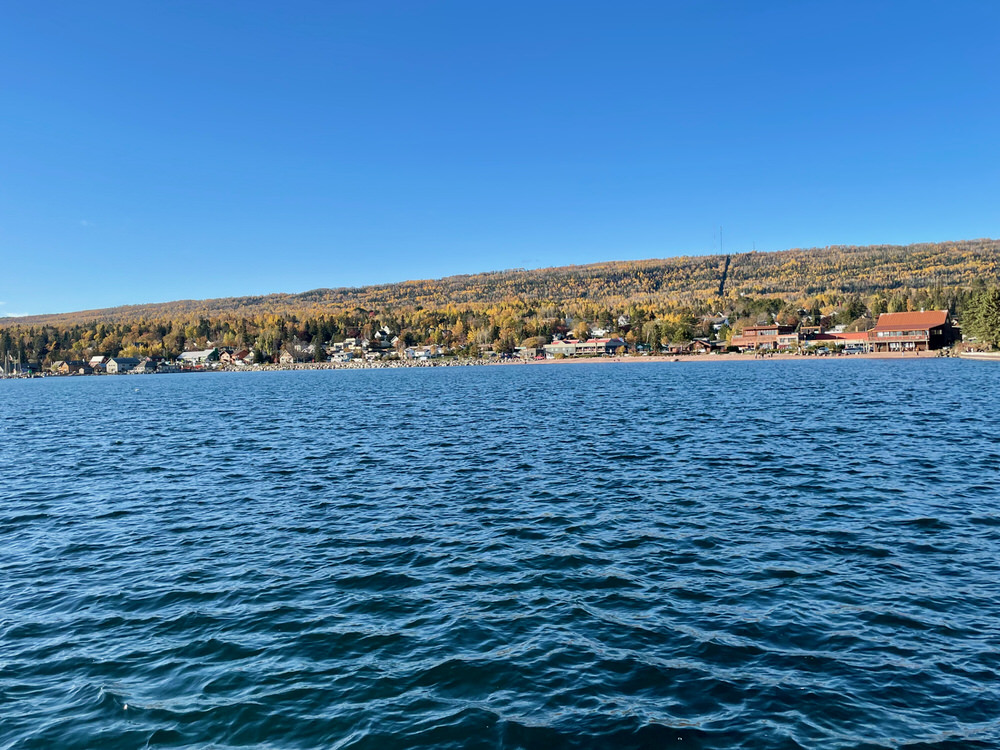 Best Western Plus Superior Inn – Grand Marais's nicest hotel sits on the eastern edge of downtown. This three-story hotel has great views of the East Bay and Artist Point . . .  if you're lucky enough to score a lakeside room. Amenities include a massive whirlpool, pet-friendly rooms, free breakfast, and a bar/bistro.
Nelson's Travelers Rest – This small family resort on the western edge of Grand Marais offers exceptionally clean little cabins as well as two motel units. Just a half mile from the harbor, you can walk right into town on the Gitchi-Gami State Trail.
Cottages on the Croftville Loop – For a summer visit, you can't beat the charm of renting a teeny lakeside cottage on the Croftville Road. Located about two miles east of downtown Grand Marais, this 1.5 mile lakeshore road is home to several small resorts including Anderson's North Shore Resort and Croftville Road Cottages.
Cascade Vacation Rentals – If you're looking for something larger than a cottage or cabin, Cascade Vacation Rentals offers a wide variety of rental properties all over the county, including several in Grand Marais's hillside residential area.
Where to buy groceries and liquor in Grand Marais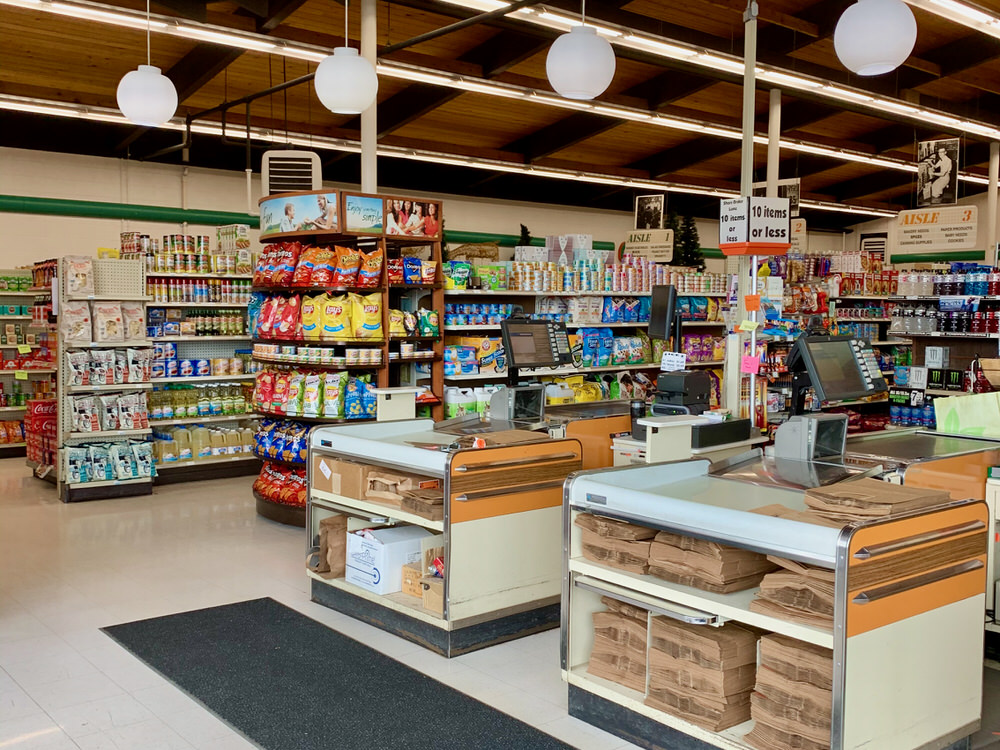 Grand Marais residents know to shape their shopping patterns around small-town operating hours. You won't find any grocery stores open 24/7, so plan accordingly. Do your grocery shopping on the drive up – either in Duluth or Two Harbors – if you're arriving after hours.
Cook County Whole Foods Co-op – Easily Grand Marais's busiest grocery store, the Co-op features organic produce and groceries. They're known for a wide selection of bulk items (including their famous homemade granola), and a nice grab and go deli for picnic lunches or easy dinners. If you see it in the deli case, be sure to grab a muffeletta sandwich . . . it's named after my cat! (No, I'm not joking.) The Co-op's the only grocery store consistently open on Sundays.
Johnson's Foods – This small grocery store with Scandinavian flair is a Grand Marais institution. It's been owned and operated by the Johnson family for the better part of a century. Although the aisles can feel a little cramped in the height of summer, they're worth a visit for their excellent meat shop (especially their homemade bratwurst) and selection of specialty groceries.
Gene's IGA offers the largest selection, but feels more like your cookie cutter suburban shopping experience.
Where's the Grand Marais liquor store?
I spent three summers working at Johnson's Foods and the most common question I got asked at the cash register was "where's the liquor store?" You'll find the Grand Marais Municipal Liquor Store "a block down from the stoplight in the building with a flat green roof." As the only liquor store in town, they do a handy little business with a surprisingly large selection. Consider swinging in on your way out of town to stock up on Minnesota craft beers.
What To Do in Grand Marais, MN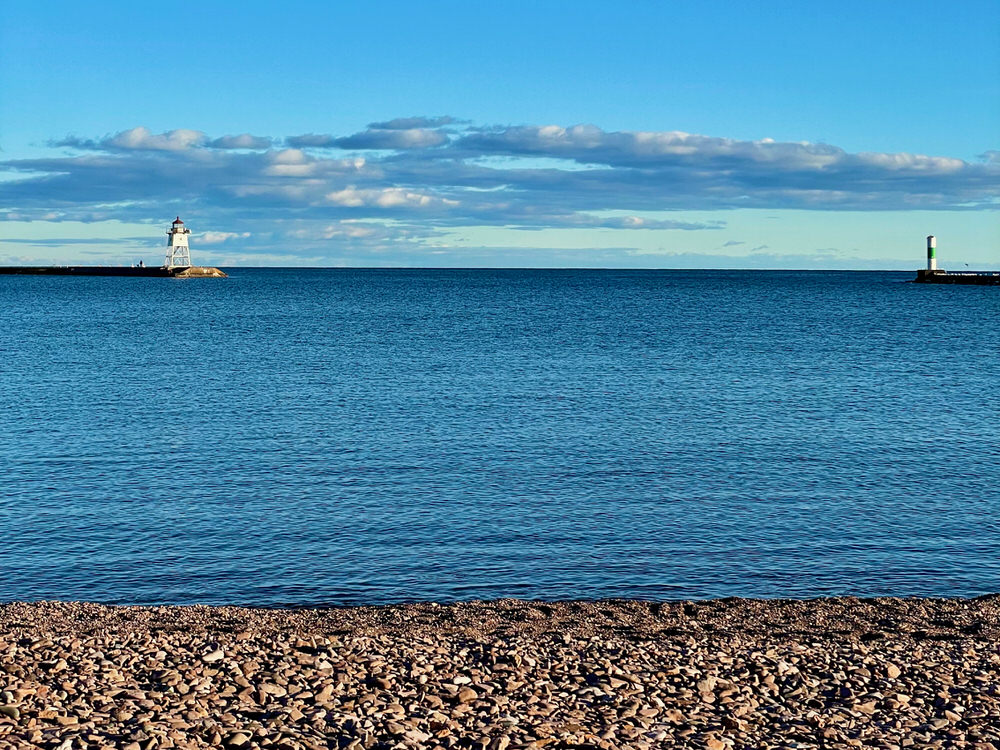 At first glance, you might wonder what to do in Grand Marais.
Certainly, this small town of about 2000 residents can feel a little sleepy depending on what time of year you visit. But there's a lot more to do in Grand Marais than feed the seagulls and eat fudge. Here's a quick round-up of some of the very best things to do in Grand Marais.
Take a class
So many people fall in love with Grand Marais because they came up to take a class at either the Grand Marais Art Colony or North House Folk School.
Bike or hike on the Gitchi-Gami State Trail
You can hop on this paved bike trail right in downtown Grand Marais. Follow the path five miles to the Cut Face Creek Rest Side Area for a picnic and some agate hunting.
Skip rocks in the harbor
Did you even visit Grand Marais if you didn't toss a few rocks in Lake Superior? Pro tip: If you want to actually get your rock to skip, select a smooth, flat rock about the length of your palm. Send it flying across the water's surface with a firm flick of your wrist.
Kayak on Lake Superior
If you think Lake Superior looks great from land, wait until you see it from the water. Stone Harbor Wilderness Supply can hook you up with a kayak tour.
Take a ride on the Hjordis
Prefer not to self-propell yourself across Lake Superior? Book a tour on Hjordis through North House Folk School.

Visit a Cook County Historical Society site
The Cook County Historical Society does a great job of preserving and interpreting area history. You can visit their general history museum in the old Lighthouse Keeper's House located on the way out to "The Point." They also managed the Bally Blacksmith Shop, Johnson Heritage Post Art Gallery, Fish House/Nee Gee, and St. Francis Xavier Church.
Play mini golf at Putt N' Pets
Who doesn't love a game of putt-putt? Located about 1.5 miles west of downtown Grand Marais, you can't miss this mini golf course right on the south side of Highway 61.
Sauna at Sisu and Loyly
A recent addition to the Grand Marais line-up, these beautiful sauna facilities on Grand Marais's East Bay provide a scenic spot to immerse yourself in the Finnish tradition of sauna.
Get a massage
Although Grand Marais doesn't have a full-blown spa (but I think this is a great business idea, hint, hint), we can definitely hook you up with a massage. Check out LutZen Reflections Massage Studio right on the East Bay or visit Essential Touch Massage Therapy or Ancient Traditions Healing.
Go shopping
Grand Marais's known for its small, independent shops. Read on for a guide of my very favorites!
A Quick Guide to Grand Marais's Best Shops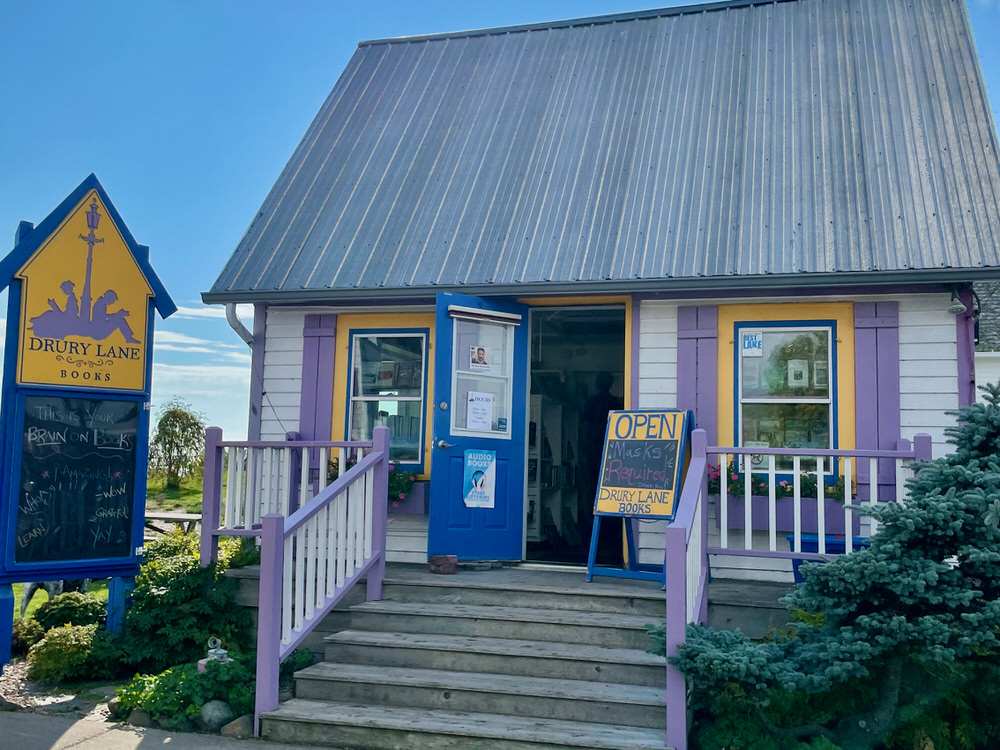 Lake Superior Trading Post – This two-level store has an impressive selection from homewares to clothing and outdoor gear.
Sivertson's Gallery – With hot tea available right as you enter the shop, it's always pleasant shopping in this roomy gallery. You'll find a wide variety of local art available at all price points.
Joynes Ben Franklin – If they don't have it at Joynes, you don't need it! This "department" store has everything from housewares, souvenirs, craft supplies, toys, and most notably, a large selection of clothing and footwear.
Drury Lane Books – Located in a small historic house on Grand Marais's East Bay, this bookshop offers a little of everything, with a special emphasis on regional and indie reads. If they don't have it on their shelves, they can special order and ship.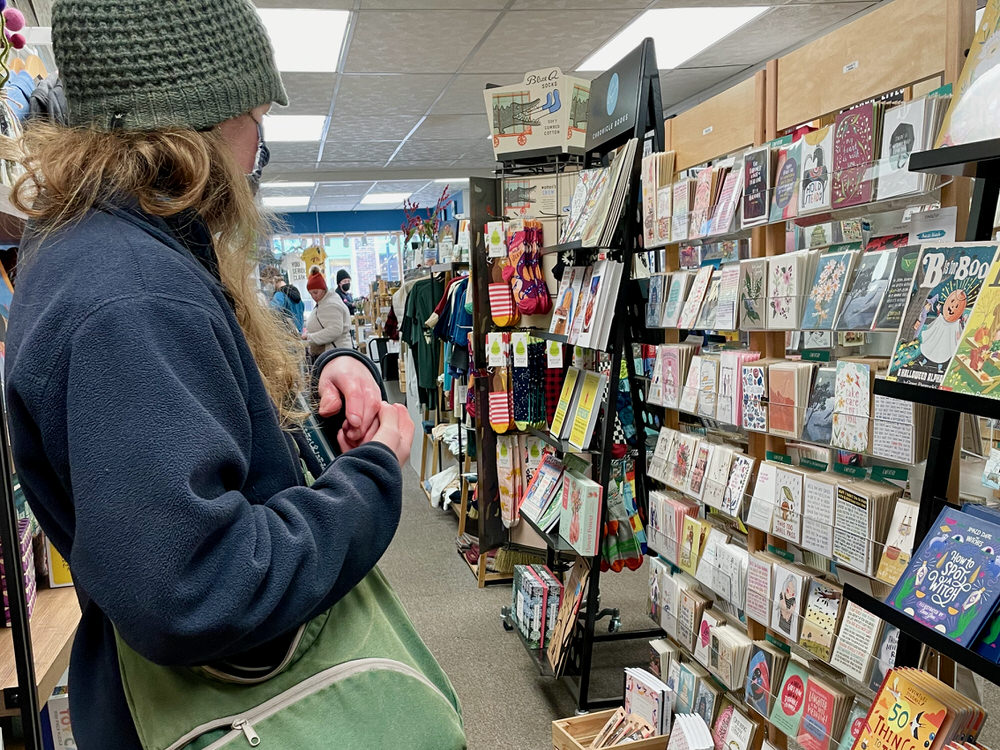 The Big Lake – A carefully curated gift shop with a great array of greeting cards, books, artwork, pottery, and jewelry and more. I especially enjoy their puzzle options. Many items have a strong feminist vibe.
Dappled Fern Fibers – Grand Marais has a yarn shop again! Even if you're not a knitter, it's worth swinging in for the friendly service and a small, but inspired offering of non-knitting gifts like local teas and pottery.
Hikes In or Near Grand Marais, MN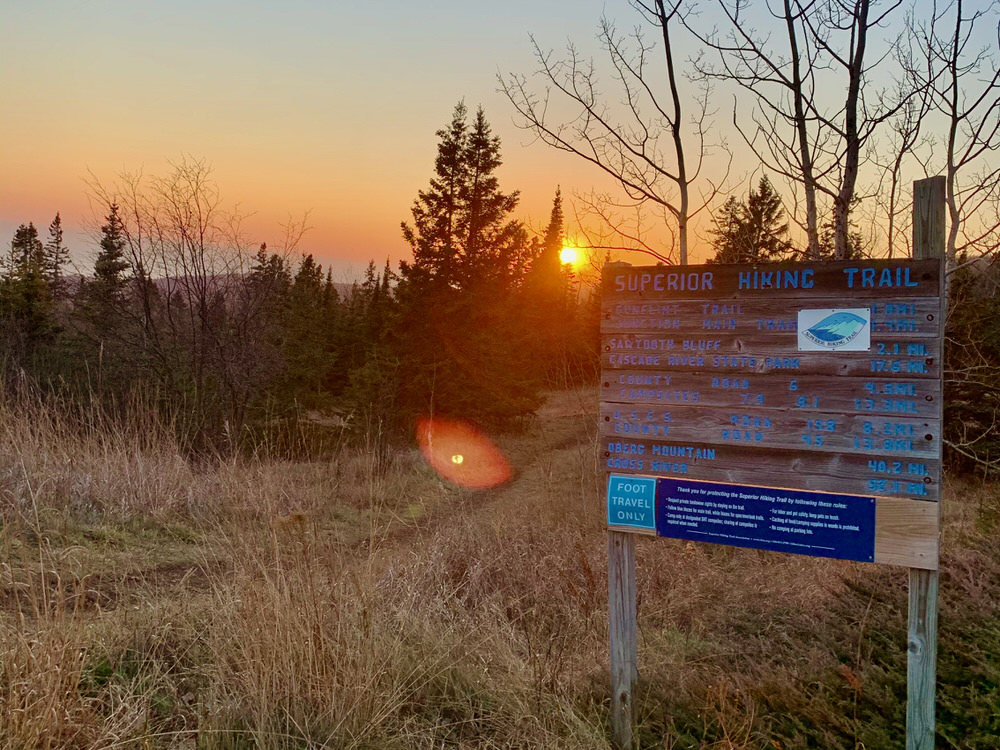 Many people visit Grand Marais to access outdoor recreation opportunities like canoeing in the Boundary Waters Canoe Area Wilderness or hiking in the Superior National Forest. But did you know you can hike right inside Grand Marais's city limits? You don't even need to drive to a trailhead for a couple of these Grand Marais hikes!
Grand Marais Lighthouse/Artist's Point Hike
Easily the most traversed hike in Grand Marais, if you don't hike out to the lighthouse and Artist's Point during your visit, did you even come to Grand Marais? This easy one-mile hike starts in a large municipal parking lot near the old Coast Guard Station. A poured cement walkway takes you to the lighthouse. If you visit in the evening, you're sure to spy photographers looking for sunset shots.
East of the cement path, you'll find Artist's Point. This wooded, craggy rock outcropping is a favorite place to scramble over rocks and watch Lake Superior waves and sunrises.
Use caution on this walk any time of year, but especially in high winds. In the winter, it may become too icy to traverse.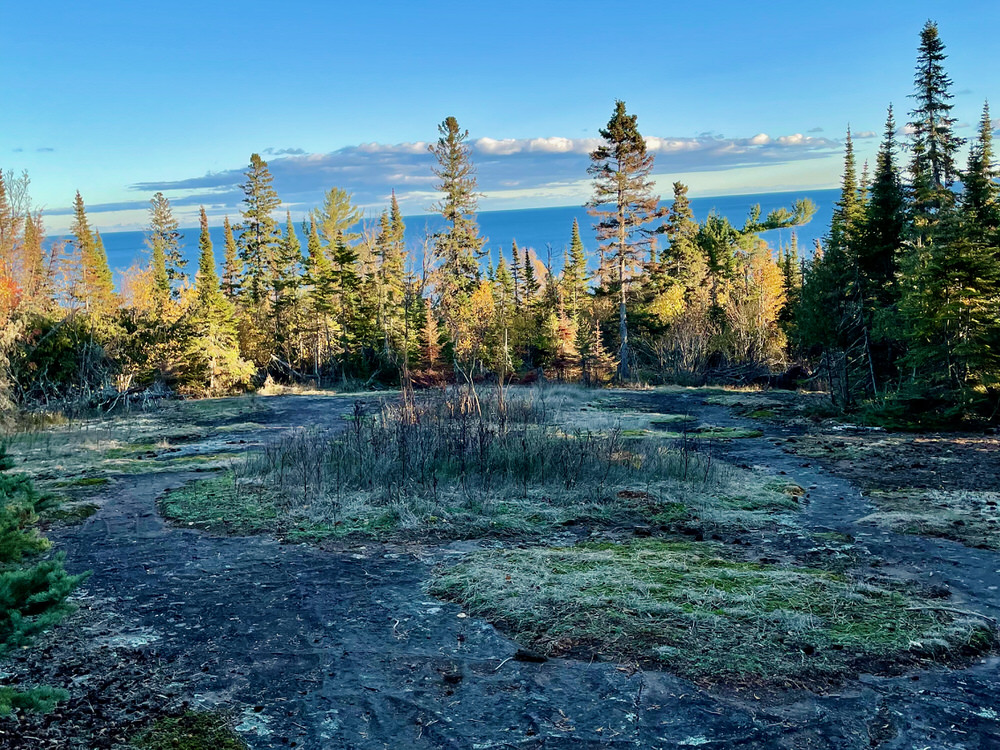 Sweetheart's Bluff
This often-overlooked sweetheart of a hiking trail deserves as much love as the lighthouse hike. But Sweetheart's Bluff Trail hides in the far western edge of the Grand Marais RV Park and Municipal Campground (we call it the "Rec Park") and goes largely unnoticed.
To access this short, moderately challenging trail, park in front of the Rec Park baseball field. Walk through a large metal gate on the very far edge of the campground, through a grass field at the bottom of the sledding hill. You'll find the Sweetheart's Bluff trailhead right at the edge of the forest.
The path begins with a short gravel loop that accesses a Lake Superior beach and picnic pavilion. Veer off the wide gravel path onto a narrower wilderness path. After a steep uphill climb, you'll reach a small clearing with a great view of the Grand Marais harbor. Even better than the view, in my opinion, is another clearing deeper in the woods. Here you'll find exposed basalt rock that still bears scars from receding glaciers.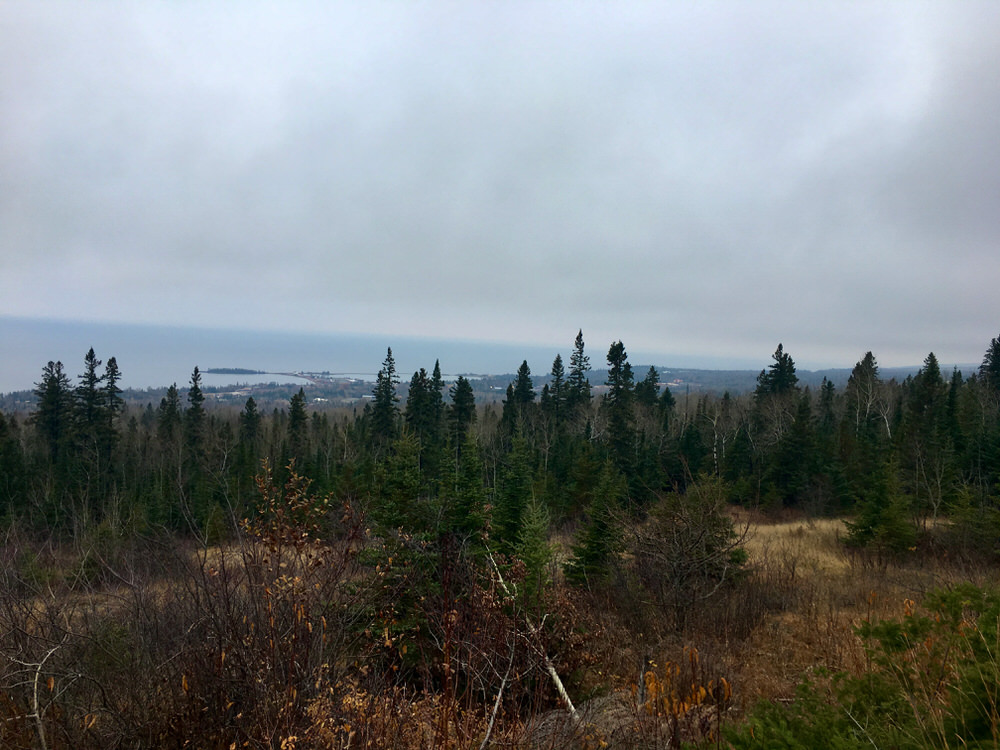 Pincushion Mountain
Sure, you can just swing into the Pincushion Mountain Recreation Area two miles up the Gunflint Trail for a great overview of Grand Marais right from the main parking area. But why settle for one overlook when an easy 1.9 mile hike can get you to another?
Hop on the section of the Superior Hiking Trail that runs through Pincushion Mountain's network of cross-country ski/mountain bike trails to reach the second scenic spot. If you're a sunrise lover, this east-facing overlook makes for a perfect early morning hike. Rather than doing an out and back hike on the Superior Hiking Trail, I recommend using a section of Pincushion Trail system to make a nice loop. Just don't do that in the winter – it's a groomed ski trail then!
Check out this guest post I wrote to learn about other great hikes near Grand Marais.
Where to Day Trip from Grand Marais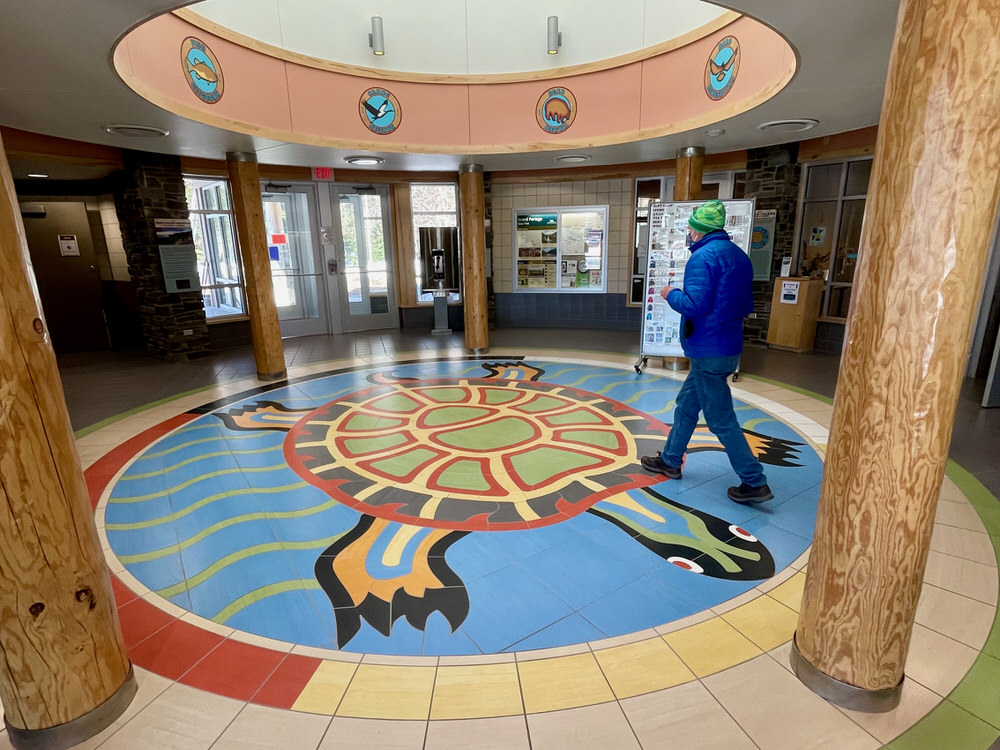 Absolutely, you can "do" Grand Marais in about a day. So why do people keep coming back year after year? Because a visit isn't so much about the town itself as it is about the surrounding forest's amazing outdoor adventures. No trip to Grand Marais is complete without a day trip or two out of town. Here are my very favorite day trip options.
Drive up the Gunflint Trail
A 57-mile two-lane paved highway (Cook County Highway 12), the Gunflint Trail winds northwest through Minnesota wilderness. This road serves as a corridor between two sections of the Boundary Waters and terminates approximately four miles south of the U.S./Canada border at Trail's End Campground.
With more than two dozen hiking trails and countless lakes, the Gunflint Trail makes a great day trip destination whether you want to hike or canoe in the Boundary Waters. In the winter, check out the area's extensive cross-country ski trail options. Grab a burger and beer at either Poplar Haus or Trail Center to round out the day.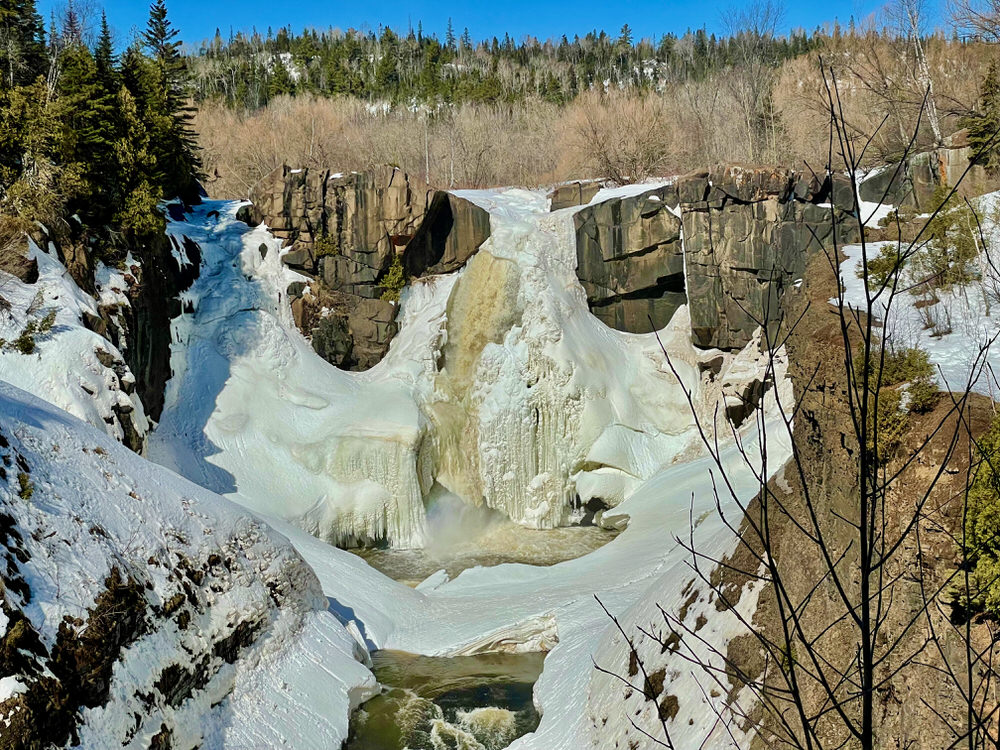 Visit the Grand Portage National Monument and High Falls
Located about 35 miles east of Grand Marais, a drive up to Grand Portage takes you past some of the most beautiful terrain on Minnesota's North Shore. Start this day trip at Grand Portage State Park right on the US/Canada border. The main draw at the state park is High Falls, a 120' waterfall that's the highest waterfall in Minnesota. French Canadian Voyageurs established the 9-mile long Grand Portage to avoid these falls as they moved into the Canadian interior with trading goods.
Swing by the National Monument in the village of Grand Portage to visit a replica Voyageur-era stockade and to learn more about the Fur Trade's influence on northeastern Minnesota. The National Park Service works closely with the Grand Portage Band of Lake Superior Chippewa to create an unique and informative interpretative experience. 
Lutsen Mountains
Whether it's winter or summer, you can spend a day on the slopes at Lutsen. This tiny town 20 minutes southwest of Grand Marais hosts the largest ski resort in the Midwest. In winter, enjoy over 100 ski runs. Come summer, fly down on the Alpine Slide. Lutsen Mountains' aerial gondola makes an especially lovely autumn day trip. You can enjoy a meal with great Lake Superior views at the Summit Chalet.
Hike to Devil's Kettle at Judge CR Magney State Park and Afternoon Tea at Naniboujou Lodge
Just a short 15-minute drive up Highway 61 from Grand Marais you'll find Judge CR Magney State Park. For a long time, this state park was home to one of the biggest mysteries on the North Shore – the Devil's Kettle waterfall.
This unique waterfall has a cauldron-like basin that the water appears to disappear into. Scientists have finally determined that the Brule River's water just flows right through this rock formation and immediately reenters the river. Reach it via a fairly easy two-mile round-trip hike. Be warned – the hike includes an impressive 192-step flight of stairs and will take at least an hour depending how often you stop for photos.
You can refresh from your hike at Naniboujou Lodge located right across the highway from the state park. This 1920s Lake Superior lodge has a distinctive design including a large dining room painted in a Cree-inspired design. Their afternoon tea is a fun (and tasty) option. 
Where To Eat in Grand Marais
Best Breakfast
South of the Border Café – A local favorite, this no-frills café serves up typical diner fare with a special emphasis on breakfast food. Try the American fries.
World's Best Donuts – I'm not sure donuts really count as breakfast, but you definitely don't want to miss the Grand Marais donut shop! They're open all summer long and occasionally have hours on winter weekends. Are they really the "world's best donuts?" I think so . . . and I highly recommend the raised glazed and chocolate dipped cake and coconut . . . and . . .
Blue Water Café is another favorite among both locals and visitors . . . but, shhh, don't tell, I've never actually eaten here!
Best Coffee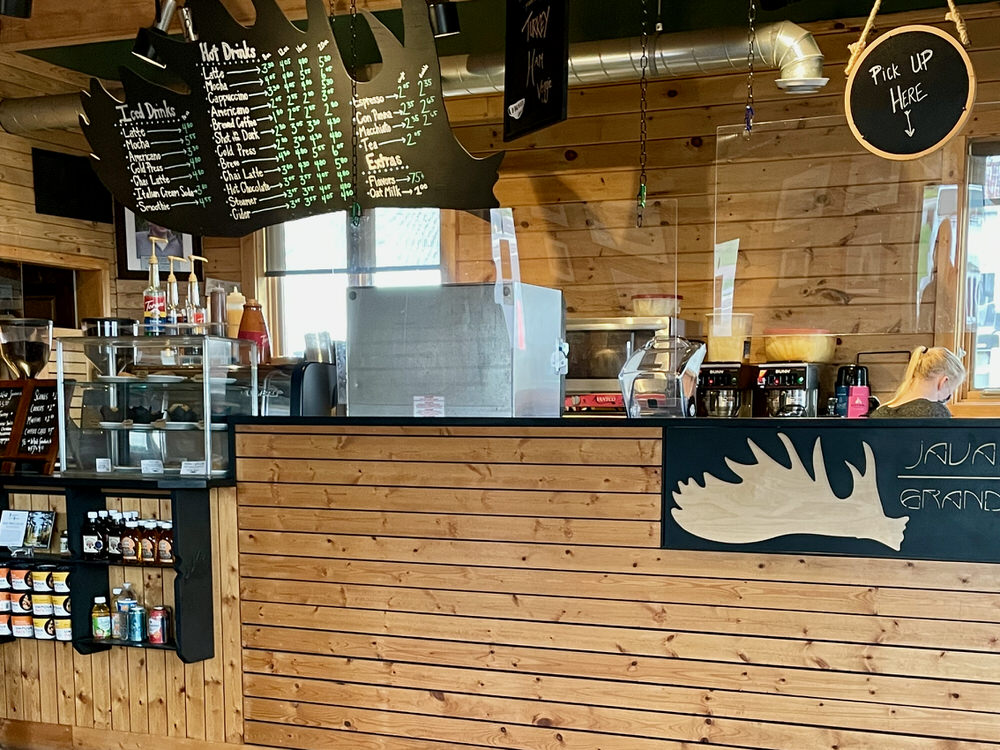 Java Moose – An absolute Grand Marais must – no visit is complete without a trip to the Java Moose. I'm partial to their Nordic Miel Latte and Harbor Fog Tea. Be sure to check out their impressive selection of merchandise.
Cook County Whole Foods Co-op – Just need a cup of coffee? The Co-op's grab and go coffee counter can quickly caffeinate you for the day. You can't go wrong with a Crosby Bakery scone or pastry while you're at it.
Fika Coffee – Although their coffee shop is in downtown Lutsen, you can find this locally roasted coffee in any Grand Marais grocery store. Perfect if you're staying in a vacation rental!
Best Drinks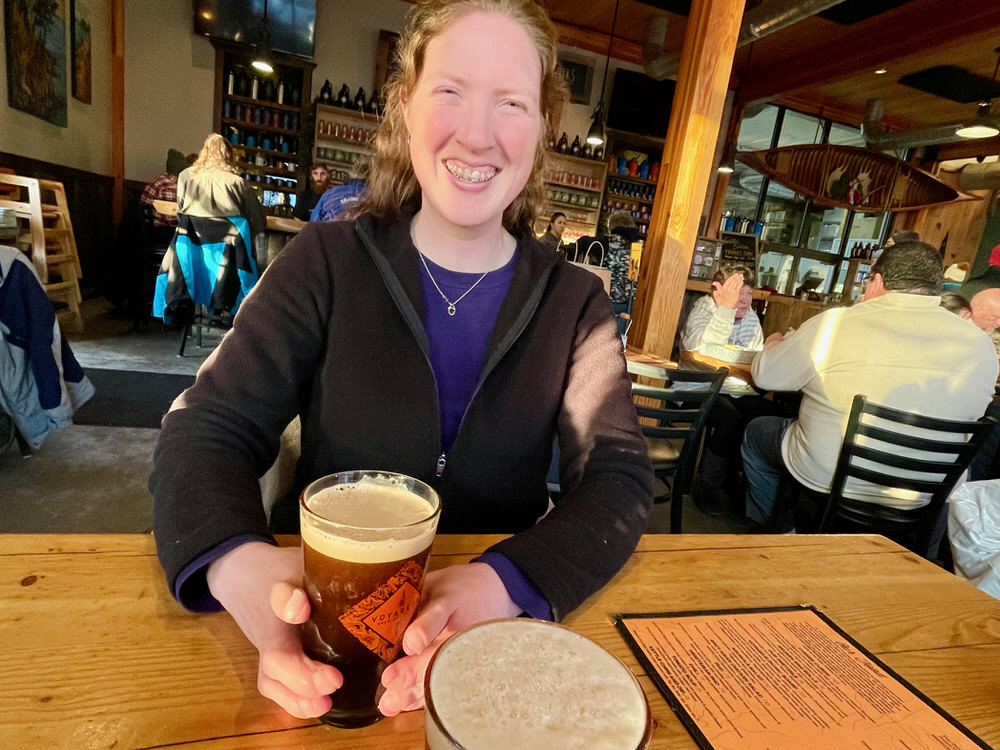 Gun Flint Tavern – The place to go for mixed drinks. All year-round you can relax with your Negroni or Mojito in the Raven Pub. During the summer, head upstairs to the Raven's Nest – a rooftop bar overlooking the harbor.

Voyageur Brewing Company – This local watering hole provides a comfortable space to catch the game or relax on the patio or rooftop. Beers have Boundary Waters themed names. Even better than their beers is their great array of appetizers including pretzels and Reuben egg rolls.
Best Lunch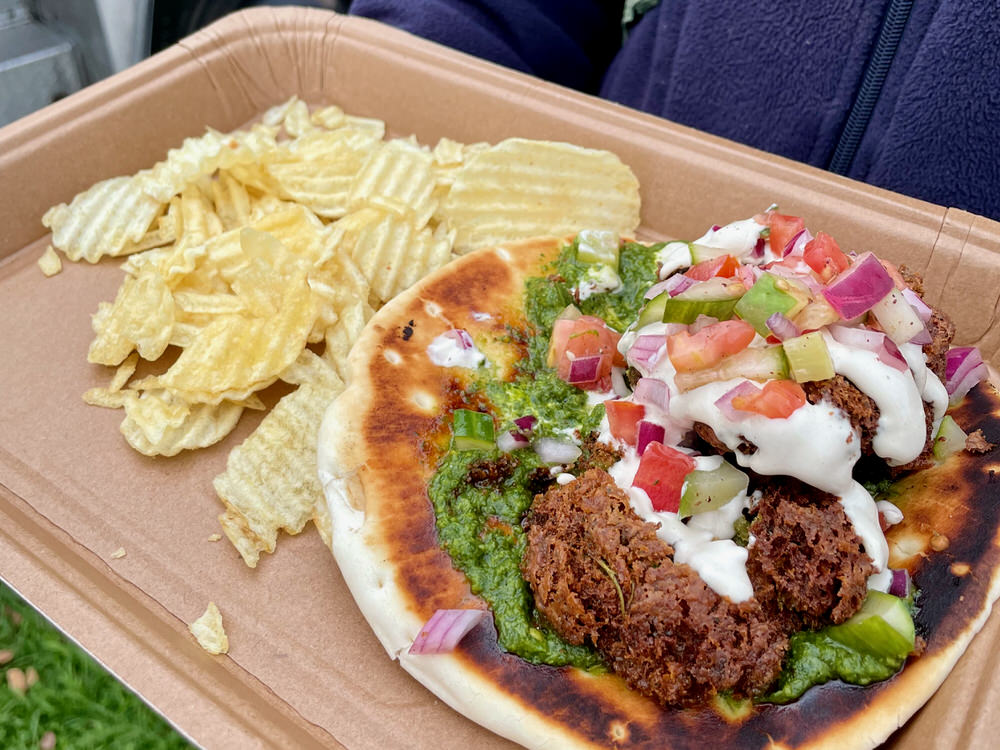 Hungry Hippie Tacos – This counter-service restaurant is known for its frybread tacos and large selection of craft beers. Don't miss the pork or brisket (which they smoke themselves), and chipotle sour cream.

The Fisherman's Daughter – Another counter service restaurant that's actually part of the North House Folk School campus. They offer a grab and go deli as well as a small, but delicious menu including fish and chips and fish tacos.

The Crooked Spoon Food Truck – No doubt, the April 2020 fire that leveled the Crooked Spoon Café and two adjacent gift shops left a hole in Grand Marais's downtown. But you can still enjoy Crooked Spoon fare. More weekends than not, you'll find the Crooked Spoon food truck parked in their old café lot. Follow them on Facebook to find their specific schedule and location.

The Bad Seed Food Truck – Another great food truck option. Check out their Instagram for their menu du jour and find out where they'll be parked.
Best Dinner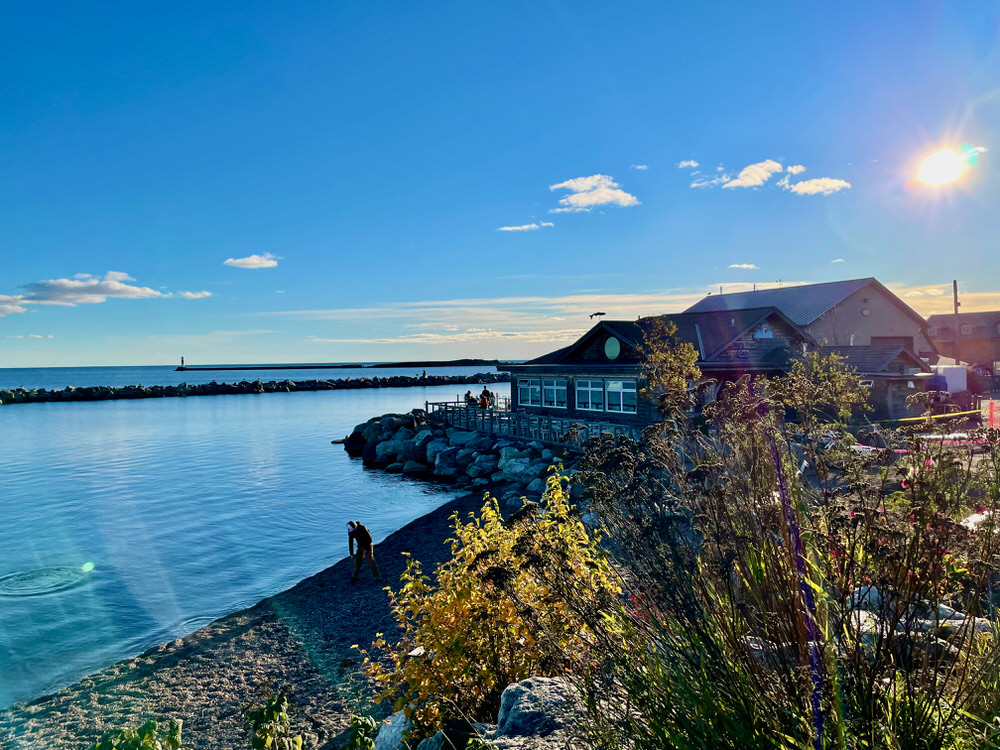 Not unlike their neighbor to the north, the Gunflint Trail, Grand Marais suffers from a dearth of restaurants. Evening dining options in Grand Marais are pretty limited and often come with long waits. Consider taking a short drive to expand your dinner options.
Angry Trout Café – Now open year-round! This harbor-side restaurant heralded in ingredient-forward dining on the North Shore. The Trout also dishes up the best fish and chips in town as well as impressive salads and pastas.
Raven Rock Grill – Located a quick 10-minute drive up the Gunflint Trail, Raven Rock Grill at Skyport Lodge on Devil Track Lake serves up typical pub fare in a beautiful setting.
Cascade Restaurant – Another 10-minute drive outside of Grand Marais, you'll find Cascade Restaurant right on Highway 61 on the way to Lutsen. The restaurant boosts an impressive stone fireplace and a wide variety of sandwiches, pizzas, grain bowls, and more. As a bonus, you can take a quick hike in Cascade River State Park after dinner.
Best Treats
Sydney's Frozen Custard – If you've only had Culver's frozen custard, you're in for a treat at Sydney's. Prepare for yourself mentally for massive serving sizes! Custard comes in vanilla or chocolate and there's a special treat in the bottom of each waffle cone.
Gunflint Mercantile – For many people, a trip to Grand Marais isn't complete without swinging by Beth's Fudge. But if you're a chocolate fan, you definitely want to visit the Gunflint Mercantile on 1st Avenue West for homemade fudge, truffles, and other treats.
Crosby Bakery – Currently just a wholesale bakery, you'll find Crosby Bakery items at the Cook County Whole Foods Co-op and Java Moose. You can order cakes, pastries, and other treats through their social media. Soon you'll be able to buy directly from the bakery in their new downtown location.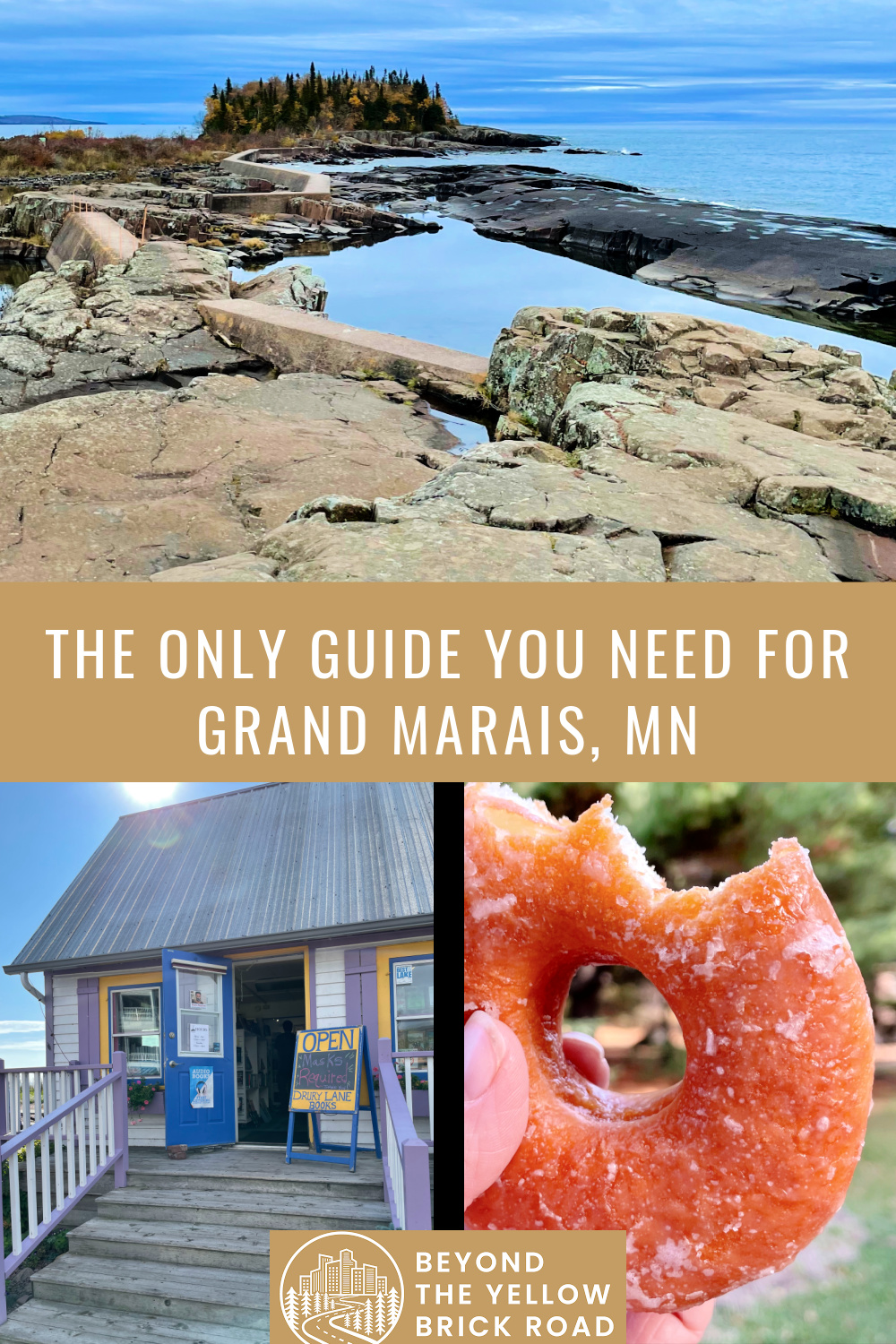 Have you ever visited Grand Marais? If so, what are your favorite things to do?
Every first-time visitor to the Gunflint Trail should know these facts before driving up one of Minnesota's most fabled scenic byways.
read more