10 Things You Need to Know About Minnesota's Gunflint Trail
Heading up the Gunflint Trail for the first time? 
For over a century, the Gunflint Trail has attracted visitors wanting to escape to the Northwoods. Even before the pandemic-fueled surge in outdoor recreation, this gateway to the Boundary Waters Canoe Area Wilderness had seen increasing popularity. But often Gunflint Trail visitors are surprised by the reality they find in this rural corner of northeastern Minnesota.
For one thing, the Gunflint Trail isn't even a trail.  It's a 57-mile two-lane paved highway (Cook County Highway 12). A designated scenic byway, the Gunflint Trail originates in the small harbor town of Grand Marais. The road winds northwest through the Minnesota wilderness, terminating approximately four miles south of the U.S./Canada border at Trail's End Campground. This road serves as a corridor between two sections of the Boundary Waters and is home to more than two dozen resorts and canoe outfitters. 
Whether you're "headed up the Trail" for a Boundary Waters canoe trip, a week in a cabin, or just day tripping during your North Shore vacation, here are ten things everyone should know before "heading up the Gunflint" for the first time.  
Can't stick around? Pin now to help plan your Gunflint Trail travels later.
10 Things Everyone Should Know Before Driving up the Gunflint Trail
1) There are no gas stations
At its heart, the Gunflint Trail is a wilderness access road and offers very few amenities. As soon as you leave Grand Marais, you've said good-bye to grocery stores and gas stations. You need to be completely provisioned for your time on the Gunflint Trail before you even drive a mile of it. Resort gift shops can help with t-shirts and s'more fixings, but you'll pay a premium price if you need actual groceries or heaven help you, gas.
While two Mid-Trail businesses (Trail Center and Nor'wester) do have public gas pumps, it's not uncommon for them to be out of fuel. Resorts may also help you out with gas in a pinch. However, their gas supply is intended for business purposes, not bailing out bad planners.
The best practice is to head up the Trail with a full tank of gas. At the very least, make sure you have enough range to drive about 150 miles before needing a fill-up. Although the Gunflint Trail is only 57 miles long, some side roads are pretty long! 
Driving an EV on the Gunflint Trail
Don't need gas? The Gunflint Trail offers a hand-full of charging stations (Bearskin Lodge, Rockwood Lodge) and many businesses will allow you to plug into a standard 120V outlet.
Just think long and hard about driving your EV up the Gunflint Trail in the depths of winter. Lows of -40 are fairly common in this corner of northeastern Minnesota. In temps that frigid, EVs can drop their charges very quickly and it can be difficult to maintain a charge on a 120V outlet.
2) You should make dinner reservations
Simply put, the Gunflint Trail does not have enough restaurants to serve everyone who wants to eat out on any given summer night. The Gunflint Trail's home to more than two dozen resorts, several campgrounds, and countless vacation rental properties. Don't forget summer cabin residents! To feed these thousands of people, there's a grand total of three restaurants: Gunflint Lodge, Poplar Haus, and Trail Center.
Needless to say, it can be a struggle to eat out on the Gunflint Trail. If you have a large group of say, Boy Scouts, who need dinner the night before a canoe trip, your chances of being seated in a timely manner are especially slim. For the best dining experience, you should make a reservation. Poplar Haus takes reservations up to 24 hours in advance. Trail Center doesn't take reservations, so mentally prepare yourself for an hour + wait or plan to eat very early.
Another great option, especially if you just need to feed yourself before a canoe trip, is to pick up take out in Grand Marais. There might not be many restaurants, but picnic spots abound on the Gunflint Trail. Take out from Hungry Hippie Tacos, the Crooked Spoon Food Truck, and even Subway, all travel well. 
3) Moose aren't lurking around every corner . . .but they're also not not lurking around every corner
The Gunflint Trail is well-known as one of the few places in Minnesota where you can see moose. You'll also find a healthy population of gray wolves, Canada lynx, red foxes, pine martens, and more in the surrounding forest.
But keep in mind, that forest is vast. So vast that it does take a little luck to have an animal cross the road in front of you. Someone once asked me, "Be honest with me . . . am I more likely to see a unicorn than a moose on the Gunflint Trail?" I guess you could say our moose are a little elusive . . . .  
However, I can 100 percent confirm that moose exist on the Gunflint Trail. Since moose are crepuscular, (most active at dawn and dusk) you'll greatly increase your odds of spotting one by driving Gunflint Trail backroads around sunrise and sunset. Personally, I see the most moose when I drive the Gunflint Trail in the winter at night. Moose have a real knack for hanging out on icy curves after dark!
Because of moose and other wildlife's general lack of "street smarts," you should always expect to encounter wildlife when driving the Gunflint Trail. It absolutely breaks my heart when I pass a dead fox or other animal on the side of the road. Accidents do happen, but so many vehicle/wildlife collisions could be avoided with slower speeds and practicing situational awareness. Especially in the winter, watch for fresh animal tracks on the side of the road, scan in front of you for animal eyes reflecting in your headlights, and slow down on corners.  
4) The Gunflint Trail is not treated in the winter and many side roads are unplowed
By far the Gunflint Trail's longest season, winter brings snow-flocked trees, frozen lakes, and icy roads. From about November 1 – April 15, you should consider yourself #blessed if you find bare pavement when you drive the Gunflint Trail. Icy snowpack covers the road for months on end. 
Why is the Gunflint Trail so icy when other Minnesota roads are pretty much bare pavement all winter long? In an effort to avoid the aforementioned vehicle/moose collisions, the highway department limits the amount of salt they use to treat the road. This means we all have to drop our driving speeds in the winter. It feels like a small price to pay to have a few more moose living into old age.
It's also good to remember that the Gunflint Trail isn't the county highway department's highest priority. Even by rural Cook County's standards, the Gunflint Trail is sparsely populated. After a significant snowfall, Gunflint Trail side roads might not be plowed until the afternoon. On weekends, it might be mid-morning before plow trucks make their first pass on the Gunflint. Plan accordingly!
A fair number of Gunflint Trail side roads fall outside of the highway department's jurisdiction. Managed instead by the Forest Service, many of these side roads are never plowed. Before you get too committed to any Gunflint Trail winter recreation plans, check this Gunflint Trail winter parking guide to make sure they're feasible.
 5) Most resorts have minimum night stays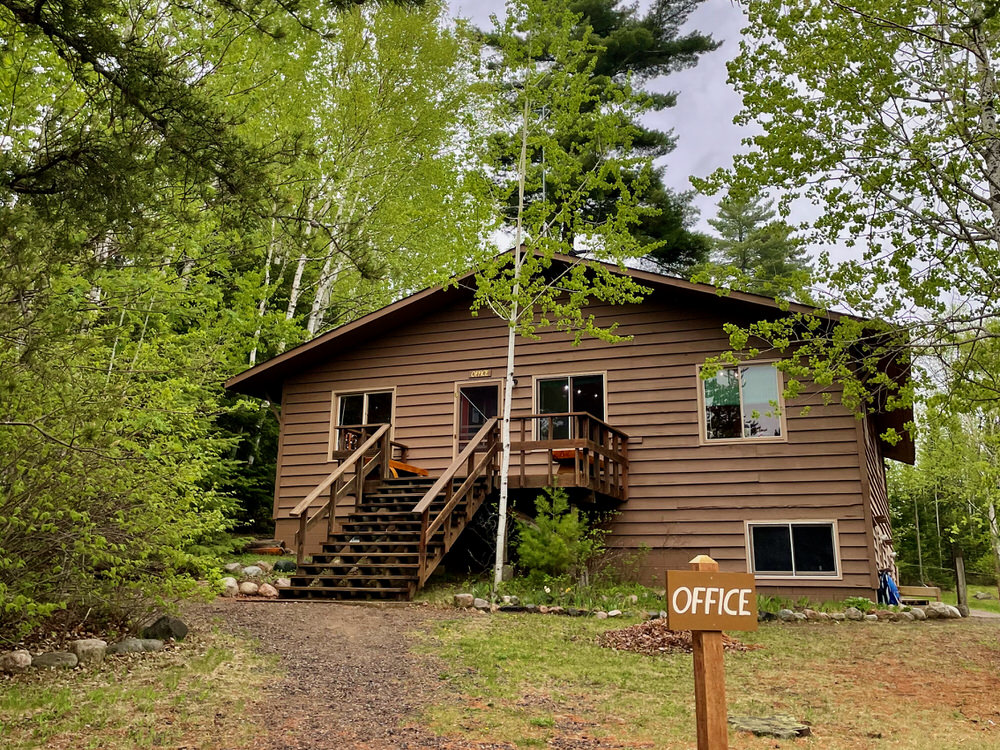 With abundant day hikes, short canoe routes, and wildlife viewing opportunities, the Gunflint Trail makes a wonderful day trip destination. But don't be surprised if you're limited to car camping if you spontaneously decide to spend the night.
Most area resorts required a minimum stay ranging from a couple nights to an entire week. Lodge rooms and cabins often book months in advance. Book in early winter if you want to stay in July or August.
Of course, cancellations happen, and it might be your lucky day.  Most Gunflint Trail businesses post their last-minute lodging openings on Facebook or Instagram. The local visitor bureau, Visit Cook County also keeps close tabs on last-minute lodging availability. If a cursory social media search doesn't turn up any openings, try giving the Grand Marais Visitor Information Center a call.
6) We don't really do trail maps
When someone comes up the front steps of my business on a sunny, summer morning with a day pack slung over their shoulder, I know there's a good chance they're going to ask for a hiking trail map. And I'm going to say that I don't have one for them. This brochure rounding up all Gunflint Trail hiking options is the best I can offer.
Although the Gunflint Trail is home to more than two dozen hiking trails, there aren't any printed trail maps to accompany you. The majority of these hikes are out and back treks. I guess we just assume you can follow the beaten track.  
There's one notable exception to this rule. The Centennial Hiking Trail, a 3.3 mile loop, has an informational brochure with a map that you can pick up at the trailhead. You can also use Boundary Waters maps (like those made by W.A. Fisher or McKenzie) for longer distance trails like the Kekekabic and Border Route Trails  
If you prefer having a map, I highly recommend the Gaia Earth app which turns your phone into a GPS device. I especially like that I can record my track with it. All Trails is another good option.
7) Cell service is minimal at best and nonexistent for most

Cell service took a long time to reach the rugged Gunflint Trail. Until just recently, you lost service almost as soon as you passed Hedstrom's Mill about four miles north of Grand Marais. Unless you caught a roaming signal from Canada, you'd be without cell coverage during your entire visit.
Locals definitely invested a fair amount of their identity into the fact that they lived without cell service. Suffice it to say, there was much gnashing of teeth when AT&T finally installed a tower on the Gunflint Lake radio tower.
But don't depend on that AT&T service.  The Gunflint Trail's dramatic topography renders cell service spotty at best. You should never count on your cell phone to get you out of a wilderness emergency.
Your best bet for safe travels on the Gunflint Trail remains as it always has. Plan ahead, download any necessary directions and information ahead of time, and avoid risky behavior. Remember, if you need to call on emergency services, it probably won't be as simple as dialing 9-1-1.
 8) If you have to ask, you're not in the Boundary Waters

Proximity to the Boundary Waters Canoe Area Wilderness is one of the Gunflint Trail's biggest claims to fame.
The term "Boundary Waters" has long referred to the vast, lake-filled swarth of wilderness that covers northeastern Minnesota and northwestern Ontario, Canada. However, with the passing of the Boundary Waters Canoe Area Wilderness Act of 1978, the Boundary Waters became a very specific definition. Today, it's a 1.1 million acre tract of federally designated wilderness embedded in the nearly 4 million acre Superior National Forest. That means the only thing to distinguish one bit of forest from the actual Boundary Waters is a line on a map.
Keep in mind, the Boundary Waters is completely closed motorized use, except for a few specific areas where motorboats are allowed. You'll need to use your own feet or some form of watercraft – usually a canoe – to reach the official Boundary Waters. If you just stepped out of your car on the Gunflint Trail you could very well be on Superior National Forest land, but it'll take a little more effort to make it into the Boundary Waters.
The Superior National Forest does an excellent job of installing BWCAW signs at every point where you cross into the Boundary Waters. Whether you're on a hiking trail, portage, or simply in the middle of a lake, there'll be a sign to greet you. You won't need to ask if you're in the Boundary Waters. You'll know.
9) This region has a rich cultural history worth exploring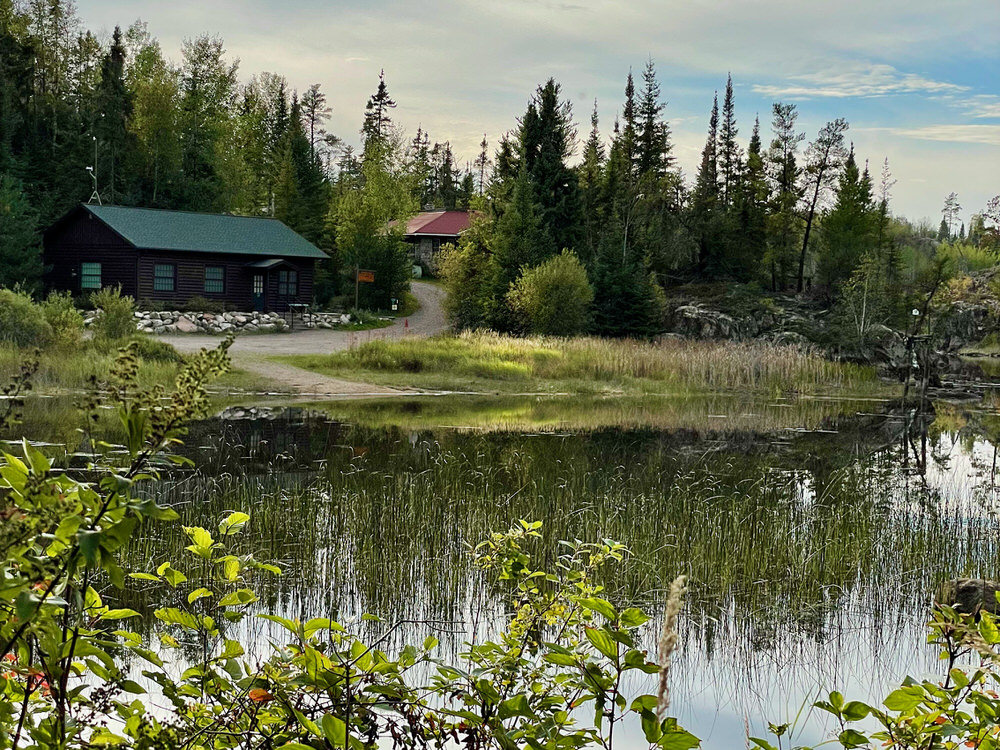 Don't write the Gunflint Trail off as "the middle of nowhere." It might be sparsely populated today, but people have called the Gunflint Trail home for thousands of years.
To learn more about Gunflint Trail history, swing into Chik-Wauk Museum and Nature Center. This seasonal museum is open every day from the Saturday of Memorial Day weekend until mid-October. Located 55 miles up the Trail in a repurposed Saganaga Lake lodge building, the museum focuses on Gunflint Trail human history. The museum grounds also include a nature center, watercraft exhibit, replica 1950s resort cabin, and a network of nature trails.
Chik-Wauk will have another claim to fame starting in the summer of 2022. That's when it'll become the permanent home of the Minnesota state record walleye. This massive fish was caught in the Seagull River in May 1979 just a mile away from the museum.
Another great place to learn about a fascinating chapter of Gunflint Trail history is on the Centennial Hiking Trail. This 3.3 mile loop trail starts at the Kekekabic Hiking Trail parking lot about 47.5 miles up the Gunflint Trail and follows a defunct railroad bed. You'll learn about riches sought and never found . .  .
 10) All Gunflint Trail addresses use Grand Marais zip codes
For a brief, shining moment of time, the Gunflint Trail had its own post office. But that was many decades ago. All mail delivered on the Gunflint Trail now passes through the Grand Marais post office. That means whether a home or business is located in downtown Grand Marais or 57 miles up the Gunflint Trail, its address uses the same zip code. This might feel pretty strange if you're from an urban area where it's common for a single city to have multiple zip codes.
The far-reaching Grand Marais zip code can occasionally cause confusion.
To have their mail delivered, Gunflint Trail businesses have to use Grand Marais in their address. Occasionally, area visitors will book a Gunflint Trail cabin thinking it's just outside the town of Grand Marais. This mistake seems especially common in winter when people are looking for lodging for their Lutsen Mountains ski vacation. Moral of the story: always plug Grand Marais rentals' addresses in Google maps before completing your reservation.
Have you ever been up the Gunflint Trail? If so, what surprised you about your visit?
A round up of all the very best things to do, see, and eat in Grand Marais, a favorite Minnesota North Shore getaway on Lake Superior.
read more