The Best Boundary Waters Day Trips To Discover This Summer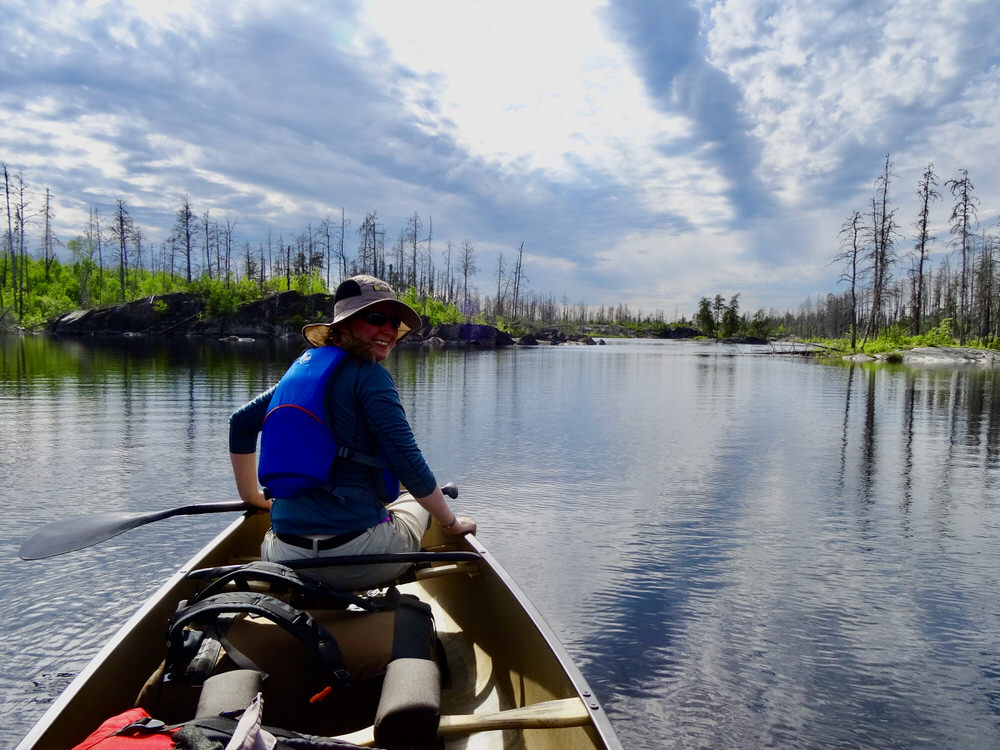 Boundary Waters Day Trips: Bite-Sized BWCA Adventure
Boundary Waters day trips = quintessential northern Minnesota summer experience. When people talk about the Boundary Waters Canoe Area Wilderness (BWCAW), they're often referring to overnight, multi-day camping adventures. But there's no hard, fast rule stating that you must sleep on the ground to truly experience this 1.1 million acre federally designated wilderness nestled in the Superior National Forest of northeastern Minnesota.
With a wilderness as vast as the Boundary Waters, sometimes nibbling around the edge proves the best strategy. A day trip provides a great way to gain confidence and experience. And there's just no shame if you never want to do an overnight trip.
Even though I live adjacent the BWCAW, I definitely consider myself a Boundary Waters day tripper. While I occasionally get the itch to do an overnight BWCAW camping trip, I often find a day trip sates my paddling appetite.
This round up of my very favorite Boundary Waters day trips gets you to some of the most beautiful spots on the Gunflint Trail fast! You really can reach some of the best things in Boundary Waters in less than a half-day of travel.
(Never been in a canoe before? Never want to be? Read on my friend . . .  this Boundary Waters day trip list also includes a fantastic BWCAW hike!)
This post may contain affiliate links. When you purchase something through these links, I receive a small commission that helps me create this blog's content. There's no extra cost to you.
Pin now for Boundary Waters day trip inspiration for your next northern Minnesota vacation
Why Take a Boundary Waters Day Trip
If you've never visited the Boundary Waters, a day trip is a great way to get your feet wet, both literally and proverbially. Consider a BWCAW day trip if you want to:
Increase your comfort in a canoe. If you lack experience paddling or steering a canoe, a day trip provides a low-stakes opportunity to hone your skills.
Learn to navigate in the wilderness area. You won't find any signs in the wilderness so you'll need to get knacky with a map and/or GPS.
Scope out potential routes for an overnight trip. If you're intrigued by a certain route but unsure of its difficulty (or there aren't any available overnight permits), a day trip is an excellent way to get a sense of what the route entails.
Have a low cost outdoor adventure. If you own a canoe, a Boundary Waters day trip is essentially free! Unlike with overnight Boundary Waters trips, you're good to go with just a backpack filled the essentials you'd bring on a day hike. Need a canoe? More on that below!
Be spontaneous. Unlike overnight Boundary Waters camping permits which often must be booked months in advance, there's no quota for Boundary Waters day permits. This allows you to set your day trip route on a whim.
Explore endless route possibilities. You could literally live a long happy life filled with Boundary Waters day trips and still not exhaust all the route possibilities. With 1.1 million acres and some 2000 lakes, there's a lot of ground to cover.
Sleep in a bed at the end of the day. Honestly, probably the number one reason I'm such a huge day trip fan. Nothing beating crawling into a cushy bed after a full day on the water.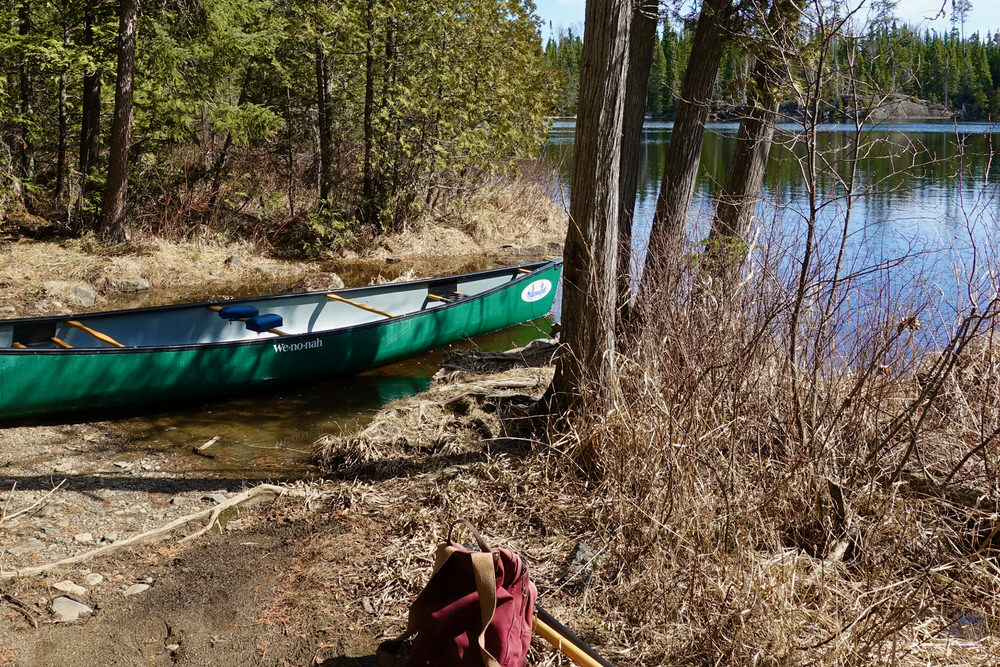 What You Need For A Boundary Waters Day Trip
Canoe –You can easily rent a Kevlar canoe from the Boundary Waters outfitter nearest your day trip destination for about $50. If you're willing to take a heavier aluminum or Royalex canoe the rental fee will be around $35. Outfitters almost always have canoes available for a one-day rental, but give them a call a day or two ahead to make sure.  Don't forget about lifejackets and paddles. 
Shoes that can get wet – Prepare for wet feet if you're renting a lightweight Kevlar canoe for your day trip. These canoes must float completely before bearing any weight so you'll be getting in and out of them when you're standing in water. In the height of summer, sandals do just fine. Despite the long running controversy on the "safety" of wearing sandals in the Boundary Waters, I've done plenty of day trips in Keens. If you're day tripping in cooler weather, consider knee-high boots like Bogs.
Day use Boundary Waters permit – Yes, you do need a Boundary Waters permit for a day trip. But unlike with overnight camping permits, they don't have a quota . . . and they're free! Just self-issue yourself a day use permit at your Boundary Water entry point. You'll find the permits in the U.S. Forest Service informational kiosk near the boat launch. 
Day pack– Fill your favorite backpack with whatever you'd typically bring for a day hike. I like to pack a couple water bottles, sunscreen, sunglasses, sun hat, snacks, and a basic first-aid kit. 
Map – While I love my Gaia app, I prefer paper Boundary Waters maps (like W.A. Fisher or McKenzie) on day trips. For one, I'm old school and find these maps familiar and easy to use. For another, I like the security of a physical map just in case my phone dies or takes an unexpected swim. Bonus: these maps make a great trip souvenir. You can pick them up wherever you rent canoes.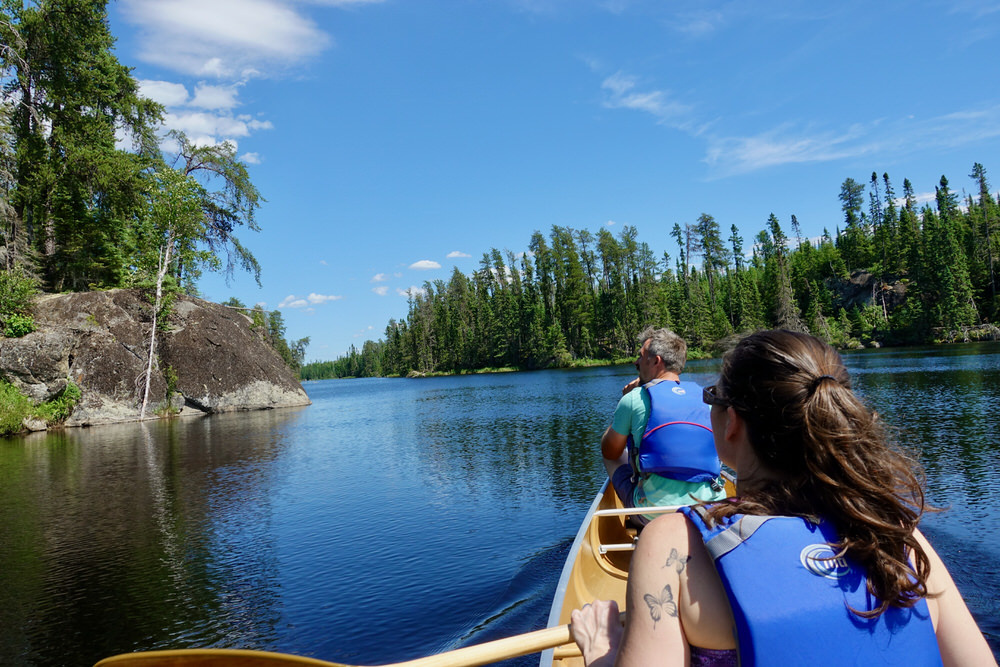 Best Gunflint Trail Boundary Waters Day Trips
In the Grand Marais area or staying up the Gunflint Trail? The following list features my favorite Boundary Waters day trips on the eastern side of the wilderness.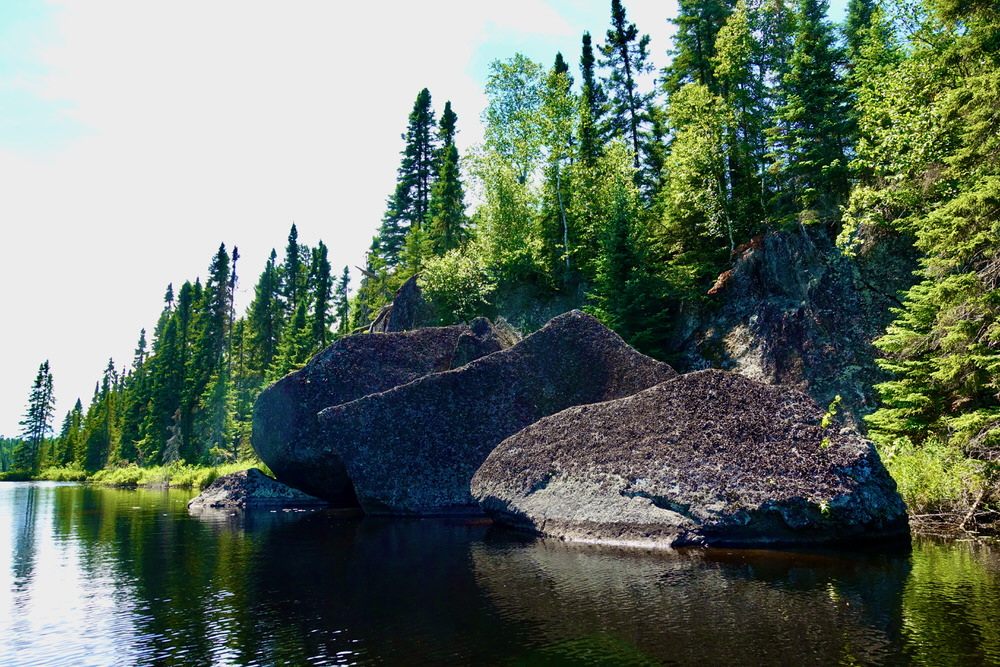 I highly recommend this route if you want to preview what overnight Boundary Waters trips entail. While some visitors do this 6-mile loop as an overnight trip, you can easily do the entire route in about five hours.
You start this route one of two ways. Begin either at the Cross Bay Lake entry point (FYI: the sign says "Cross River) or via the Missing Link Lake entry point accessed from the Round Lake Public Landing.
While this route mainly features short and easy portages, it's not without challenges. The 1/3-mile-long portage from Missing Link to Round Lake runs at a steady uphill grade if you begin on Round Lake. The Snipe Lake to Missing Link portage is even longer and significantly more rugged.
As you paddle this route, consider swinging into one of the campsites on Ham Lake for a picnic or for some bass or walleye fishing. Moose frequent the swampy shallows of Cross Bay Lake. During the spring, a waterfall pops up in the southwest corner of Cross Bay. A profusion of pitcher plants fills the bay near the Snipe portage on Cross Bay Lake in late June.
About the Snipe Lake Loop Day Trip
Route highlights: Beautiful Boundary Waters scenery, small lakes, moose viewing opportunities, waterfalls
Starting point: Cross Bay public access off the Round Lake Road or Round Lake Public Access, a .5 mile drive off the Round Lake Road.
Approximate distance: 6 miles
Closest outfitter/resort: Tuscarora Lodge and Canoe Outfitters
Truthfully, you could spend days exploring Seagull Lake. In fact, it's a favorite base camp destination for overnight campers. Although this lake's been hit by wildfires over the last 30 years, it remains one of the most scenic and interesting lakes in the entire Boundary Waters Canoe Area Wilderness.
As a larger lake, Seagull can get really choppy and tough to navigate on windy days. It's worth waiting for perfect weather to explore this beloved lake. You'll want to take your time weaving through the lake's numerous islands and stunning cliffs without the stress of being blown off course.  
The Seagull Palisades on the lake's north shore offer a quick hike and fabulous view of the lake and surrounding forest.  For a completely different sort of hike hit up the notoriously long (about 1.75 miles one-way) portage between Seagull and Paulson Lakes. It's not worth portaging a canoe to Paulson. Instead leave your canoe to the side of the portage landing and do the hike unencumbered. The portage's high point provides another great Seagull Lake vista.
Don't forget about fishing. All four major Boundary Waters game species – lake trout, northern pike, smallmouth bass, and walleye – live in Seagull Lake. Can you get a grand slam in one day?!
About Seagull Lake Day Trip
Route highlights: Hiking options, great picnic and swimming spots, sand beaches, blueberry picking in season
Starting point: Blankenburg Public Landing located on the Seagull Lake Access Road (across from Seagull Creek Fishing Camp)
Approximate distance: 2-9 miles depending on your route
Closest outfitter/resort: Seagull Canoe Outfitters
Larch Creek to Gunflint Lake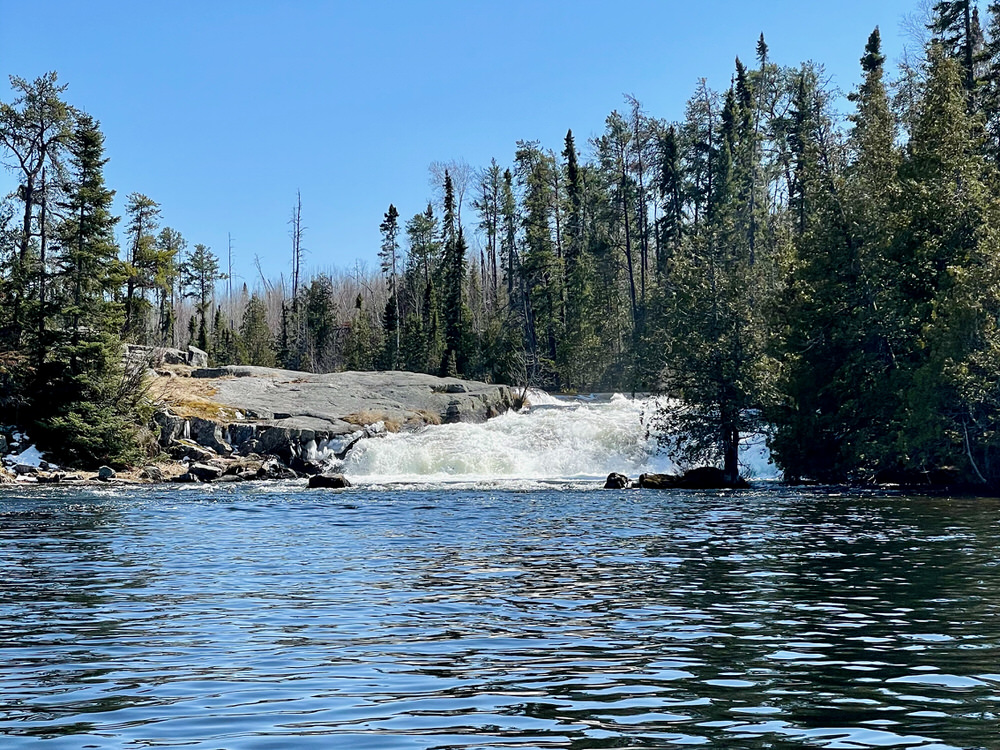 You'll need two cars to pull off this day trip. While I love paddling down Larch Creek, beaver dams make paddling back up less fun. To avoid heaving my canoe up and over these obstacles, I prefer to leave a car at the Larch Creek entry point and park another at the Gunflint Lake public access, about four miles away.
Start by winding down picturesque Larch Creek for a mile. After passing through a couple small lakes (Larch and Clove), you'll reach the Granite River. This river forms the international border between the U.S. and Canada and flows from Gunflint Lake to Saganaga Lake. Don't worry that you're paddling upstream. The river essentially has no current and you'll portage around any moving water.
You'll hear the day trip's highlight – Little Rock Falls – long before you see it. This churning waterfall is a favorite picnic spot and proved a major obstacle for Voyageurs during the Fur Trade era. It's said trading items like beads and pots still rest at the bottom of falls from tipped Voyageur canoes!
Near the end of your paddle, watch for the Swiss Chalet cabin on Gallagher's Island in Magnetic Lake. Just remember that this quaint cabin is privately owned and still used. Keep the gawking to a minimum, eh?
About Larch Creek to Gunflint Lake Day Trip
Route highlights: Waterfalls, historic cabin, paddle the international border
Starting point: Larch Creek entry point, just north of the U.S. Forest Service Seagull Guard Station on the Gunflint Trail (Cook County Highway 12).
Approximate distance: 8 miles 
Closest outfitter/resort: Tuscarora Lodge and Canoe Outfitters or Gunflint Outfitters
While this isn't a good first Boundary Waters day trip, you don't want to miss Johnson Falls once you've built up your paddling chops. This long-distance day trip can be a big confidence builder if you're on the fence about taking an overnight Boundary Waters trip. Along the way you'll tackle some long, difficult portages and navigate multiple lakes. Budget a full day for this day trip; you'll likely be on the water for at least eight hours.
You can reach Johnson's Falls two different ways.* For the shorter (about 10 miles round trip) and most scenic way to reach the waterfall, start on Clearwater Lake. Cross Clearwater Lake, portage into Caribou Lake, Little Caribou Lake, and access Johnson Falls from Pine Lake.
Alternatively, start on East Bearskin Lake, portage into Alder, and proceed to Canoe Lake. Tuck your canoe to the side of the Canoe portage landing. Switchbacks riddle this long portage. 
Whichever way you get to the Pine/Canoe portage, once you get there look for a user-developed trail on the Pine end of the portage. The trail takes off to the west. Follow it for about .2 miles to reach the beautiful, two-tiered waterfall.
*You can also access Johnson Falls a third way . . . via McFarland and Pine Lakes. For this option, start at the McFarland Lake Public Landing located up the Arrowhead Trail outside of Hovland, MN. Unless you're staying in the Hovland/Grand Portage area, this isn't a very convenient option.
About Johnson Falls Day Trip
Route highlights: Secluded waterfall, beautiful Boundary Waters lakes
Starting point: Either Clearwater Public Landing or East Bearskin Public Landing (located in the East Bearskin Campground)
Approximate distance: Approximately 10 – 12 miles round trip, depending on your route
Closest outfitter/resort: Bearskin Outfitters or Clearwater Lodge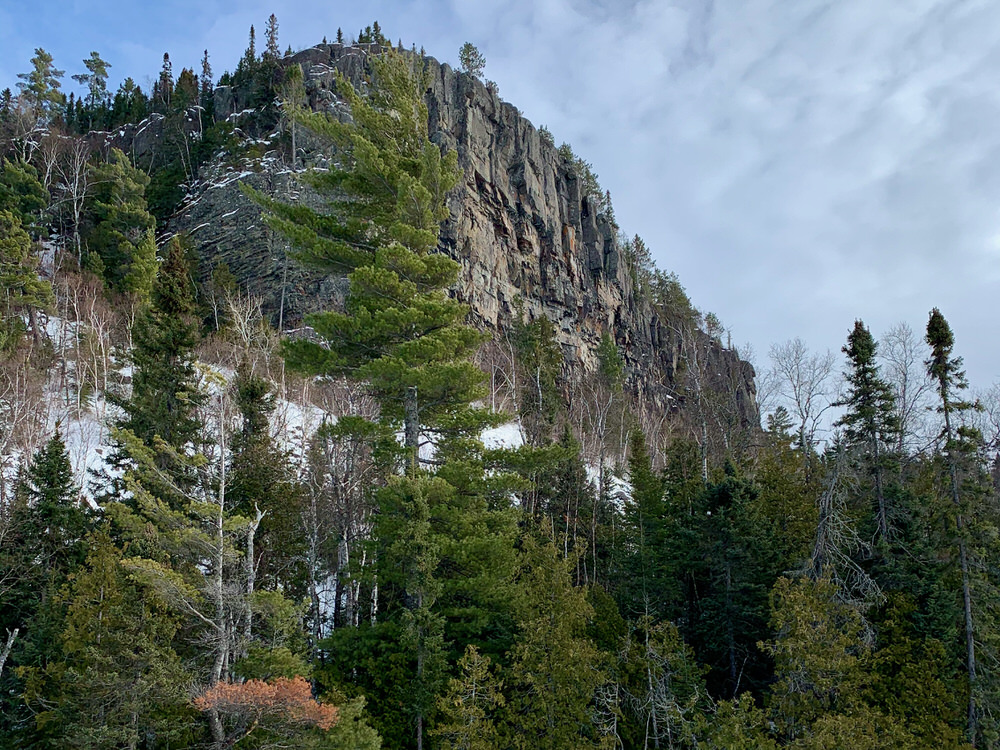 Want a day trip with a paddle and a hike? You're in luck!
This day trip doesn't cover much distance, but it's definitely a Gunflint Trail must-see. Paddle less than one mile from the Clearwater Public Landing to reach the palisades trailhead.  A steep but short .3 mile hike takes you to the top of these dramatic 400 ft cliffs.
After you've taken in the view, spend a little time paddling around the cliffs' base. The cliffs truly are the real MVP of this day trip, so don't be so busy scrambling to the top of them that you forget to soak up their beauty from below.
This also makes a great winter Boundary Waters day trip with either skis or snowshoes.
About Clearwater Palisades Day Trip
Route highlights: Stunning palisade cliffs, panoramic views, old growth forest 
Starting point: Clearwater Public Landing at the end of the Clearwater Road (Cook County Highway 66)
Approximate distance: 2 miles (combined hiking and paddling)
Closest outfitter/resort: Clearwater Lodge
Be warned, on a summer weekend, more than a dozen canoes will likely greet you at the landing of the Duncan/Rose portage. An infamously popular Gunflint Trail Boundary Waters day trip, this relatively easy paddle offers a big reward. 
After only an hour or so in the canoe, you reach a beautiful, rushing waterfall beside the portage between Duncan and Rose Lakes. Connect to the Border Route hike trail that crosses the portage. After an easy five-minute hike you'll reach a spectacular overlook of Rose Lake and the surrounding wilderness.
For nearly a century, the portage between Rose and Duncan Lakes has been characterized by impressive wooden staircases originally installed by a Civilian Conservation Corps crew in the 1930s.  That's why you might see it labeled as "Stairway Portage" on maps. However, as of Summer 2022, the stairs will be replaced for a more natural, user-friendly rock work. 
On the return trip, mentally prepare for choppy water on Duncan Lake. Duncan is notorious for having unexpectedly rough water.  Just make sure you and your paddle partner are communicating well before you set out and you'll do great. 
About Rose Lake Day Trip
Route highlights: Waterfall, cliffs on Rose Lake, views from the Border Route hiking trail 
Starting point: The West Bearskin Public Access point off the Hungry Jack Road (Cook County Highway 65) 
Approximate distance: 3-4 miles
Closest outfitter: Hungry Jack Outfitters
Bonus: A Boundary Waters day trip hike
Bridal Falls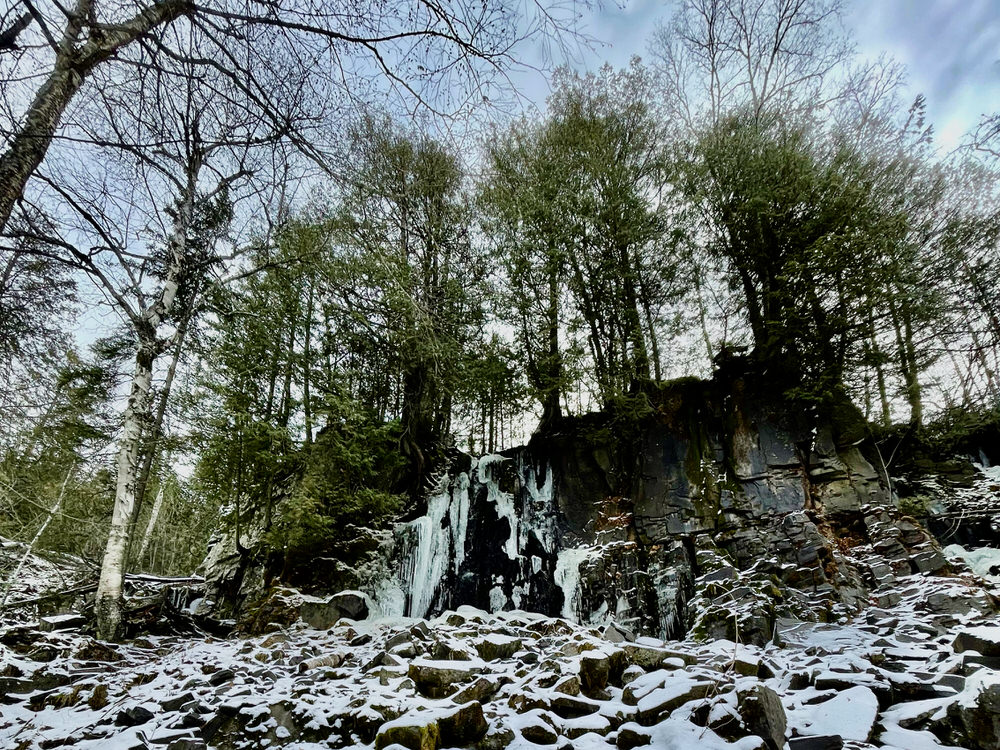 Although you won't spend long in the Boundary Waters on this hike, don't let semantics dissuade you. Bridal Falls, on the southeast shore of Gunflint Lake, sits outside the official BWCAW, but this is definitely a full-blown wilderness hike. Don't miss this Gunflint Trail highlight.
An easy to moderate hike, the hardest part of this hike is the length. You start this 7-mile round trip hike on the eastern end of Loon Lake. You take the Crab Lake Spur Trail east to where it connects to the Border Route Trail. Then turn west on this long distance hiking trail that spans the easternmost part of the Boundary Waters Canoe Area Wilderness. Definitely pack a lunch and plenty of water. 
Along the way, you'll find cliffs, follow the shoreline of scenic Crab Lake, take in sweeping views of Gunflint Lake, and traverse an old railroad grade. There's a stream to hop over, the path gets rocky at some points, and the descent down to the actual waterfall is no joke. Once you near the impressive waterfall, you'll start noticing signs that direct you right to its base. 
About Bridal Falls Hike Day Trip
Route highlights: Waterfall, views of Gunflint Lake, dramatic rock faces
Starting point: Crab Lake Border Route Trail Spur Trail located about 1/2 a mile in on the Loon Lake Road (Cook County Highway 51) 
Approximate distance: 7 miles (round trip)
Closest outfitter/resort: Loon Lake Lodge
If you're looking for more Boundary Waters hikes, check out this list of six great Gunflint Trail day hikes. 
Do you prefer day or overnight trips? Hike or paddle? What's your favorite Boundary Waters day trip destination?
A state of wide open spaces, there's no shortage of New Mexico places to explore on public lands. Here's a guide to the very best sites from Carlsbad Caverns to Lincoln National Forest and beyond.
read more