Five Fabulous Gunflint Trail Hikes You'll Love This Fall
Where to Hike on Minnesota's Gunflint Trail in Autumn
I absolutely love fall hikes around my Gunflint Trail neighborhood in northern Minnesota. Not only does autumn mark the conclusion of another summer season spent outfitting Boundary Waters Canoe Area Wilderness visitors, it's also the perfect time to explore the Gunflint Trail on foot. The nuisance biting bugs have almost completely disappeared except for the stray mosquito, the foliage has died back enough to restore vistas, and cooler temps mean you can hike for miles and miles. Sure, the days are shorter, but that provides all the more motivation to get out there and seize the day.
Over the years, I've logged countless hours on Gunflint Trail hiking trails. I've collected my five very favorite fall hikes for this post. Trust me, these trails don't disappoint. I return to them year after year for their spectacular views of the Superior National Forest.
If you're looking to explore Minnesota at its very best, lace up those hiking boots and check out these Gunflint Trail hikes this fall.
This post may contain affiliate links. When you purchase something through these links, I receive a small commission that helps me create this blog's content. There's no extra cost to you.
Pin now so you can check out all of these hikes on your Gunflint Trail visit 
Why explore northern Minnesota's Gunflint Trail in autumn?
If you're a Minnesotan who follows George Eliot's advice to "fly about the earth seeking the successive autumns," your first stop each autumn is the North Shore. This is almost always one of the first areas in the state to experience fall colors. The colors usually peak in late September and early October.
However the Gunflint Trail – a 57-mile wilderness highway that starts in Grand Marais and runs northwest between two sections of the Boundary Waters Canoe Area Wilderness – doesn't get as much love as better known North Shore fall color destinations like the Lutsen area or Bear and Bean Lakes.
To be brutally honest, the Gunflint Trail's fall foliage simply isn't as spectacular as the forest closer to Lake Superior. Thanks to an abundance of aspen and birch trees, Gunflint Trail fall colors skew orange and gold. Stray ash trees, along with plenty of mountain ash berries and moose maple shrubs, provide some red splashes. While not as dramatic as the vibrant red maples you'll find near Lutsen or on the ridge above Grand Marais, fall on the Gunflint Trail is definitely a sight to see.
The slightly less "desirable" look of Gunflint Trail autumns comes with some definite perks. You'll find fewer drivers (aka "leaf peepers") to get stuck behind. Don't be surprised if empty hiking trail parking lots greet you, especially midweek. And bonus of all bonuses, you can really soak in those autumn vistas without worrying about the person behind you homing in for their own shots. Honestly, autumn on the Gunflint Trail is kind of the best.
Gunflint Trail pre-hike need to know
Since most land reached from the Gunflint Trail is Superior National Forest, it's a very accessible area. For day use, this vast swath of public land is free to explore. If you happen to enter the Boundary Waters Canoe Area Wilderness during your adventuring, you do need to fill out a free day use permit.
The flipside of having an entire forest as your hiking playground is that the Gunflint Trail offers fairly limited amenities. Get okay with the idea of pit toilets (if you're lucky) and expect minimal cell phone service at best. Always head up the Trail with a full tank of gas and plenty of snacks and water on the off-chance you get stuck somewhere. Speaking of getting stuck, definitely give your GPS driving directions the side-eye. Many a hapless visitor has inadvertently driven down a ski or snowmobile trail at Siri's urging.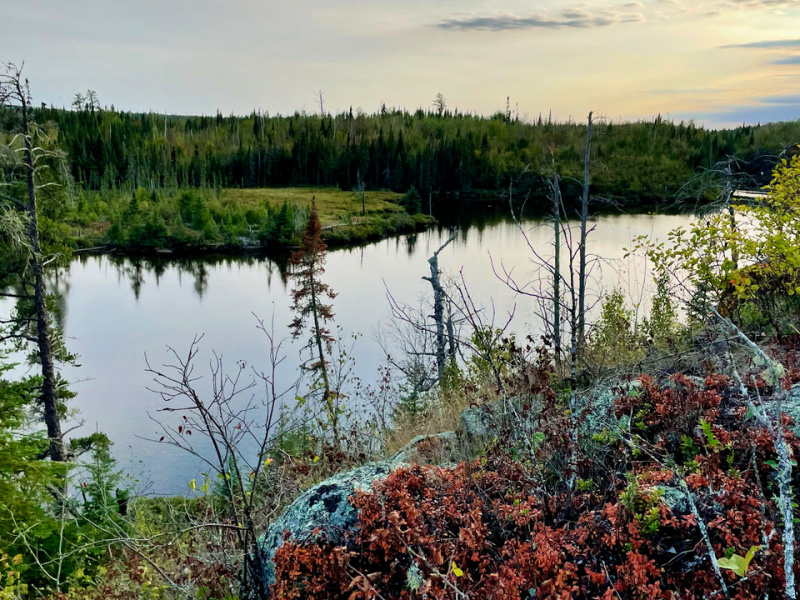 Gunflint Trail Fall Hiking Essentials
Decent hiking boots or shoes with good traction: I love my Asolo boots, but they're overkill for some of these shorter hikes. I've happily hiked all of these trails in Teva sneakers
Day pack: I fill mine with at least two quarts of water, sunscreen, sunglasses, hat, an extra layer, snacks, a small first-aid kit, and a battery pack. A Kula cloth snapped to the front sure makes those backcountry pees a lot nicer!
A good offline GPS trail app: I love tracking my hikes on Gaia Earth. It's difficult, if not downright impossible to find detailed trail maps for this area, so these apps can be real lifesavers. And if you're a data nerd like me, they're a great way to track your hikes.  
Appropriate clothing:  Gunflint Trail fall colors come early . . . and so does Gunflint Trail winter. It's normal to see the first snow in mid-October. Some years snow comes even earlier. Don't be surprised if your fall hike requires a winter jacket. 
Day use Boundary Waters permit, if necessary:  Most popular Gunflint Trail hikes never enter the Boundary Waters, but you'll need one for longer distant hikes like the Kekekabic, South Lake, or Caribou Rock trails. You will need one for the Sock Lake Hike described below.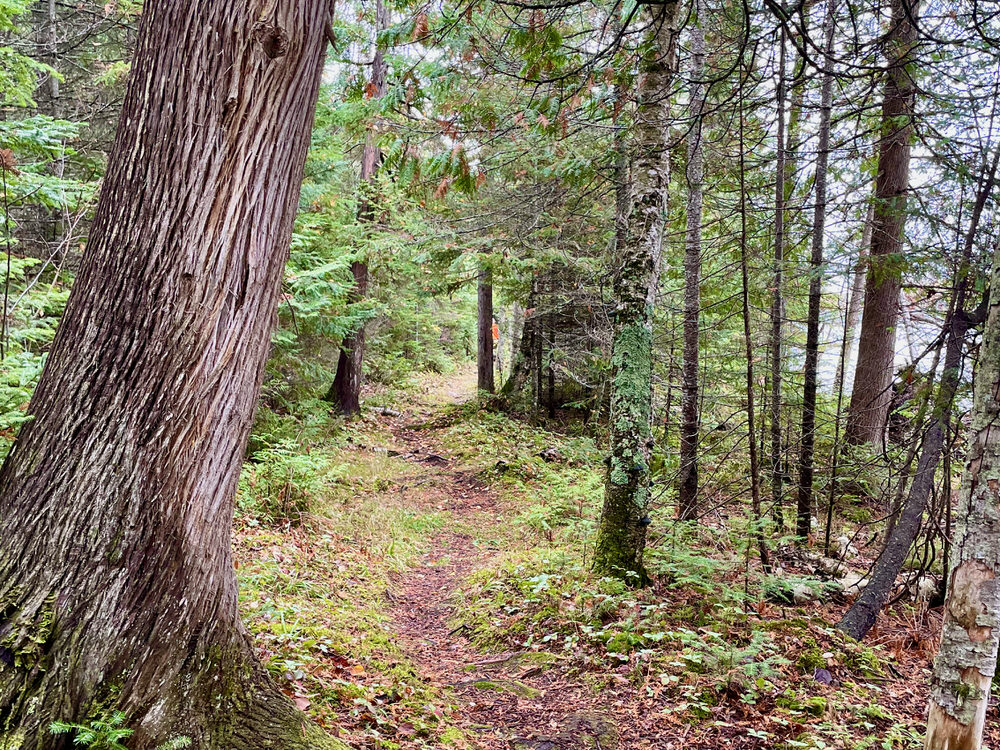 Five Favorite Gunflint Trail Fall Hikes
'
Blueberry Hill at Chik-Wauk Museum and Nature Center
Blueberry Hill with its overlook of mighty Saganaga Lake may be one of the most unappreciated views on the entire Gunflint Trail.
Although the trailhead sits on Chik-Wauk Museum and Nature Center grounds, you aren't limited to the museum's operating hours for this hike. Since the entire nature center complex sits on National Forest land, the network of hiking trails are always open to the public. If you fancy a sunset hike up Blueberry Hill (and you really should), just park at the start of the museum's driveway, taking care not to block the gate.
Once a spur trail from the Gneiss Lake Trail which connected Saganaga Lake with the Granite River, the trail all but disappeared in 1999 Blowdown storm. Volunteers reopened the path to Blueberry Hill in 2012, but the longer Gneiss Lake Trail remains permanently closed.
Today you reach Blueberry Hill via an easy, but rugged two-mile round trip out and back hike. Expect a narrow, rocky tread similar to what you'd find on Boundary Waters portage. On the way to Blueberry Hill you'll slowly gain elevation.
The trail takes you to two large granite outcroppings. The first provides you with a choice of taking a trail that skirts around the edge of the outcropping or going up and over. I definitely recommend taking the "high road" for a panoramic view of the surrounding forest and Seagull Lake.
The second hill, the official "Blueberry Hill," rewards you with a sweeping northerly view of Saganaga Lake, the Canadian wilderness, and Quetico Provincial Park. 
Bryce Breon Trail
Another Gunflint Trail hidden gem.
This underrated hiking trail offers fabulous overlooks of not one, not two, but three area lakes. Every time I hike this five-mile loop, I'm shocked it doesn't feature at the top of all "best hikes of the Gunflint Trail" lists. In addition to great lake views, you'll find an ancient cedar forest, cliffs, and more.
Begin at the Loon Lake public landing on the lake's west end. A moderately challenging hike, the trail starts off relatively flat as it skirts the northern shoreline of Loon Lake. After about a mile, you'll reach a backcountry campsite similar to what you'd find in the Boundary Waters Canoe Area Wilderness. Although it's free to camp at this "first come, first served" campsite, it's rarely used.
Past the campsite, the trail starts gaining elevation. The surrounding forest changes from thick balsam firs to a massive cedar grove. Cedar groves, especially one containing trees as large as what you find on the Bryce Breon trail, always feel magical to me. Traces of fae linger wherever trees have stood for century upon century.
When the path levels out, you'll find yourself high above Gunflint Lake. The next couple miles of trail are straight, wide, and flat as you walk along a cliff ridge. As you go, enjoy views of both Gunflint Lake and the much smaller Lonely Lake.
You'll know you're nearly done with the hike when you reach High Cliffs, a spectacular overlook right behind Gunflint Lodge. The hike concludes with a quick descent back to the Loon Lake Public Landing.
Hike around Sock Lake on the Border Route Trail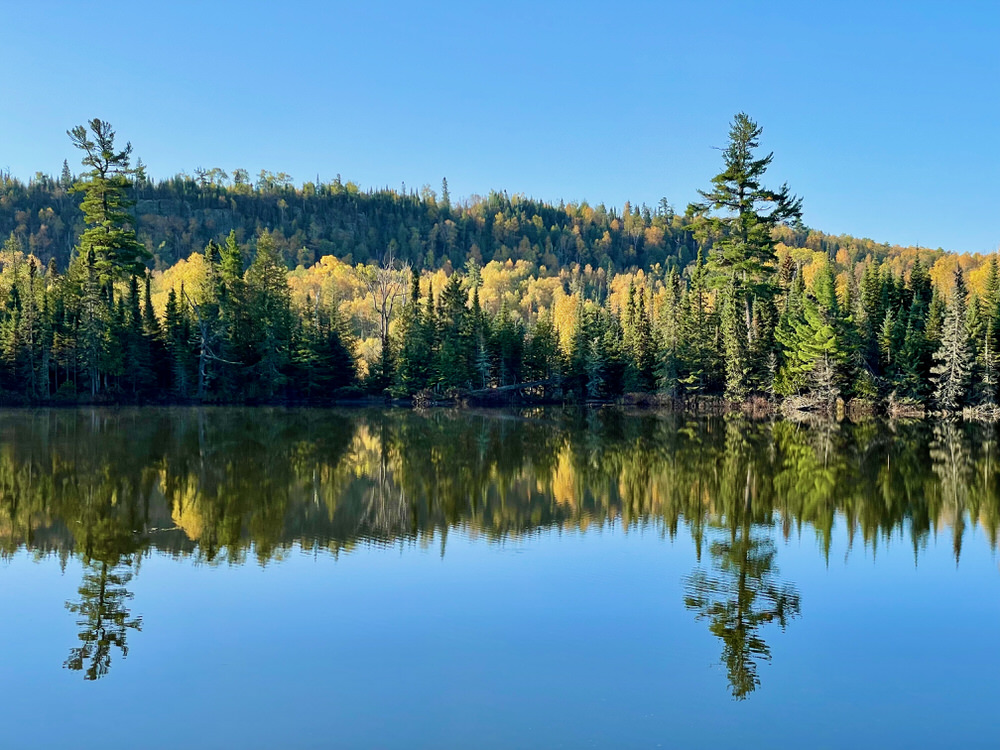 A whole maze of trails in the Birch Lake area of the Gunflint Trail is often overlooked by area visitors. If you want to feel all alone in the forest while never getting terribly far from your vehicle this is the place for you.
Portages, spur trails, the long-distance Border Route hiking trail, and several abandoned forest roads all intertwine in the forest behind Birch and Mayhew Lakes. This cobweb of trails creates a true "choose your own adventure" hiking situation. It's a very good idea to have a GPS if it's your first time exploring this area.  
I love using this network of trails to loop around Sock Lake in the fall. This approximately 5-mile loop hike starts on Mayhew Lake Spur Trail before connecting to the Border Route Trail. You'll enter the Boundary Waters Canoe Area Wilderness on this hike, so don't forget to fill out a day-use permit at a small kiosk near the hike's start. After hiking on the Border Route for about 1.5 miles, you'll reconnect with the Mayhew Lake Spur Trail to complete your loop.
Don't missing hiking down to the Sock Lake campsite for a scenic and serene snack break. Ladies rejoice: the campsite has a latrine! Other trail features include views of South and Mucker Lakes, babbling brooks, and marshes.
For best access to these trails, park in the very small parking lot (seriously, just room for two vehicles max) at the end of the Mayhew Lake Road. Take extra care to not block the driveway that starts right next to the lot.
Honeymoon Bluff
Honeymoon Bluff does end up on nearly every list of best Gunflint Trail hikes. It's been a favorite for Gunflint Trail locals and visitors alike for decades. However, it's a little overkill to call this .4-mile path a hike. Even with the obligatory photo break at the top, it only takes about 15 minutes to "do" Honeymoon Bluff.
While it might not be a hike per se, it's still very much worth the (minimal) effort it takes to reach this overlook. Fair warning: the path starts and ends with a lengthy flight of steps that get slippery in wet weather. You can't beat the view down the length of Hungry Jack and West Bearskin Lakes at the top, especially with fall colors. Just use caution and common sense around the cliff edges. It's a long ways down . . . about 400 feet to be exact.
Once called Mount Anna, this impressive cliff received a "rebrand" sometime between the 1960s and 1990s. Now the name Honeymoon Bluff seems here to stay. Reach the parking lot for Honeymoon Bluff via a 10-minute drive down the Clearwater Road (Cook County Road 66). The lot is located on the north side of the road, about half a mile past the Flour Lake Campground turn-off.
Centennial Trail
I've hiked the Centennial Trail countless times and I still keep coming back for more. This 3.3-mile loop offers a little bit of everything. There's enough challenge to keep things interesting, but it's short enough that you can hike the whole thing in less than a hour and a half. 
If you pick up a brochure at the trailhead, you'll get a history lesson as you hike. Numbered sign markers along the trail correlate with the brochure's descriptions of the area's human and natural history. A part of the trail travels along an abandoned railroad grade from the 1890s. You'll also pass several test pits from when 19th century prospectors tried (and failed) to find mineral riches in the Gunflint Trail forest.
In addition to encapsulating one of the most interesting chapters in Gunflint Trail history, the trail has pretty spectacular autumn scenery. The trail's small lakes, beaver ponds, and overlooks are at their very best in fall. From one vista, you'll even spot Gunflint Lake glittering off in the distance. 
Named for the Superior National Forest's Centennial year (2009), this trail officially opened in 2010. It utilizes a whole network of trails to make a loop. You'll hike 1.2 miles on the long distance Kekekabic Hiking Trail before turning onto a section of trail built in 2009. To return to the parking lot, you'll walk on the side of a county road, the Gunflint Trail itself, and a snowmobile trail.
If you just want to hike the newest, most scenic, and yes, hardest, section of the Centennial Trail start at the parking lot on the Round Lake Road (Cook County Road 47). Hike in reverse of the numbered trail markers until the trail tees in with Kekekabic Trail.
Other worthy Gunflint Trail hikes this autumn
There are countless other Gunflint Trail hikes to explore in autumn or any time of year. Here are a few other especially scenic options:
Magnetic Rock Trail – Easily the most popular hike on the Gunflint Trail. If you don't feel like doing the whole three-mile round trip to the towering magnetic monolith, just hike in about .5 mile for fabulous 360 degree views.
Upper Gunflint Ski Trail System – You can make endless loops on the ski trail system near Gunflint Lodge. I like to do my favorite loop a couple times each October.
Bridal Falls – Definitely plan to spend the better part of a day on this seven-mile + hike. This stunning waterfall is well-worth the time.
Where's your favorite autumn hiking trail? Have you ever explored the Gunflint Trail?
A state of wide open spaces, there's no shortage of New Mexico places to explore on public lands. Here's a guide to the very best sites from Carlsbad Caverns to Lincoln National Forest and beyond.
read more