Kancamagus Highway Guide to 9 Best Stops on New Hampshire's Most Scenic Drive
How To Drive the Kancamagus Highway
When I started planning our New England fall trip itinerary, I hadn't heard of Kancamagus Highway. I'd set aside one full day to explore New Hampshire, but I had no idea how to highlight the best of the Granite State in just 24 hours. With so many scenic New Hampshire drives, hikes, and waterfalls, it seemed impossible to choose.
As I researched options, I kept bumping into one suggestion: drive the Kancamagus Highway. But too many Kancamagus guides boiled down to "just drive it, you'll like it."
While these guides aren't wrong  – you will like it! – I wanted more specifics. If I had a nickel for every time I read the phrase "The Kancamagus Highway is only 34 miles long, but you could spend the whole day on it . . . "
But I didn't want to spend all day on it. The Kancamagus Highway needed to fit inside a travel day that included a commute from Portland, ME to Franconia, NH. I didn't need a list of 21 Kancamagus attractions; I wanted a list of the very best stops on the Kancamagus Highway. 
Finally, I decided we'd just go for it and figure out the best stops on the Kancamagus as we went. I'm so glad we did. If you want someone to tell you exactly what to do on the Kancamagus Highway, here's the definitive guide you've been looking for!
This post contains affiliate links. When you purchase something through these links, I receive a small commission that helps me create this blog's content. There's no extra cost to you.
Pin now and start planning your drive on the Kancamagus Highway!
An Introduction to the Kancamagus Highway
One of the first roadways designated a National Scenic Byway, the Kancamagus Highway is an uninhabited forest road. Officially New Hampshire Highway 112, this paved two-lane highway runs east to west through the heart of the White Mountain National Forest. Along the drive you follow the beautiful Swift River and climb 3000 feet up and over the Kancamagus Pass. You can drive the highway from either direction, starting in Lincoln or Conway.
The winding 34.5 mile road takes about an hour to drive straight through, although most people make a day of the Kanc. More than two dozen stops including historic sites, hiking trails, waterfalls, and overlooks punctuate the highway. You've heard it before, but depending on how many stops you make, you could spend all day on the Kancamagus. Heck, with its U.S. Forest Service campgrounds, you could spend a week on the Kanc!
The eastern half of the Kancamagus Highway – New Hampshire Highway 112 – follows the scenic Swift River.
A very brief history of Kancamagus and the Kancamagus Highway
You won't find anyone living along the Kancamagus Highway today, but this picture-postcard perfect setting was once home to the Pennacooks, an Algonquin-speaking indigenous people. Passaconaway, a Pennacook chief, established peace with the English settlers invading his people's lands in 1600s. But that peace broke under the watch of Kancamagus, Passaconaway's grandson. To escape settler aggression, Kancamagus took his people north, probably to southern Quebec in 1691.
The Pennacooks' displacement made it possible for English settlers to move into the Swift River valley to farm, log, and trap. But the rugged setting proved challenging. The settlers left Passaconaway Village, located about 12 miles east of Conway, in the early 1900s and the U.S. Forest Service moved in to convert the area into a working forest.
In the 1930s and 1940s, the Civilian Conservation Corps worked to extended the road westward from Passaconaway Village. Eventually the road from Lincoln connected with the road from Conway. The Kancamagus Highway opened in its current iteration in 1959; yet another American tourist destination that can credit its existence to the American love affair with automobiles and federal lands that started post-World War II.
Map of the Kancamagus Highway Best Stops
Drivetimes to the Kancamagus Highway
Portland, ME to Kancamagus Highway (East end): 1 hour 35 minutes
Boston, MA to Kancamagus Highway (East end): 2 hours 40 minutes
Manchester, NH to Kancamagus Highway (West end): 1 hour 35 minutes
Montpelier, VT to Kancamagus Highway (West end): 1 hour 35 minutes
Albany, NY to Kancamagus Highway (West end): 4 hours
Kancamagus Highway Know Before You Go
No amenities
Make sure you've stocked up on snacks, water, and gas before heading off on your Kancamagus adventure. You won't find gas or groceries until either Lincoln or Conway.
Parking pass needed
Developed parking lots along the Kancamagus Highway are White Mountain National Forest Service fee areas. You can purchase a daily parking pass for $5 from one of the self-serve pay stations in any parking area that requires the pass, such as Lower Falls. If you're an interagency passholder (i.e. America the Beautiful annual, senior, access, military, or 4th grade), you don't need to pay for parking. Just make sure your pass is prominently displayed on your dashboard or rearview mirror.
How do you say Kancamagus?
Kancamagus is pronounced can-cuh-MOG-us. Lots of folks just call the highway "the Kanc."
The best time to visit the Kancamagus
The Kancamagus Highway is an extremely popular New England fall color destination. If you visit during peak color season (early October, often busiest around the Indigenous Peoples federal holiday weekend) expect tour buses, overflowing parking lots, and crowded trails.
While I'm sure the Kanc looks its very best during peak colors, I found the highway stunningly beautiful when we drove it late October visit, well after the leaves fell. I was more than happy to trade perfect fall vistas for empty parking lots. If you must visit the Kanc during peak fall colors, go as early in the day as possible and carefully prioritize your stops.
The Kanc is open year-round, although personally I'm not keen on driving over the 2855 ft Kancamagus Pass in snowy conditions. If you want to see the Kanc in winter, I'd recommend against driving the whole thing. Instead access the road from the "lessy hilly" east/Conway side, where you'll find the highest concentration of trails and attractions. I bet the cross-country skiing is stunning!
The Eight Best Stops on the Kancamagus Highway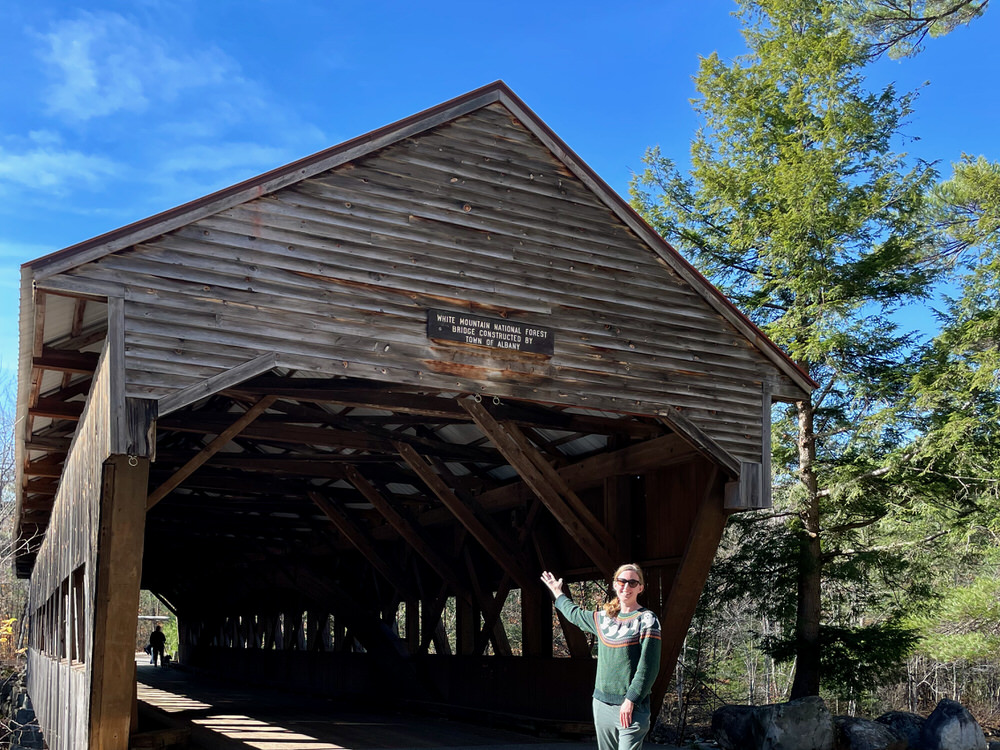 The Albany Covered Bridge is a remnant of the area's 19th farming and logging communities.
This "Kancamagus Highway Best Stops" list features a little bit of all the things to do on the Kanc, including hikes, vistas, waterfalls, and historic sites. Each stop has its own large parking area and is accessed right off the main highway. If you stop at all eight spots, it will take you about three hours to drive the entire Kancamagus Highway. 
Personally, I'd recommend doing the highway from east to west. As we drove the Kancamagus on our way from Portland, ME to Franconia, NH, the stops just seemed to intensify in interest and beauty as we drove west. However, it really doesn't matter which way you go.
#1: Saco Ranger Station
Located at 33 Kancamagus Highway (NH Hwy 112), the White Mountain National Forest Saco Ranger Station is the literally the first right on the Kancamagus Highway. Pick up a free Kangamap and mile by mile guide to the Kancamagus. It's a great spot to chat about current conditions with the on-duty U.S. Forest Service information assistant. They also have some informational displays where you can learn more about White Mountain National Forest and the Kancamagus. Grab your souvenir t-shirts and books in their well-stocked gift shop . . . or else be sad . . . like me.
Time at stop: 10 – 15 minutes
#2 Albany Covered Bridge
I didn't want to travel to New England and not see a covered bridge, so I was pretty chuffed when our first official stop on the Kancamagus Highway was a covered bridge. The Albany Covered Bridge dates back to the mid-19th century when the Swift River valley was speckled with homesteads. Restored a century later, the covered bridge now serves as a reminder of the small town of Albany's farming and logging days.
This stop provides access to the easy 3-mile Boulder Loop Trail hike as well as the Nanamocomuck ski trail. While there are picnic benches here, I recommend continuing on to the next Kancamagus Highway stop for the best picnic area.
Time at stop: 15-20 minutes
Distance from Saco Ranger Station: 6.1 miles
#3 Lower Falls
A popular swimming spot in the summer, Lower Falls on the Swift River is striking any time of year. If you're looking for a picnic spot, you can't beat the log picnic pavilion constructed by the CCC in the 1930s. We really wished we'd waited to eat our lunch here!
Time at stop: Approximately 10 minutes if you're not picnicking.
Distance from Saco Ranger Station: 6.8 miles
#4 Rocky Gorge Scenic Area
Ever since trains started rolling into Conway, Rocky Gorge has been popular scenic destination for area visitors. The Swift River shots through a flume, then falls 15 feet before continuing on its eastward journey. Cross right over the flume on a wooden bridge and continue up the path to
beautiful Falls Pond. If you're feeling up for a hike, circumnavigate the pond on the 1.1 mile Lovequist Loop.
Time at stop: 15 minutes
Distance from Saco Ranger Station: 9 miles
#5 Russell-Colbath House Historic Site
Once, you would have found the town of Passaconaway along the shores of Swift River. Today, only one structure from the settlement remains: Russell-Colbath House. The Russell family built this simple woodframe frame house in the early 1830s. During the summer, the Forest Service offers guided house tours as well as interpretative programs in the site's replica barn. Even if the site isn't staffed when you visit, you can learn about one of the town's main industries – logging – on the easy, flat .5 mile Rail N' River loop hike.
Time at stop: 15 minutes – more if the house is open
Distance from Saco Ranger Station: 12.5 miles
#6 Sabbaday Falls
If someone mentions the Kancamagus Highway, chances are they'll mention Sabbaday Falls in their next breath. No doubt one of the most popular stops on the Kanc, Sabbaday Brook has been chiseling its way through thick granite walls for millennia. The unique waterfall flows in distinctive right angles. Reach the falls via a wide path that climbs gently uphill for .3 miles.
Time at stop: 30 minutes
Distance from Saco Ranger Station: 15.4 miles
#7 CL Graham Wangan Overlook
You get a lot of great views on the Kancamagus Highway, but this scenic overlook on the east side of the Kancamagus Pass was my favorite. That's probably because we stopped in late afternoon. You need the sun behind you for the best view from this overlook which looks northeast across the White Mountains.
Time at stop: 5 minutes
Distance from Saco Ranger Station: 21.7 miles
#8 Hancock Overlook
On the opposite side of the Kancamagus Pass, the Hancock Overlook provides a westward view of the Osceola Range. This is a favorite sunrise spot on the Kanc. When we visited in late afternoon, shadows covered the mountains. FYI: the parking area is pretty narrow.
Time at stop: 5 minutes
Distance from Saco Ranger Station: 23.8 miles
Another recommended Kancamagus Highway stop
Lincoln Woods
We didn't stop here, but if you're driving the Kancamagus Highway from west to east, definitely swing into the Lincoln Woods Visitor Center for up-to-date ranger information. This is also the trailhead for a longer distance hiking trail into the Pemigewasset Wilderness Area. If you're not looking for an overnight hike, just head down the trail a couple tenths of a mile to check out the wooden suspension bridge over the East Branch of Pemigewasset River.
Falls Pond sits behind the favorite Kancamagus Highway stop, Rocky Gorge. You can circumnavigate the pond via a one-mile trail.
Other New Hampshire attractions near the Kancamagus Highway
If you're only planning to spend part of your day driving the Kancamagus Highway, here are some other nearby stops to fill your day with outdoor adventure in New Hampshire's White Mountains:
Conway Scenic Railroad 
Franconia Notch State Park
Crawford Notch State Park
Artist's Bluff Trail
Town of Franconia
The Flume Gorge
Diana's Baths
Saco River Covered Bridge
Our sweet vacation rental on the Gale River in Franconia, NH. 
Where To Stay on the Kancamagus Highway
If you want to stay on the Kancamagus Highway, you'll be camping. The only overnight accommodations along the Kanc are six federal U.S. Forest Service campgrounds including Covered Bridge, Jigger Johnson, and Blackberry Crossing. (Technically, the town of Loon Mountain, home to Loon Mountain Resort, is on the Kancamagus Highway, but I really felt like we left the "official" scenic byway once we passed Hancock Campground.)
If sleeping in a tent isn't your idea of good time, you can find plenty of other lodging options on either end of the Kancamagus in Lincoln, Conway, or North Conway. We stayed a little farther afield in Franconia in this lovely vacation rental. Although Franconia puts you about a 25-minute drive from the Kanc's western start in Lincoln, it provides a central location to explore other White Mountain highlights such as Franconia Notch State Park, Flume Gorge, and Mount Washington.
An easy, wide trail leads the way to Sabbaday Falls along the Kancamagus Highway in New Hampshire.
Is the Kancamagus Highway worth it?
Absolutely! Our Kancamagus Highway drive was honestly my favorite thing we did on our entire New England Fall Trip . . . and I liked everything we did on that trip! I worried that the Kanc wouldn't live up to its hype, but the White Mountain National Forest has done such a good job of making this popular drive accessible while maintaining its "deep forest" feeling. Granted, if we'd driven the Kanc just a couple weeks earlier in bumper-to-bumper fall foliage traffic, I'd probably feel differently. As always, timing is everything.
I seriously can't wait to return to Kancamagus Highway. Any New England road trip should include at least a couple hours on the Kancamagus Scenic Byway. Not only do I plan to return to these stops, I'd love to get in some longer hikes on the Kancamagus as well. While I can't speak to how enjoyable the Kanc would be during the busier summer and fall color seasons, I can tell you that it's absolute delight in the off-season.
Have you ever visited New Hampshire's White Mountain National Forest? What do you think are the best stops along the Kancamagus Highway?
If you liked this guide to the Kancamagus Highway's best stops, check out my other New England posts!
This 3 Day London Itinerary gets you to all of London's must-see sites. Maximize your London visit and see the best palaces, museums, shops, and more!
read more