Sugarloaf Cove: An Ancient, Magical North Shore Must See
It's Never Too Late for a First-Time Visit to Sugarloaf Cove Nature Center
I'd like to tell you I've spent my whole life visiting Sugarloaf Cove Nature Center. But when you call Minnesota's North Shore of Lake Superior home, it's easy to fall into a habit of vaguely knowing about all the things to do in the region . . . and never doing them.
It took nearly 30 years and a girls' weekend in Two Harbors before I visited Betty's Pies for my first (and final) time. While I've stopped at Tettegouche State Park probably a hundred times in my life, I've never gone farther than the public restroom. If Instagram influencers hadn't posted incessantly about Black Beach, I probably never would have found it. It's kind of ridiculous.
Lately, I've worked to change that narrative. By budgeting a little extra time whenever I need to pound up and down the North Shore's Highway 61, I can actually see the veritable cornucopia of things this region of Minnesota offers. One of my first intentional stops? Sugarloaf Cove Nature Center about 40 minutes south of Grand Marais, near the Cook and Lake County border.
Pin for when you're planning your North Shore, MN trip to Sugarloaf Cove!
What is Sugarloaf Cove?
With as tempting a name as Sugarloaf, I'm surprised it took me so long to stop. But then again, all you can see from Highway 61 as you pass by is a large gravel parking lot. If you actually pull in, you'll find a tract of carefully tended boreal forest and a log cabin nature center. Best of all, a short hike leads you to one of the prettiest beaches on Lake Superior's North Shore.
Sugarloaf Cove doesn't demand much of your time, but you'll probably want to stay a while. The hike from your car to the beach clocks in at about half a mile. If you're looking to stretch your legs and shake off some road weariness, Sugarloaf Cove is a perfect North Shore pit stop.
One of Minnesota's best North Shore autumn hikes
In late September and early October, everyone loves hitting the North Shore of Minnesota for fall colors. People crowd backroads and overflow parking lots at well-known autumn hiking trails like Oberg Mountain and White Sky Rock in Lutsen. But one October day, a cold north wind blows, rattling the branches and sweeping away every single bright maple, birch, and aspen leaf. When fallen leaves obscure forest trails, leaf-peepers head south, in search of their next autumn color spectacular.
Those crisp autumn days when both the crowds and the leaves have dispersed make for excellent North Shore hiking. I visited Sugarloaf Cove on a brisk late October morning. I loved the way the sunlight filtered through the pines and caught on the frost-covered grasses. In the background, Lake Superior crashed and glittered. Evergreens dominate the Sugarloaf property for an enchanting boreal forest hike all year.
Hiking at Sugarloaf Cove Nature Center
You don't need to worry about decision fatigue at Sugarloaf. There's just hiking trail here. The first half of the trail starts out relatively flat and wide. After about half a mile, you'll reach the rock-strewn beach. There you'll need to pay a little more attention to your footing. If you want to visit the rock formation that gives Sugarloaf its name, you need to pick your way over large rocks and a small flowage. A gravel bar formed by wave action, known as a tombolo, connects the beach to a spit of land that forms the edge of the cove.
What's a sugarloaf?
In the 19th century, white sugar was packaged in large cones, called sugarloaves, that could weigh up to 35 lbs. When you needed some sugar for a recipe, you used a special scissors-like tool to break off the amount you needed. When white settlers spied the distinctive, craggy rock at the edge of this Lake Superior cove, it reminded them of a half-used sugarloaf. The name stuck!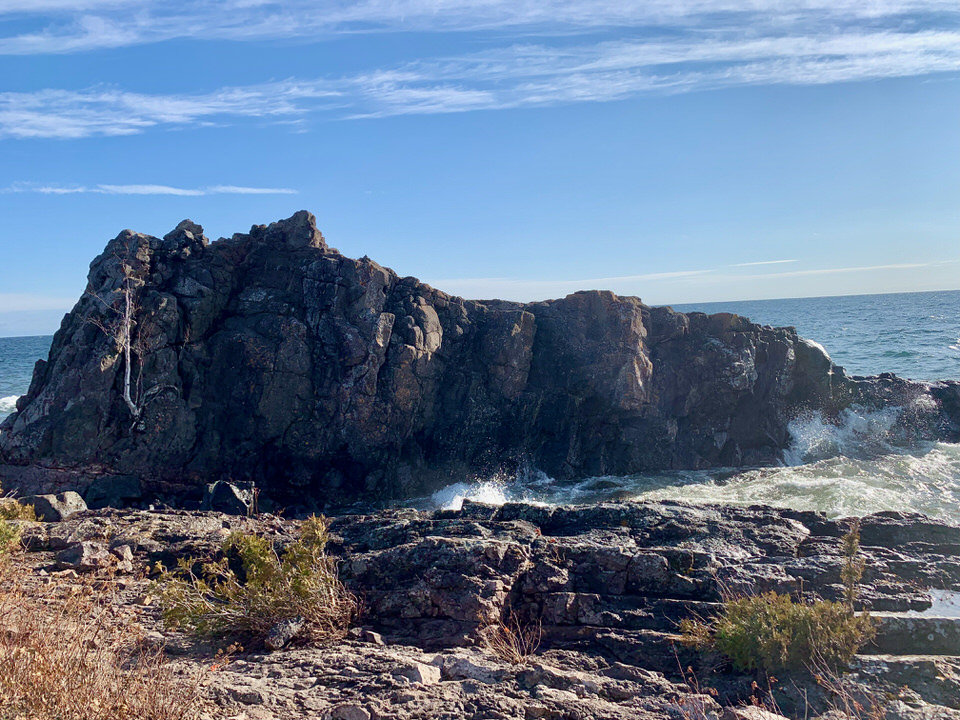 When you return to the path from the beach, the trail levels out again. This second half of the trail has fewer evergreens, giving it a more open feeling, especially if you visit after the leaves have fallen. A gentle incline leads you to the nature center. Just past the center, you cross a footbridge to reach the parking lot. Given its short length (just about one mile) and relative ease, the Sugarloaf Cove nature trail is a great option for young children and elderly adults.
What makes Sugarloaf Cove special?
Sugarloaf is one of the prettiest stretches of Lake Superior shoreline I've visited. You only see a couple small buildings far in the distance when you hike out on the tombolo. The area feels ancient and unsullied by human meddling.
Of course, Sugarloaf isn't some untouched piece of North Shore forest. A logging company owned the Sugarloaf Cove property for several decades and used the cove to corral harvested timber before shipping it across the lake to Wisconsin for milling. In fact, my great uncle and his family actually lived at Sugarloaf in 1960s while he worked for that company. People have been coming and going on this little spit of land for centuries.
A Minnesota DNR Scientific and Natural Area
That ancient feeling might stem from the fact that some of the rock you'll find on Sugarloaf Point is 2.7 billion years old! At Sugarloaf you'll see a lot of dark gray basalt you might recognize from other North Shore beaches. This dates back about 1.1 billion years. However, on this particular bit of Lake Superior shoreline, you'll also find whitish granite and gneiss – some of the oldest rock in the world.
This geological significance, along with the shoreline's rich botanical offerings, lead to the Minnesota DNR declaring 10 acres of Sugarloaf Point a Scientific and Natural Area. This designation protects the area from camping, campfires, rock climbing, and other naturally degrading activities. The DNR strictly prohibits any collection of plants, rocks, fossils, or natural items in these areas.
If You Visit Sugarloaf Cove Nature Center
Because Sugarloaf Cove's in no way associated with the state park system your Minnesota state park sticker doesn't work here. An independent non-profit operates Sugarloaf and they request a $5 per vehicle donation to park your car and explore the grounds. It's a small price to pay to ensure the grounds and nature center's continued maintenance.
Please walk only on established trails. Sugarloaf is one of only two known North American locations where Golden Dot Lichen (Arthrorhaphis grisea) grows. If you veer off trail, you could trample some very special and fragile forest vegetation. We don't want that!
To me, the beach holds the most appeal at Sugarloaf, but don't forget to check the website before you visit. The non-profit hosts many different programs throughout the year, from bird banding, nature presentations, and trainings. The nature center includes a few exhibits and small bookstore stocked with natural history titles.
Sugarloaf Cove is located 6 miles south of Schroeder at U.S. Highway 61 mile marker 73. If you're driving north on Highway 61, watch for it on the righthand side about 2 miles after passing over the Lake/Cook County border.
Have you ever been on Minnesota's North Shore? Are there nearby destinations it took you far too long to discover?
In Boston's North End, you'll find excellent Italian bakeries and a fierce cannoli rivalry between Mike's and Modern Pastry. But who's the best? I took matters into my own hands. Read on for the ultimate compare and contrast of Mike's and Modern's cannoli offerings.
read more