10 Fabulous Things To Do in Santa Fe, New Mexico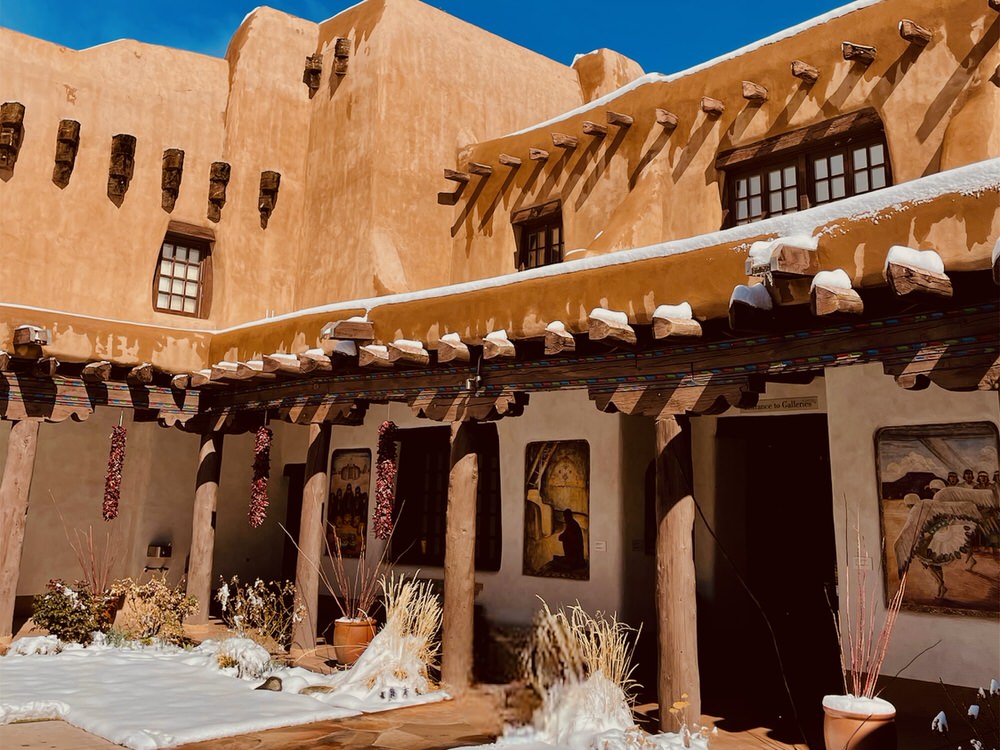 10 Things to do in Santa Fe, New Mexico
Despite topping my "must visit" list for quite a while, I've never really known what things to do in Santa Fe, New Mexico. I immediately think of Santa Fe when someone mentions New Mexico. However, I found pretty limited resources when I tried researching activities for a visit to "The City Different." Turns out, I just needed to experience the city for myself! 
They don't call New Mexico "the land of enchantment" for nothing.
Santa Fe felt truly unique from any other American city I've visited  . . .  in the best possible way. I walked away from my March 2022 visit transfixed by the city's rich history of multiculturalism, arts, and, of course, cuisine. Although it's definitely not the easiest city in the world to get to, Santa Fe's well worth a visit . . . if only for the margaritas!
We spent two very busy days in Santa Fe. I've rounded up the 10 very best things to do during a first-time visit to Santa Fe. Read on for those recommendations as well as other important travel information to make your Santa Fe travels as delightful as mine.
This post may contain affiliate links. When you purchase something through these links, I receive a small commission that helps me create this blog's content. There's no extra cost to you. 
How to Get to Santa Fe, New Mexico?
Simply put, it's challenging to get to Santa Fe. Once the capitol of the Spanish kingdom Santa Fe de Nuevo Mexico, Santa Fe now sits well away from a major American metropolis. 
Flying into Santa Fe: You'll find the best flight options with Southwest Airlines. If you prefer to fly Delta or United, you'll likely make a connection somewhere like Denver, Houston, Atlanta, or Salt Lake City.
Most people visiting Santa Fe fly into Albuquerque, about an hour drive away. You can fly commercially into Santa Fe but it's pretty cost-prohibitive. Considering the short drive from Albuquerque, it didn't feel worth the extra layover. 
Renting a car in Santa Fe: Given New Mexico's rural nature, I definitely recommend renting a car for your visit. Although you can easily explore Santa Fe's historic downtown area on foot, a car allows you to visit destinations beyond the city center. You definitely don't want to miss all the day trip opportunities near Santa Fe!
We found it super easy to pick up a car at the Albuquerque Sunport. A shuttle bus whisked us from baggage claim to the car rental station. Within minutes, we were cruising north on Interstate 25. 
Driving times to Santa Fe, New Mexico:
Taos to Santa Fe: 90 minutes
Denver to Santa Fe: 6 hours
Albuquerque to Santa Fe: 60 minutes
Getting to Santa Fe via Train: If you'd rather wait until you're Santa Fe to rent a car, you can use the Rail Runner Express commuter train to get from Albuquerque to Santa Fe. Airport buses connect you from the Albuquerque Sunport to the downtown train station. The train makes several trips between Albuquerque and Santa Fe every day. The trip takes about 2 hours and costs $9 for a one-way adult ticket.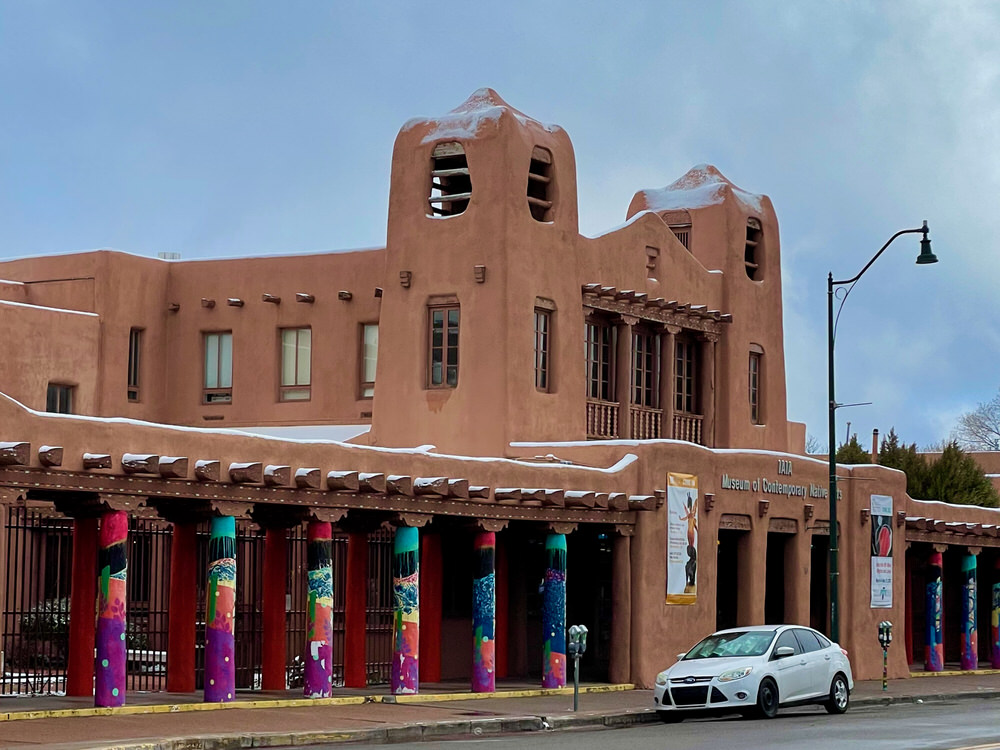 Fast Facts About Santa Fe
Formed in 1610, Santa Fe is the second oldest city in the United States. Spanish colonists also founded the oldest city – St. Augustine, FL.
Santa Fe's nickname is "the city different."
Located in the Sangre de Cristo mountain range, Santa Fe sits at an impressive 7199' elevation. Yep, it's significantly higher than Denver, the infamous "mile high" city. But you don't hear people in Santa Fe griping about altitude sickness . . .
Santa Fe has the highest elevation of any U.S. capitol city. The beautiful "roundhouse" capitol building in Santa Fe is one of only 10 state capitol buildings in the U.S. without a dome.
Santa Fe was the terminus of the Santa Fe Trail. This trail used by settlers, traders, and trappers stretched to Missouri. The National Park Service now manages the path as a national historic trail.
Santa Fe means "Holy Faith" in Spanish.
Before Spanish colonization, Santa Fe was a settlement of Native Puebloans.
10 Best Things To Do in Santa Fe
If you only have a couple days in Santa Fe, this list rounds up the very best things to do. 
1. Santa Fe Margarita Trail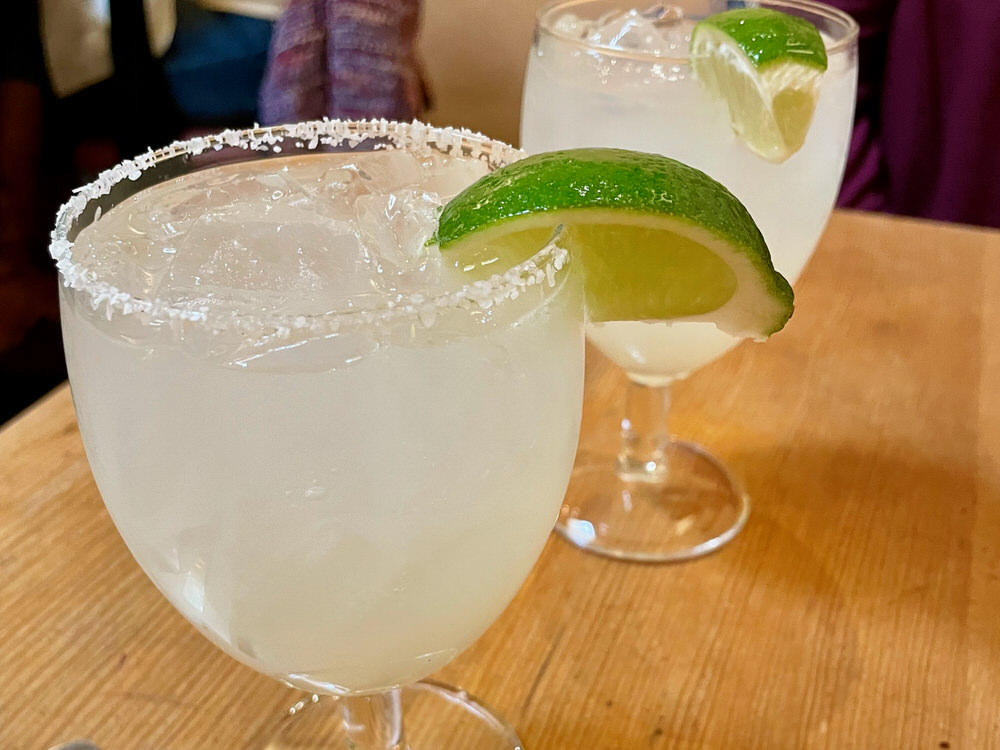 Hands down, exploring the Santa Fe Margarita Trail was our favorite activity in the City Different. Developed by TOURISM Santa Fe in 2016, the Santa Fe Margarita Trail gathered 50 local restaurants and bars to participate in a passport challenge. Start "trailblazing" by picking up a paper passport from the Santa Fe Visitor Information center or downloading the $2.99 app. You must order the signature margarita at each bar or restaurant you visit on the Santa Fe to receive a passport stamp. 
After just five margaritas, you can bring your passport to Santa Fe Visitor Information center in the Plaza Galleria to claim a t-shirt. Plan carefully – you can only log two margaritas every 12 hours, which essentially means two drinks a day since we found many Santa Fe bars close at 9 p.m. The passport earns you $1 off each margarita so if you're going for a t-shirt, it essentially pays for itself.
Did we go home with new t-shirts? Do you even need to ask?!
Check out this full write-up of our Santa Fe Margarita Trail experience!
2. Canyon Road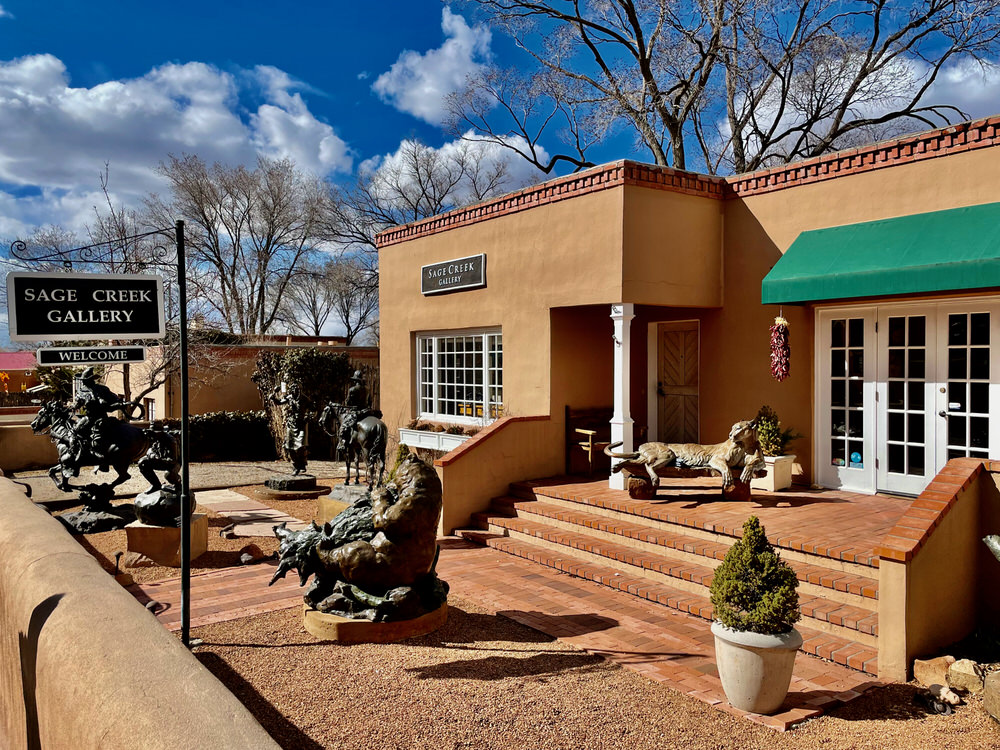 Known internationally as an arts city, Santa Fe has a rich artistic community. Although you'll find art galleries sprinkled all over the city, Canyon Road hosts the most concentrated collection of art galleries. Located just a few blocks southeast of the Santa Fe Plaza, art galleries and boutique shops line the road. Many galleries offer artwork from local Native artists.
You'll need quite a bit of disposable income to purchase any artwork on Canyon Road. The high price points contribute to our sense that Santa Fe tourism best serves individuals at or approaching retirement age. However, we enjoyed popping in and out of the shops. We treated the experience more like visiting a museum than actual shopping.
3. Kakawa Chocolate House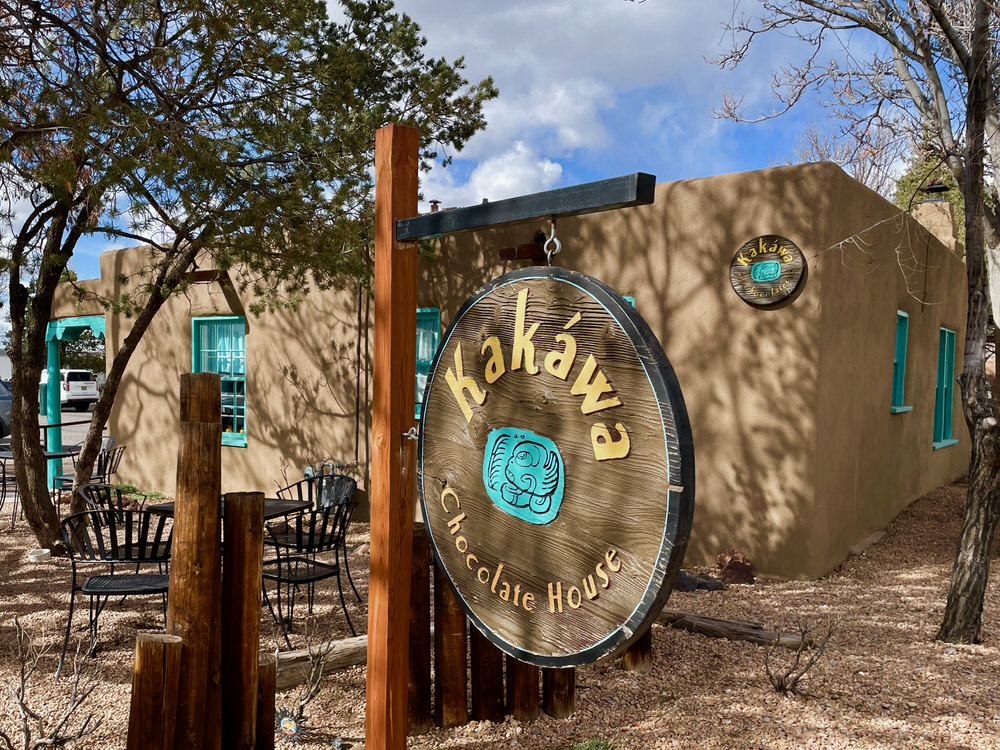 You had me at chocolate house. 
Located just south of Canyon Road, the flagship Kakawa Chocolate House features all things chocolate. This small shop has a definite coffee shop vibe (and when we visited, an unruly line system) where you can sample drinking chocolate, chocolate bakery items, and gourmet homemade chocolates. Many of their items incorporate chilis. The shop was hopping during our visit and we were still pretty full from lunch, so we stocked up on an assortment of chocolates to enjoy later. I highly recommend the key lime truffle, chocolate peanut butter bar, and sea salt toffee.  
You'll find a second Santa Fe Kakawa Chocolate House near Meow Wolf on Rufina Circle. Interestingly, there's a third Kawaka location . . . in Salem, MA . . .?
4. Visit the Cathedral

With Spanish colonization comes Catholicism. The Cathedral Basilica of St. Francis of Assisi dates back to the late 1800s. The impressive Romanesque revival style cathedral dominates the better part of a downtown Santa Fe city block. 
Built under the oversight of Archbishop Jean Baptiste Lamy, the cathedral certainly emphasizes Santa Fe's Spanish heritage. (Willa Cather fans might recognize Father Lamy as the basis of the main character of her novel Death Comes for the Archbishop.) Impressive bronze doors depicting important events in Santa Fe's Catholic history greet visitors.
Inside, you'll find a colorful interior including stations of the cross; a replica of the San Damiano cross that hangs in St. Francis's original church in Assisi, Italy; and a large painting of St. Francis with New World saints.
The cathedral grounds features a Stations of the Cross prayer garden and statues of both St. Francis and St. Kateri Tekakwitha, an American Indian from upstate New York who was the first beatified indigenous North American. If you need a peaceful place to sit, there's an inviting small park on the cathedral's north side.
5. See the Miraculous Staircase at Loretto Chapel

At the same time the Santa Fe Cathedral was being built in the 1880s, Father Lamy suggested that the Sisters of Loretto who ran a nearby girls school use the cathedral carpenters to construct a much-needed chapel for the school. But when construction ended, the chapel still lacked access to the choir loft. If it had been a boys' school, a ladder could have been used. However, the Sisters of Loretto considered this an unacceptable solution for their female students. The small chapel didn't have room for a staircase.
So the sisters prayed to St. Joseph for a solution to their loft problem. Soon a carpenter appeared. He constructed a spiral staircase with a unique helix structure that uses no central or side supports. Before the sisters could pay him, he disappeared.
Considered an architectural wonder, the staircase originally lacked handrails. Both supports and handrails have since been added. Although you only need about 10 minutes to take in the chapel and "miraculous" staircase, it's definitely a Santa Fe must-see. Now privately owned, there's a $5 per person admission fee to step inside.
6. Go to the spa

While we didn't hit up a spa during our visit, there's practically a spa on every corner in downtown Santa Fe. If rest, relaxation, and a good massage are your vacation priorities, you've come to the right town. I've heard great things about Ten Thousand Waves Spa, a Japanese-inspired spa located about a ten-minute drive out of downtown.
7. Visit the Palace of Governors

This building has overlooked the Santa Fe Plaza since 1610. For centuries, the territory's Spanish governors lived here. However since 1909, the building's been home to New Mexico's history museum.
Today the building is accessed through the adjacent modern museum building. Although currently undergoing restorations, you can still poke your head in a couple Palace of Governor rooms. Interestingly, the building had fallen into such disrepair by the late 1800s that one governor referred to the Palace as "a man trap." It will be great to see it restored to its original glory.
The history museum provides a comprehensive overview of New Mexico history from prehistoric times through Spanish colonization to modern times.
8. Take in some Georgia O'Keeffe artwork

You have plenty of opportunities in Santa Fe to see Georgia O'Keeffe artwork. Perhaps New Mexico's most celebrated artists, O'Keeffe's known for her paintings of Southwest landscapes and extreme flower close-ups. Originally from Wisconsin, O'Keeffe spent time on the East Coast before spending her last 37 years in New Mexico.
You can visit the Georgia O'Keeffe Museum just north of the Santa Fe Plaza. Not only does the museum display her artwork and provide an overview of her life, they also organize tours of her Abiquiú home located about an hour north of Santa Fe. If you happen to be in town on days when the Georgia O'Keeffe Museum is closed (like we were . . . sad trombone . . . ), you can still view some of her pieces in the New Mexico Museum of Art.
9. Go to Meow Wolf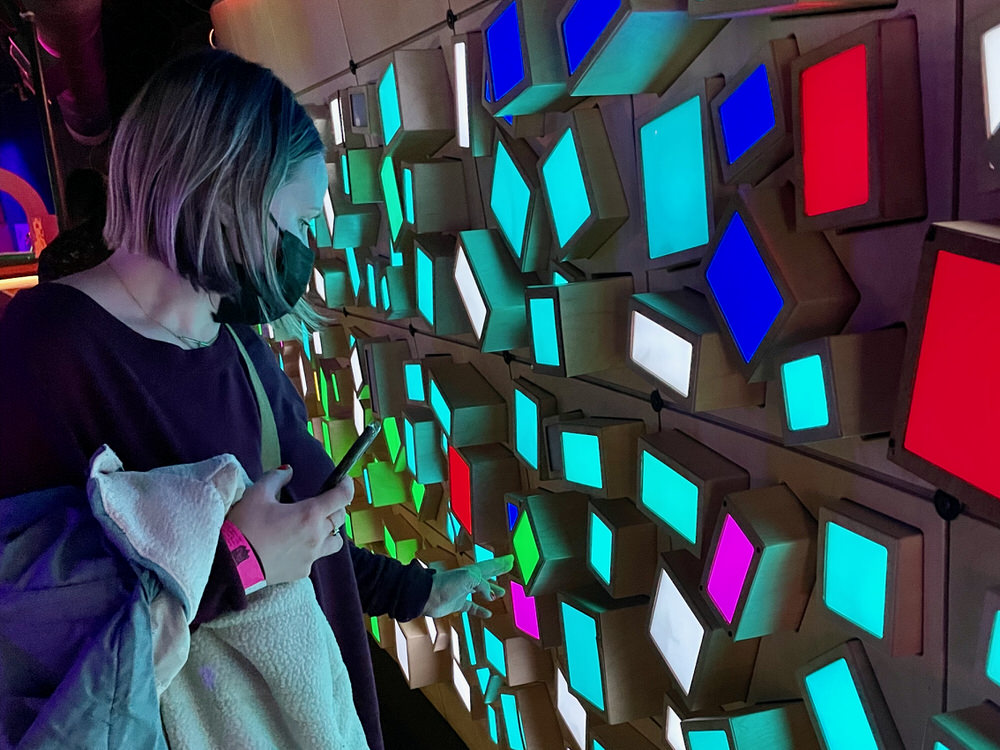 Santa Fe doesn't only celebrate bygone artists. This active arts city continues to cook up innovative exhibits. One of Santa Fe's latest claims to art fame is Meow Wolf. This artist collective opened their permanent interactive art exhibit in 2016 with a little help from one of Santa Fe's most famous residents: George R. R. Martin of Game of Thrones fame.
Known as The House of Eternal Return, you'll find this massive art installation in an old bowling alley on the edge of downtown Santa Fe. When you enter the exhibit, it looks like you've stumbled onto a movie set for The X-Files or Stranger Things. But what on the surface appears to be a Victorian house lived in by a 1980s suburban family is actually the scene of a mysterious extraterrestrial event. When you do things like open the kitchen's fridge door, you find a hallway to another world.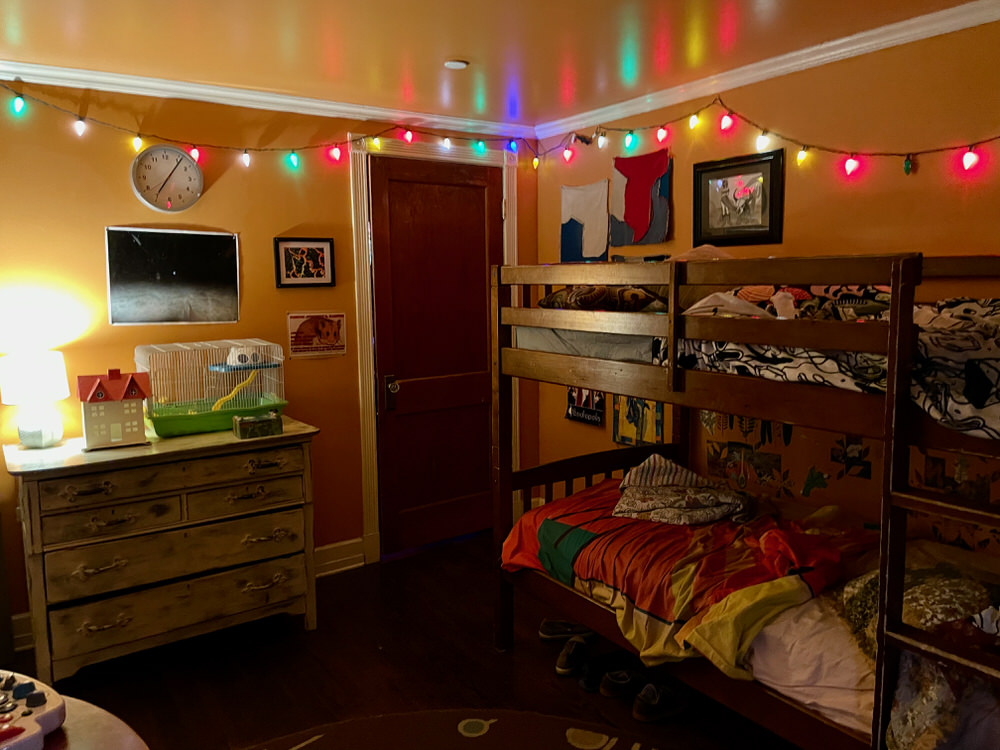 Bizarre (and sometimes a little frustrating) we spent over an hour exploring this seemingly infinite exhibit. If you actually wanted figure out what happened to the fictional family living in the exhibit's central house, you probably need the better part of three hours to gather all the clues scattered throughout the 70-room exhibit. Although it's a little spendy ($40 per person), it's definitely a memorable experience and one of the most unique things to do in Santa Fe. 
You can also visit Meow Wolf exhibits in Las Vegas, Nevada and Denver, Colorado.
10. Day trip to the north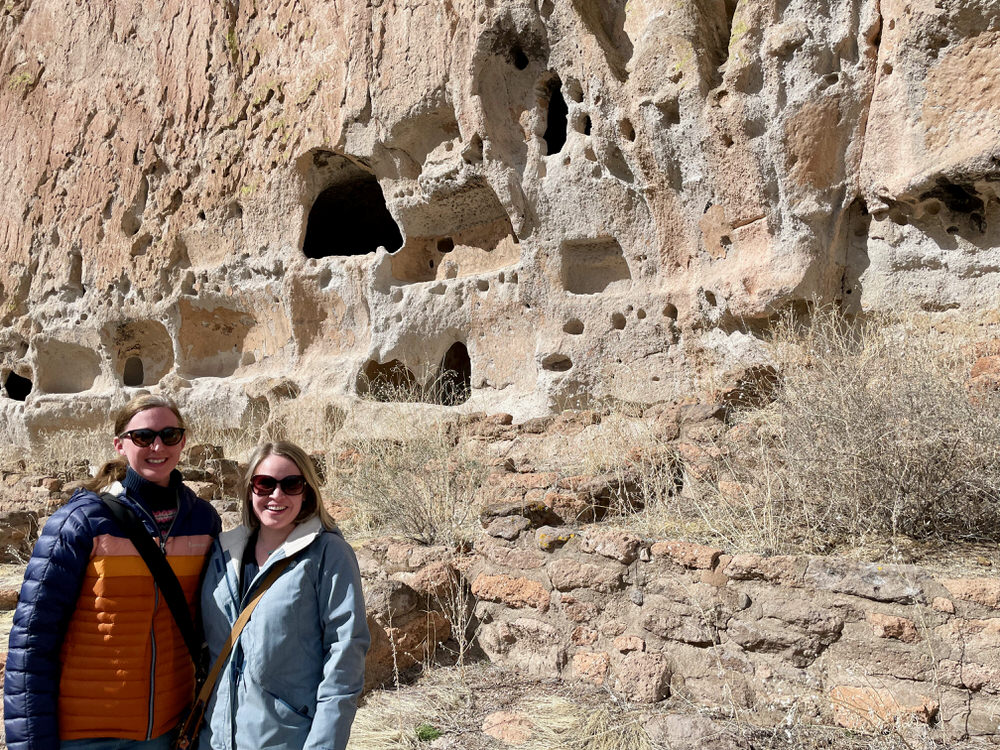 Although Santa Fe itself is fantastic, one of the best things about a visit are all the amazing sites within an hour – 90-minute drive north. Just seven minutes north of Santa Fe you can take in an opera at the Santa Fe Opera House. Other excellent Santa Fe day trip options include visiting Bandelier National Monument, touring the Manhattan Project Historical Park in Los Alamos, seeing traditional Pueblo dwellings in Taos, exploring Georgia O'Keeffe's home in Abiquiú, or watching traditional weavers in Chimayo.
The Three Best Restaurants in Santa Fe, NM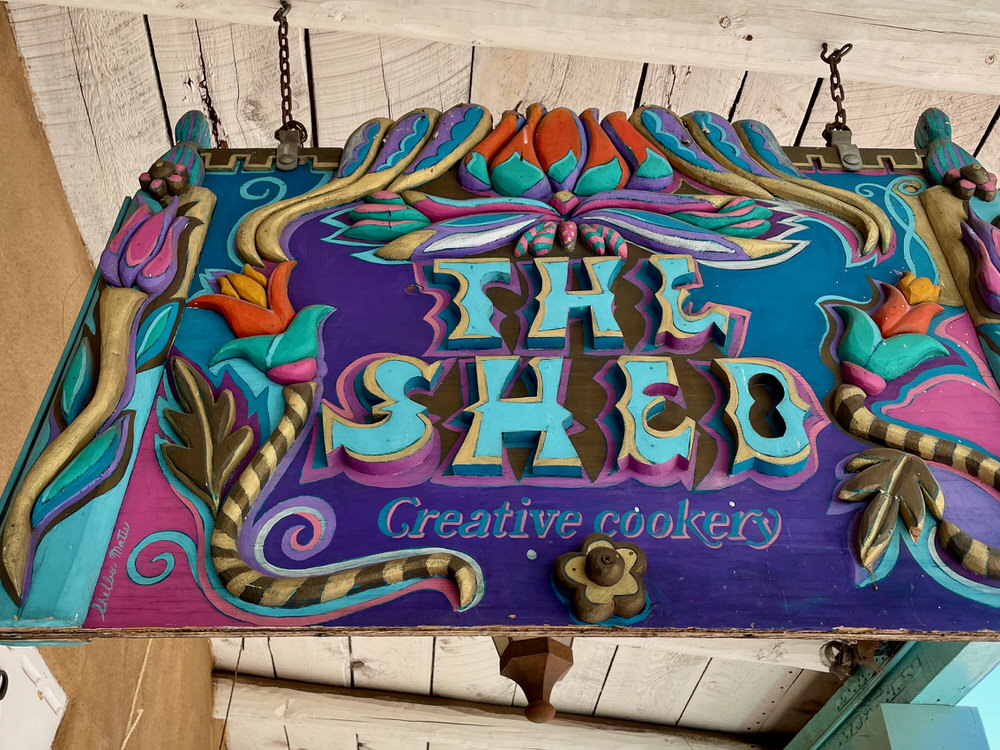 The Shed – Located in a 300+ year old hacienda between the Plaza and Cathedral, the Shed is the place to go for an authentic Santa Fe meal. This popular eatery almost always has a wait, but it's well worth it for some delicious New Mexican fare. Just be warned, we drank the strongest margaritas of our trip here!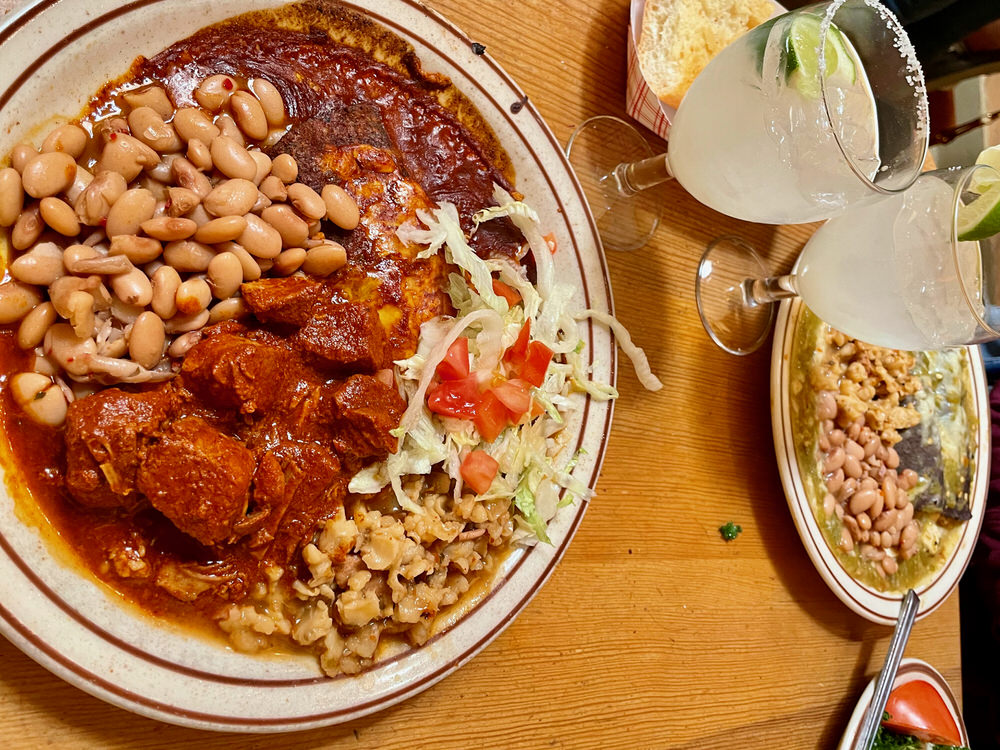 Rio Chama Prime Steakhouse – To be perfectly honest, we went here for the blood orange margarita (which did not disappoint) and ended up having the best meal of our time in Santa Fe. Yes, even though neither of us ordered steak. The quinoa stuffed chili pepper was amazing! Next time I'll definitely try their green chile mac and cheese.
French Pastry Shop and Restaurant – I adored the fun fusion of finding a French-style patisserie in an adobe building on the edge of the Santa Fe Plaza. The menu includes quiches, both sweet and savory crepes, and a display case absolutely packed with beautiful pastries.
Where to Stay in Santa Fe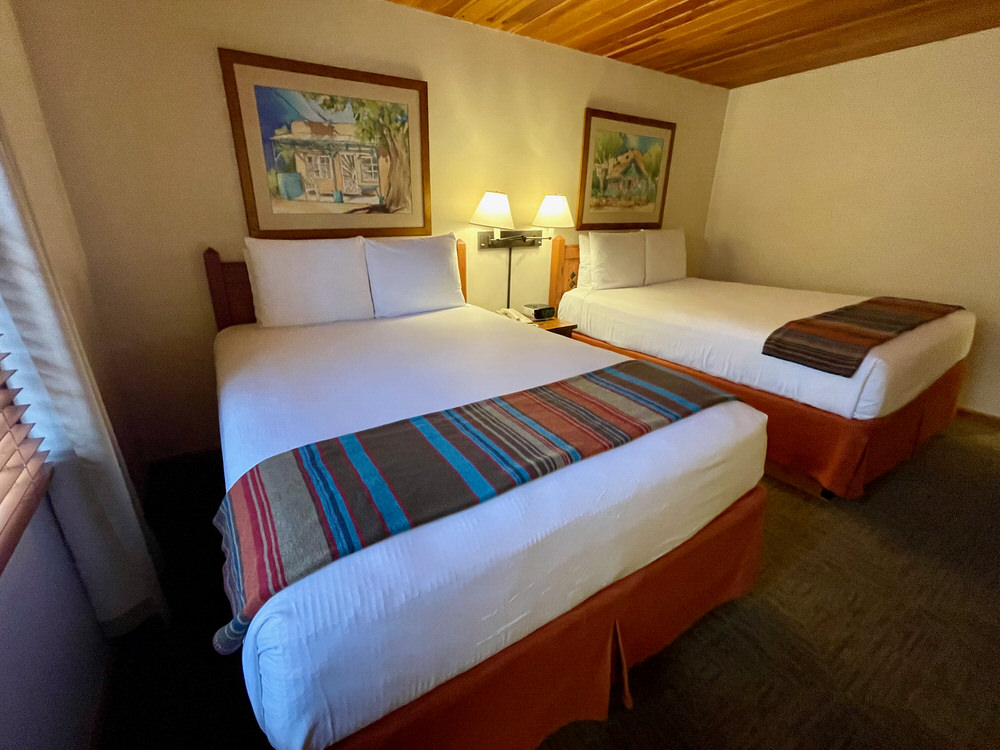 You'll find a ton of resort/spas right in the Santa Fe's historic downtown district. Most of these resorts also include restaurants and bars. It's hard to chose!
We spent three fabulous at the Inn on Alameda located a five-minute walk from the Plaza. Although the Inn on Alameda doesn't have a spa (just two hot tubs), they have an excellent bar and restaurant on site.
We especially enjoyed their impressive breakfast spread each morning. If it hadn't snowed every day of our visit, we would have spent a lot of time on their beautiful patio. As it was, they have a wonderful, welcoming lobby with a fireplace where you can hang out on even the chilliest days.
If a resort/spa doesn't quite fit your travel style, you'll find chain hotel options on the western end of Cerrillos Road. And of course, there's no shortage of vacation rentals either.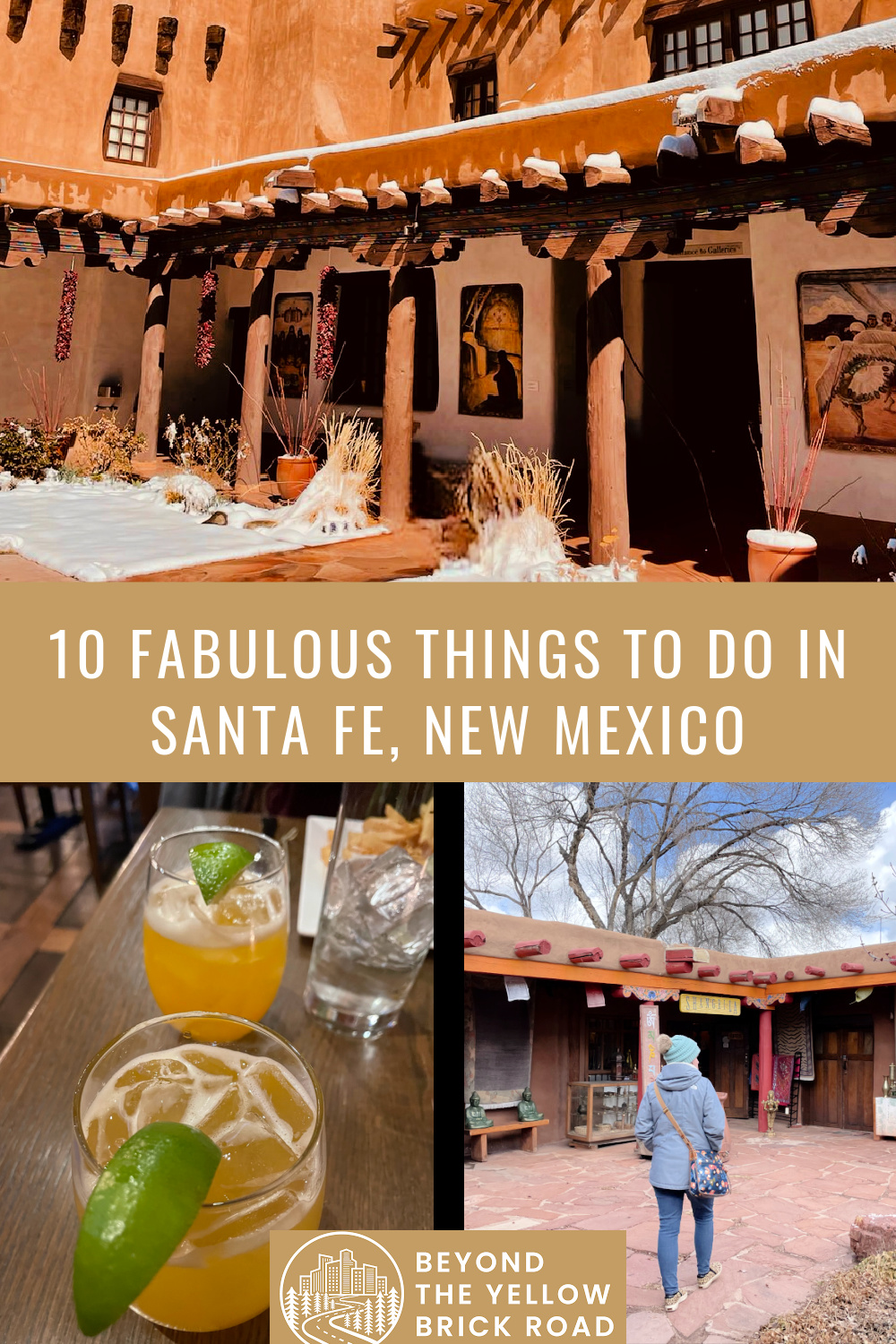 Have you spent any time exploring New Mexico? What places do you recommend in Santa Fe?
You can hike year-round on these six amazing winter hiking trails along Minnesota's North Shore. A little snow can't stop our exploring!
read more