Everything You Need to Know About The Santa Fe Margarita Trail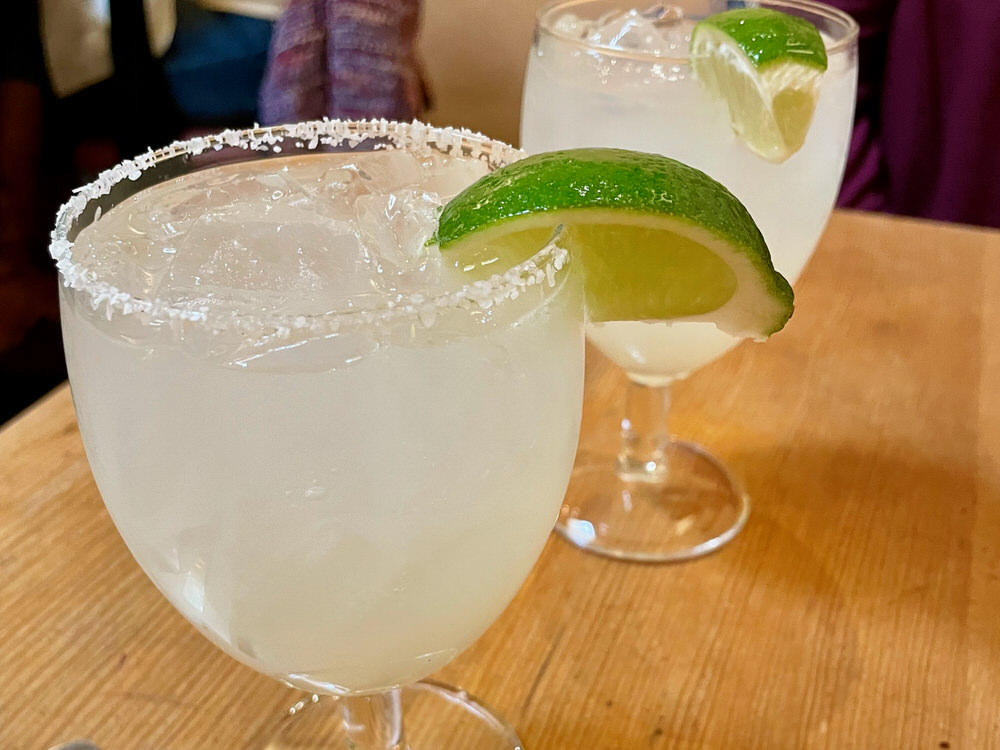 Santa Fe Margarita Trail: World's Most Delicious Pub Crawl
"Excuse me," the lady leaned over the back of her chair in the Santa Fe restaurant to talk to us. "Did I hear you say something about a 'margarita trail?'" 
She most certainly had.
In fact, we were halfway through our second margaritas on the trail. With each tequila cocktail we enjoyed in the New Mexico city, we earned a passport stamp that got us closer and closer to a coveted Santa Fe Margarita Trail t-shirt. Not only was the margarita trail our favorite Santa Fe activity, if the slightly confused reaction of some of our servers when we asked for a passport stamp is any indication, it might be one of Santa Fe's better kept secrets. But if you enjoy tequila cocktails as much as we do, you definitely don't want to miss out. 
Look no further to learn what Santa Fe's margarita trail is all about. I'll answer all your questions in this post so you too can be a Santa Fe (Margarita Trail) Trailblazer!
This post may contain affiliate links. When you purchase something through these links, I receive a small commission that helps me create this blog's content. There's no extra cost for you.
Heading to Santa Fe soon? Pin now to reference during your visit!
What is the Santa Fe Margarita Trail?
This modern take on the Santa Fe Trail shines a spotlight on the historic city's favorite cocktail. A pub crawl style challenge, the Santa Fe Margarita Trail rounds up 43 different area restaurants and bars. When you order the signature margarita at each of these establishments, you earn a stamp on your margarita trail passport. After just five passport stamps, you can collect your first prize.
Developed in 2016 by TOURISM Santa Fe, the margarita trail now has 43 different stops. While most of the stops are restaurants or bars, several Santa Fe hotels also participate. You can even get a somewhat otherworldly cotton candy tequila concoction at Meow Wolf.
You'll find the majority of stops within Santa Fe city limits. If you're going for a t-shirt prize, you can easily find five margaritas to drink within walking distance of the Plaza. There are a few farther flung stops. The farthest margarita stop is in Chimayo, about 30 miles north of downtown Santa Fe.
er
Santa Fe Margarita Trail rules
Obviously, you must be 21 years or older to participate.
Before starting, purchase a Margarita Trail passport (either paper or a phone app . . . more on that later) for $2.99. 
You must order the signature margarita at each stop on the Margarita Trail to earn a stamp.
You can only record two margaritas in your passports per 12-hour period. The period starts when you record your first margarita. And yes, the app absolutely doesn't let you record a third margarita within a 12-hour period . . . I tried!
I didn't pay enough attention to our bills to see if this actually happened, but showing your Margarita Trail passport should get you $1 off each cocktail.
How many margaritas can you drink a day on the Santa Fe Margarita Trail?
The two margaritas per every 12 hours rule really works out to two margaritas a day. Call me old-fashioned, but I don't do much drinking before 5 p.m., let alone noon. We found many Santa Fe bars have their last call very early, so it's tricky, if not downright impossible, to sneak in a third margarita after midnight.
I did figure out a work-around to the 12-hour, two drink cap. If you're using the app, take a photo of the QR code you're provided. Once 12 hours have passed (even if it's 7 a.m.) simply scan the QR code in the app to log the margarita and earn a passport stamp. I'm not advocating irresponsible drinking, but it was nice to get credit for all three margaritas. Since the third margarita of the day had been consumed more than eight hours after the first, it wasn't like we'd gone on a bender.
But long story short: unless you get really creative, you need to be in Santa Fe for about 48 hours to drink enough margaritas to earn a prize.
Margarita Trail App or passport?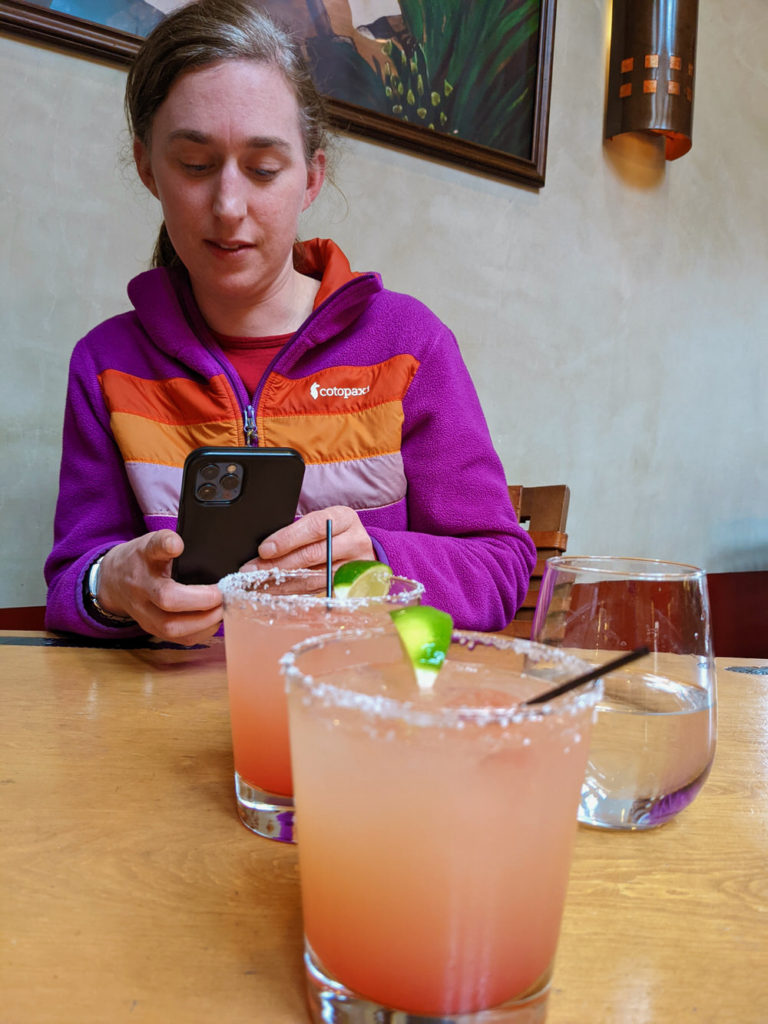 We both opted to use the Santa Fe Margarita Trail app instead of the paper passport available at the Plaza Galleria Visitor Center. The app has some quirks, but overall, we preferred it to carting around a paper passport.
My biggest critique of the app is that the search function doesn't really work. Pair a strong margarita with a glitchy QR scanner and you don't always have a recipe for success. However, using the app allowed us to start down the Margarita Trail as soon as we arrived in Santa Fe.  To use the paper passport, you have to first swing by the Visitor Center to collect it.
If you opt for the app, keep in mind that there are two different apps associated with the Margarita Trail. The free "Margarita Trail Lite" app just gives you a list of trail stops. To actually log margaritas, you'll need to use the $2.99 app. The apps work on both Apple and Android phones, although it seemed slightly easier to use on my iPhone than Angie's Google phone.
We did have an issue with a QR code that wouldn't scan on Angie's phone. We ended up taking a photo of code. After we'd darkened the photo, her phone recognized the code and logged the margarita.
Both the paper passport and app have all of the Trail's margaritas' recipes. If you fall in love with a certain margarita, you can replicate it at home.
Prizes You Earn on the Santa Fe Margarita Trail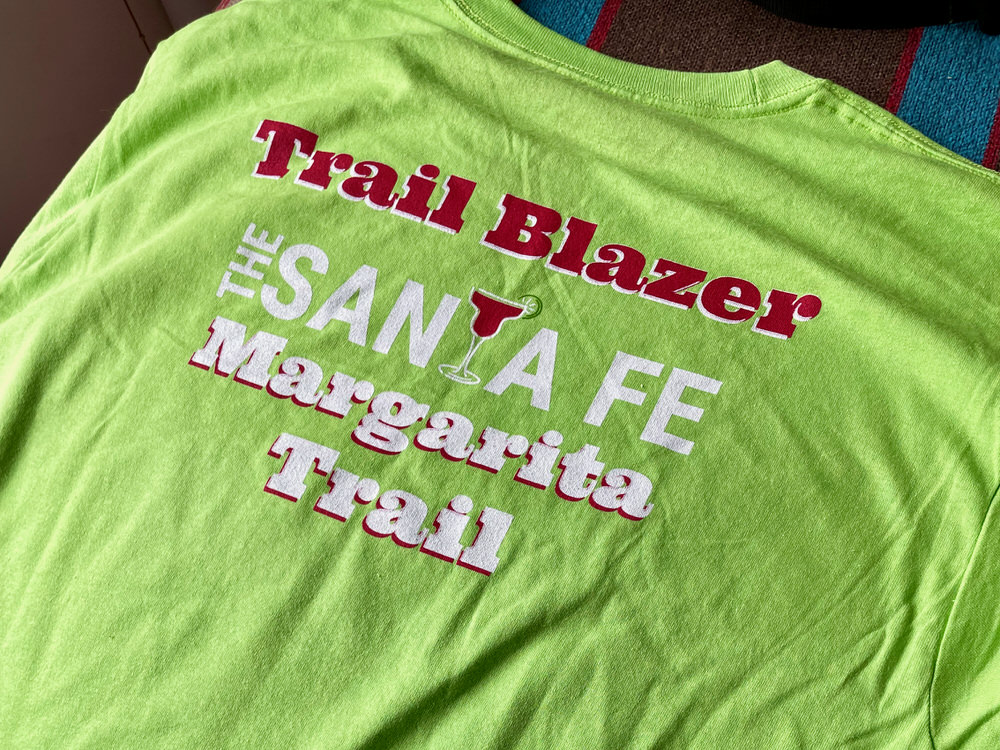 Wondering what you'll receive as a reward for sipping all that tequila?
5 margaritas = a t-shirt
10 margaritas = Become a provisional Margarita Society member
15 margaritas = Full Margarita Society Member
20 margaritas = Signed copy of The Great Margarita Book
30 margaritas = Margarita Trail Bar Kit
Make it to all the stops to get a VIP Margarita Kit
What does it mean to be a member of the Santa Fe Margarita Society? In addition to getting some swag (label pin, membership card, etc.), you'll be invited to events, seminars, and tastings in Santa Fe. This accolade is definitely more tailored to Santa Fe residents or frequent visitors than the casual weekend travelers like us. We were more than happy to walk away with our new "punny" t-shirt! 
All prizes are collected at the Plaza Galleria Visitor Center just off the Plaza in downtown Santa Fe. 
So . . . what is a margarita?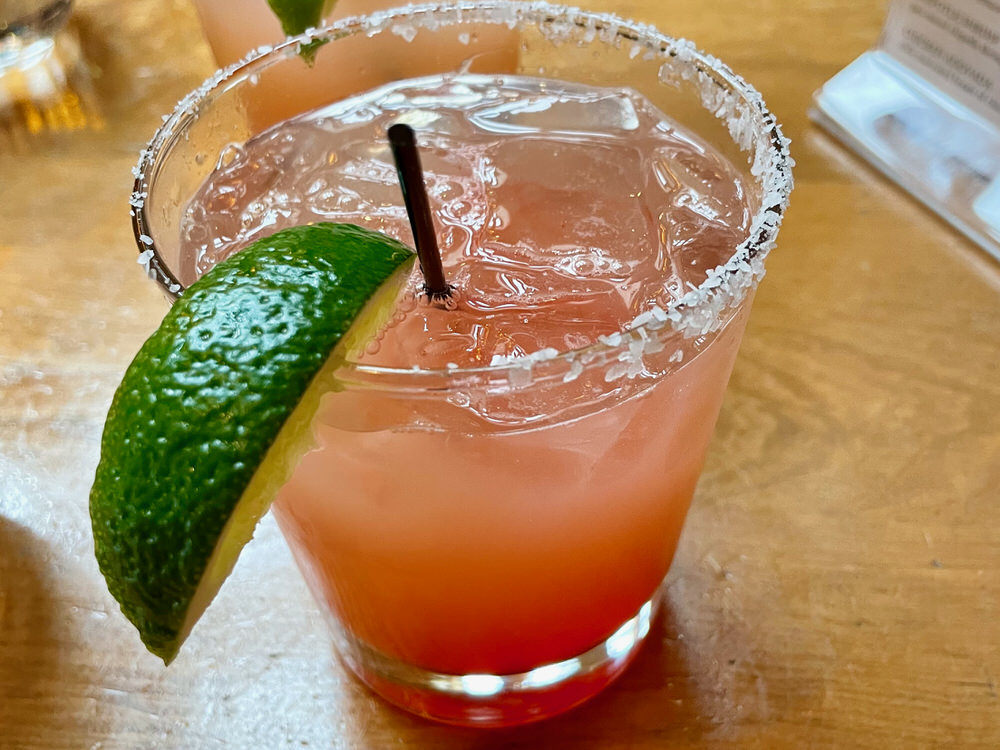 The margarita's origins are a little murky, but the cocktail dates back to at least the late 1930s. Most early accounts connect it with Mexico's Baja California state. According to the International Bartenders Association, to be a margarita, the drink must contain 50 ml of tequila, 20 ml of triple sec, and 15 ml of freshly squeezed lime juice. Although it's considered optional, it's hard to imagine the drink in a glass that doesn't have a salted rim.
All of the margaritas we drank on the "Trail" were served on the rocks, but it not uncommon for margaritas to be blended with ice or served straight up. Perhaps more than any other cocktail, the margarita is known for its infinite variations. This makes it the perfect drink to highlight on a pub crawl.
A review of the margaritas we drank on the Santa Fe Margarita Trail
The app provides a description of each restaurant's margarita so you can make a pretty educated decision about which stops you want to hit up based on your taste preferences. Personally, we gave stops that used chiles in their signature cocktail a wide berth!
Joe's Tequila Bar – Sunset Trail Margarita
We didn't go very far for our first Santa Fe Margarita Trail stamp! After a full day of travel that started pre-dawn, we were more than happy to pull up a chair at Joe's Tequila Bar. This cheerful space doubles as the breakfast nook at our hotel – The Inn on the Alameda. 
We enjoyed a mild, but refreshing margarita with faint grapefruit and grenadine notes. It might not have been the world's most memorable margarita, but it tasted fantastic. The bar's casual, relaxed vibes proved a lovely introduction to The City Different.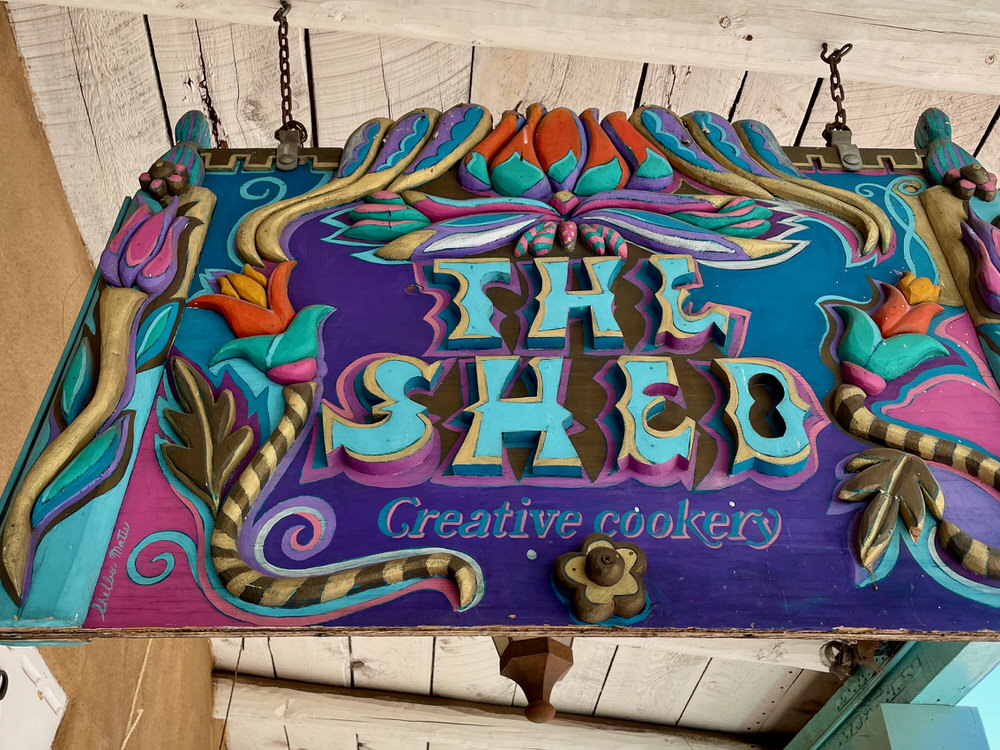 The Shed – Codigo Coin Margarita
Located in a 300+ year old hacienda, The Shed has made a name for itself dishing up traditional New Mexican fare. There's almost always a wait here, so if you want this margarita, plan ahead . . . or at least swing by to get your name on the waitlist before you're starving. We stopped for lunch and only had about a 25-minute wait. 
If you want a really good traditional margarita (honestly, my favorite kind) this is the place to go. But fair warning – this was the strongest margarita we had in Santa Fe. It was probably twice as strong as any other margarita we sampled!  
The Staab House Bar at La Posada – Juliarita
We came here specifically to sample the apricot margarita. The apricots used in this drink supposedly come from an apricot tree planted in the 1880s by Julia Staab, wife of the La Posada's first owner. It's believed that the ghost of Julia haunts the La Posada resort/spa to this very day.
Unfortunately, the taste of apricot didn't really haunt this margarita. It went down as the most forgettable margarita of our trip. While everything about this stop was absolutely fine, I'd say skip unless you happen to be staying here.
The Dragon Room – The Black Dragon Margarita
I'd go back to Santa Fe just to return to the Dragon Room. This cozy bar is the lounge counterpart of the Pink Abode restaurant. Enter the bar through impressive carved doors. Inside, strands of Christmas lights wrap around live trees growing in (through?) the bar room. The impressive dragon themed décor begs the question: did famed Santa Fe resident George R.R. Martin come to the Dragon Room and then write Game of Thrones or is the Dragon Room an homage to Westeros?
I love anything raspberry. Naturally, their Black Dragon margarita made with Chambord was my favorite margarita of the trip. They also offer complimentary popcorn. We just wished they stayed open a little later – last call was at 9 p.m.!
La Fiesta Lounge at La Fonda Hotel – Tamarindo Margarita?
Although the passport markets a tamarindo margarita for La Fonda, the bartender informed us they no longer offer it. However, he said he'd make us any margarita on the menu and give us $1 off and a passport stamp.
I really like tamarind so it was a slight letdown, but we were only one stamp away from our t-shirt prize and he was so friendly that we decided to stay. I opted for a harvest apple margarita with a smoked salt rim. While it wasn't the flavor profile I thought I was signing up for, it was unique and delicious.
Rio Chama Steakhouse – Blood Orange Esporita
What can I say, even though we'd already procured our Margarita Trail t-shirts, we had to go for extra credit. We hit up Rio Chama steakhouse for our last night in Santa Fe to sample their Blood Orange Esporita. Although it isn't on their drink menu, if you mention you're doing the Margarita Trail, they'll hook you up with this orange flavored margarita.
This margarita drank like an adult Fanta . . . in the best possible ways. Coincidentally, we ended up having the best meal of our trip here, despite the fact that neither of us ordered steak.
Is the Santa Fe Margarita Trail worth it?
If you want to experience Santa Fe on a budget, then no. I'd say the average signature margarita at each establishment costs $15. Even with $1 off, your tab racks up pretty quickly.
However, if you're a margarita fan, you really can't go wrong. Even if you don't get enough stamps in your passport to earn a prize, you'll still have drunk a bunch of delicious margaritas. While not every margarita we drank was our favorite, the baseline quality of the drinks served on the Santa Fe Margarita Trail is very high.
We really liked how the Trail "game-ified" our time in Santa Fe. Thanks to the margarita trail, we went to establishments we wouldn't have even otherwise noticed. We also met several lovely bartenders and even set another group of Santa Fe visitors off on their own margarita trail adventure.
If you live in or near Santa Fe, this trail would be such a fun challenge to slowly work your way through. As a visitor, drinking five margaritas in two days was a lot, but I have zero regrets. Let's just say, I was pretty ready for a beer after getting my t-shirt.
Do you like margaritas? Would you go on the Santa Fe Margarita Trail?
A state of wide open spaces, there's no shortage of New Mexico places to explore on public lands. Here's a guide to the very best sites from Carlsbad Caverns to Lincoln National Forest and beyond.
read more