Breathtaking New Mexico Places You Must Visit On Public Lands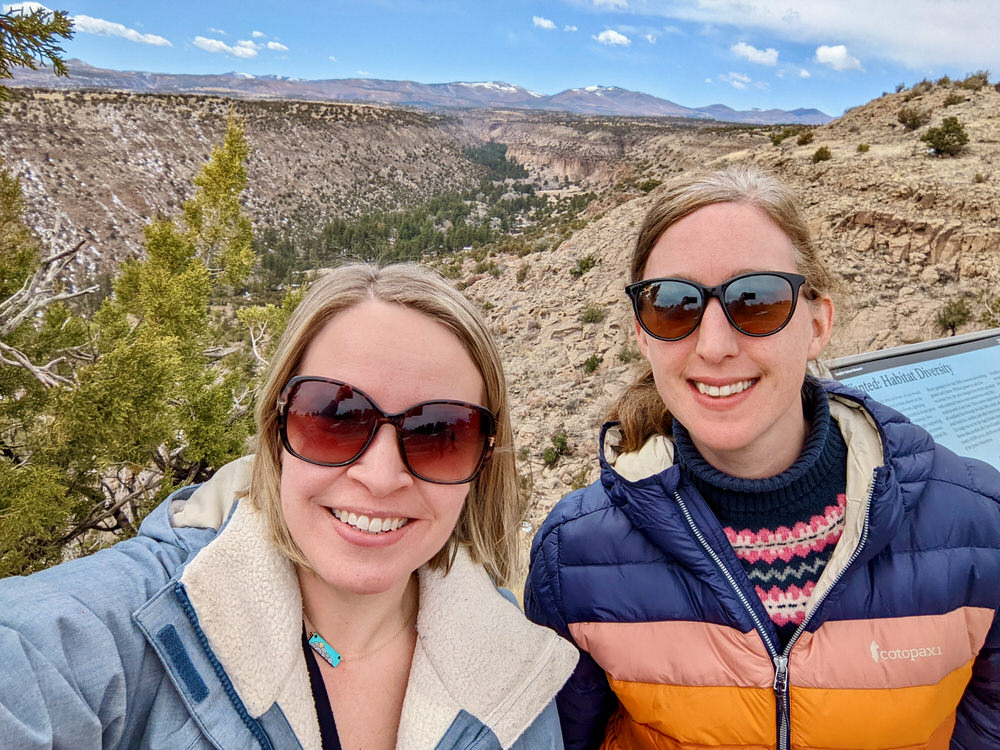 New Mexico Places = Public Spaces
One thing that drew me to New Mexico when looking up places to visit was the state's vast amount of public land. Among the least populated states in America, New Mexico's population density works out to just 17 people per every square mile. That leaves a lot of open land to explore. Happily, much of that wide open space is public.
While visiting Santa Fe was the chief purpose of our March 2022 New Mexico trip, I also wanted to  explore at least a teeny portion of New Mexico's public land.
We ended putting about 1000 miles on our little rental car in the span of just five very full days. Our travels took us from Albuquerque to Santa Fe then crisscrossing southeastern New Mexico. In just a couple hours of driving, this state can shift from desert to plains to alpine forest. And wherever you go, a mountain range always looms on the horizon
If you're looking for the very best of New Mexico, I definitely recommend checking out the state's national parks, national forests, and other public spaces. Here's a round-up of spots that piqued our interest on our mini road trip.
This post may contain affiliate links. When you purchase something through these links, I receive a small commission that helps me create this blog's content. There's no extra cost for you.
Pin now and start planning that New Mexico visit!
Bandelier National Monument

Of all the New Mexico places, I most wanted to see the ancient dwellings of the Southwest's original inhabitants. We headed about an hour northwest from Santa Fe to visit Bandelier National Monument.
Named for 19th century anthropologist Adolph Bandelier, this national monument protects Frijoles Canyon and its cliff dwellings used by ancestral Pueblo people. You can quickly access these dwellings via the short 1.2 mile Main Loop Trail that starts right behind the Visitor Center. Replica ladders allow you to clamor inside. If you venture on a spur trail off the Main Loop, you'll reach the impressive Alcove House structure.
While the cliff dwellings are Bandelier's main attraction, the national monument contains a whole network of hiking trails well worth checking out. In fact, federally designated wilderness surrounds the monument. We hiked the Falls Trail as far as the first Tent Rocks formation.
We visited Bandelier in the shoulder season, which meant we could drive straight into the canyon and park next to the original visitor center. In the busier summer months, you park at White Rock Visitor Center and take a shuttle bus eight miles to the monument.
Bandelier has been a monument since 1916 and the park structures – built by the Civilian Conservation Corps in the Pueblo style – date back to the 1930s. As an OG in the National Park system, Bandelier's interpretation can feel a little dated. We've learned a lot about cultural appropriation in the past century. If you have mixed feelings about how the National Park Service interacts with Native American culture, Bandelier won't assuage those feelings. However, the canyon itself is truly stunning and well worth a visit.
Manhattan Project Historical Park
Want to see a New Mexico place that technically didn't exist?
I didn't know I did until we tried to avoid getting car sick on our way to Bandelier. The "less windy" route we chose took us right past Los Alamos, New Mexico, the town said to have the highest concentration of PhDs in the country.
Today, you can learn about the secretive work in Los Alamos that developed the World War II ending atomic bomb in the Manhattan Project Historical Park. Although we didn't have time to stop, if I'd done my due diligence, we definitely would have. 
The Los Alamos Visitor Center for the Manhattan Project Historical Park provides exhibits, a film, and knowledgeable park rangers to helps visitors learn about the world-changing project. You can learn even more at the Los Alamos History Museum and/or Bradbury Science Museum. Three times a year the Los Alamos National Laboratory allows tours inside their restricted area. If this piques your interest, you definitely want to watch the National Laboratory's website for tour date announcements; tour space is very limited.
If you're especially interested in the Manhattan Project, you'll find two more NPS historical parks devoted to the subject in Oak Ridge, TN and Hanford, WA. You can also do another "behind the fence" tour at the Trinity Site near Alamogordo, NM. 
Other National Park Service Sites near Santa Fe
You'll find several other National Park Service sites within an hour's drive of Santa Fe, including Kasha-Katuwe Tent Rocks National Monument and Petroglyph National Monument. Slightly farther afield – about 90 miles north of Santa Fe – you'll find Taos Pueblo, a UNESCO World Heritage Site. 
Lincoln National Forest
I'll be honest, while I like national parks well enough, I'm a national forest girl through and through. I've spent my entirely life adjacent to a national forest in Minnesota and I just feel more at home in these tracts of federal land than I ever will in national parks. I love the spaciousness, the lack of signs, and the sense of self-discovery that simply can't happen in national parks where you're always jockeying for views and access.
If you love national forests as much as I do, you'll love New Mexico. The state has five different national forests: Carson, Cibula, Gila, Lincoln, and Santa Fe.
We spent the most time in the Lincoln National Forest in the southcentral part of New Mexico. This national forest is divided into three sections and protects the alpine forest (and a little desert as well) of three different mountain ranges. You'll find camping, trails, and two wilderness areas.
While we didn't do any recreating in the national forest, we enjoyed a lovely scenic drive through it as we made our way from Carlsbad to Alamogordo on Highway 82. The Cloudcroft area high in the mountains is gorgeous and we saw a ton of wildlife including elk and deer.
This is also the home forest of Smokey Bear. If you want to love on Smokey a little, be sure to check out the Smokey Bear Historical Park operated by the New Mexico Forestry in Capitan.
Carlsbad Caverns National Park
Perhaps the most recommended outdoor destination in New Mexico, Carlsbad Caverns is located in the southeastern corner of the state near the Texas border. Despite its popularity, I didn't know much about this massive cave system of more than 100 caves until our visit. To be honest, I often confused Mammoth Cave (oops, that's in Kentucky) with Carlsbad Caverns.
It's hard to express the caverns' immensity. Stalagmites, stalactites, and other formations formed by the slow gentle drip of water over the course of millions of years stretch infinitely into inky darkness. Happily for claustrophobics like me, the caverns are so massive and so otherworldly, I actually forgot I was 700 ft under the earth's surface. Whew!
Because of the high interest in the caverns, the park limits how many people are in the caverns at any one time through entrance times. Your entrance time is good for one hour, but once you've entered you can stay inside as long as you like. Enter either via an elevator or take a mile hike down a windy, switchback path from cave's natural entrance.
We opted for the natural entrance and if you're physically able, I definitely recommend it. You'll get a much better sense of just how deep underground you are.
Although we didn't stay to experience it, another popular activity at Carlsbad Caverns is to observe the nightly bat flight. The caverns house hundreds of thousands of Brazilian free-tailed bats. Each night, they head out hunting. In fact, a young man, Jim White, first discovered the caverns by observing an astounding number of bats exiting the cave one evening.
White Sands National Park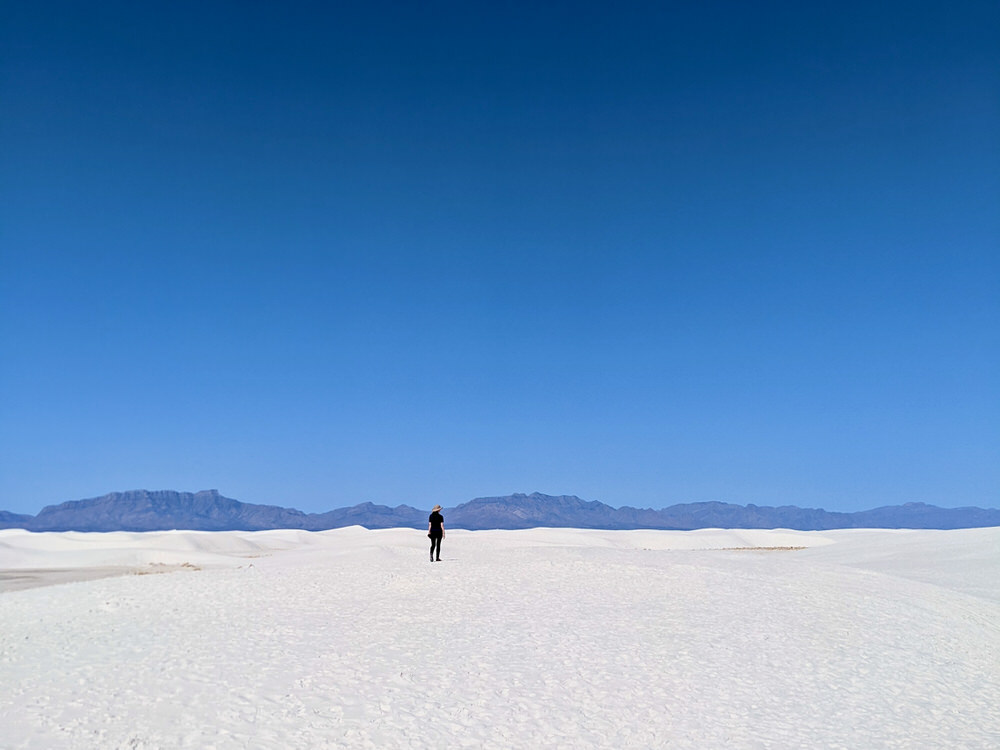 Other than spending some time in Santa Fe, visiting White Sands National Park was the only must-do item on my New Mexico itinerary. One of America's newest national parks, White Sands became the United States' 62nd National Park in December 2019. The national park sits just  outside of Alamogordo, New Mexico in Tularosa Basin in between two mountain ranges: the Sacramento and San Andres.
White Sands is exactly what it sounds like: a large area of white gypsum sand that the wind whips into dunes. Often described as a beach without the ocean, most people come to snap pictures and hike, although you'll probably spot a few people lounging underneath beach umbrellas. Because gypsum sands have amazing water retention, the sand is always cool to the touch. It feels lovely to walk around barefoot!   
You'll also see lots of people sledding. Yep, sledding. We headed straight to the visitor center to pick up a couple sledding saucer and some wax so we could hit the slopes . . . er . . . dunes.
The accessible area of gypsum sand flats at White Sands certainly aren't as vast as they appear in carefully staged Instagram shots. In fact, the park's so small, I wondered if it should have stayed designated as a monument. Apparently, the National Park Service feels the same way. You'll still find an old school "National Monument" sign outside the White Sands Visitor Center.
Still, this is a site to see and we had a fabulous visit. Don't let the crowded visitor center area turn you off – there really is enough sand to wander through that you can feel like you have the place to yourself.
Valley of Fires Recreation Area
Although we just drove past, the Valley of Fires area near Carrizozo was one of the most striking areas of New Mexico we saw. This 5000-year-old lava flow covers a 125 square mile area about four miles wide. You'll drive right through it on US 380. By American standards this lava flow's a mere baby; definitely not a sight you expect to see in the United States outside of Hawaii! The Bureau of Land Management manages a recreation area in the middle of the lava flow where you'll find a visitor center as well as camping opportunities.
Blackdom
This isn't so much a breathtaking New Mexico place as an interesting historical footnote.
Between Roswell and Carlsbad, you pass a historical roadside marker for Blackdom. Now a ghost town, Blackdom was the first black settlement in New Mexico. The town's founder Francis Boyer walked from Georgia to New Mexico at the turn of the 20th century to realize his dream of creating an agricultural community free from Jim Crow laws and threats of the Ku Klux Klan. In its heyday, the town had 300 residents and its own post office. Unfortunately, a drought in 1916 forced many community members to relocate and by the Great Depression, Blackdom was only a memory.
Have you been to New Mexico before? What's the first place you would recommend stopping on a New Mexico trip?
In Boston's North End, you'll find excellent Italian bakeries and a fierce cannoli rivalry between Mike's and Modern Pastry. But who's the best? I took matters into my own hands. Read on for the ultimate compare and contrast of Mike's and Modern's cannoli offerings.
read more