Hearst Castle in California's Big Sur Region: A Must See
Why You Should Visit Hearst Castle On California's Big Sur Coast
When I roadtripped through California and Arizona in 2017, I only had one must-see on my list: Hearst Castle.
I've always found big houses fascinating and when it comes to big houses in America, it's hard to find one more impressive than Hearst Castle. This opulent hilltop villa in San Simeon features a mansion, several guesthouses, swimming pools, and gardens, all with a sweeping view of the Pacific Ocean near Big Sur. Basically, it's as close as you're going to get to a palace in the United States.
If you're headed to Cambria or Monterey, I definitely recommend heading up or down the famed Pacific Coast Highway for a day trip to this impressive property now owned and operated by California State Parks.
Read on for everything you need to know before visiting, including how much time and money to budget for a day at Hearst Castle.
Gotta run? First, pin this Hearst Castle guide!
What is Hearst Castle?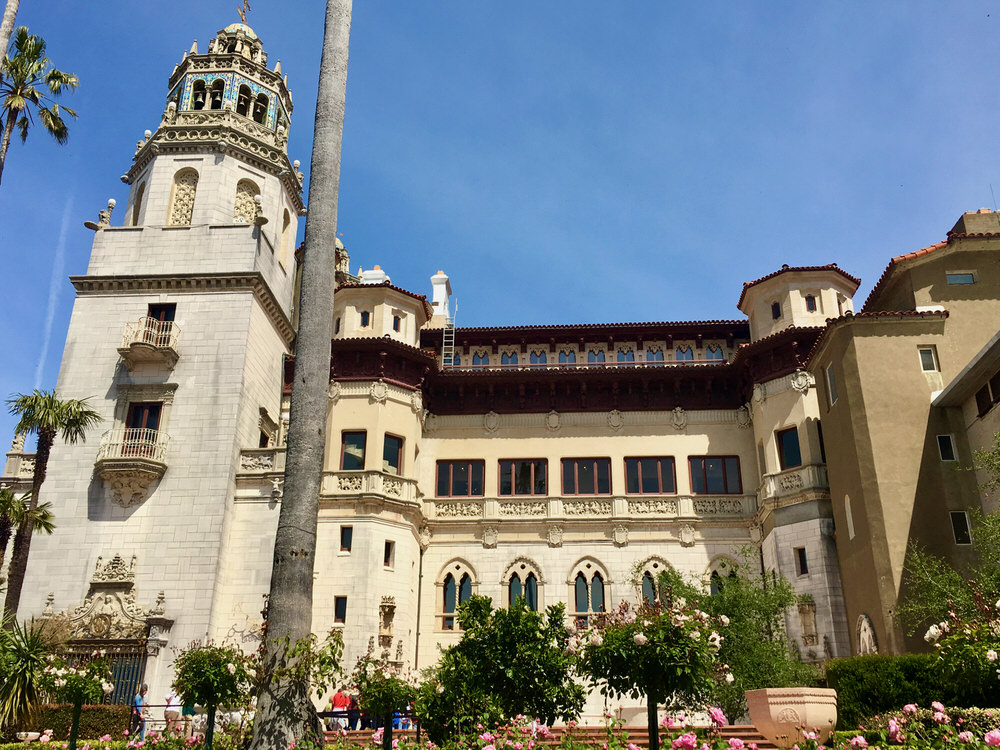 William Randolph Hearst started building Hearst Castle in 1919. Architect Julia Morgan designed the massive hilltop villa in the Mediterranean style. Originally called La Cuesta Encantada – that's Spanish for "The Enchanted Hill" – at some point the project was referred to as "Hearst's Castle" and the name stuck. Really, "castle" is the only word that can summarize the scope of this massive property.
Hearst and Morgan worked together for nearly 30 years to design and build the hilltop property which eventually included a mansion, three guesthouses, two pools, and extensive, manicured gardens. When Hearst's poor health forced him to leave the house in 1947, the project still wasn't finished.
Today, Hearst Castle is a celebration of art, architecture, and landscape. Back in the heyday of Hearst Castle in the late 1920s and early 1930s, many Hollywood stars and other American celebrities flew into the private airport to enjoy a few days of seclusion and hedonism. Eventually financial hard times spurred by the Great Depression caught up with Hearst, but today Hearst Castle's star-studded days are remembered fondly.
When the Hearst Corporation donated the residence to the state of California, they also donated the surrounding 120 acres. Beyond that stretch 80,000 acres owned by Hearst Ranch, a grass-fed cattle company currently managed by Hearst's great-grandson. That means visitors today enjoy the same view that William saw the first time he declared this "La Cuesta Encantada."
Where is Hearst Castle?
Hearst Castle overlooks the teeny village of San Simeon on the Pacific coast in southcentral California. The nearest town with plentiful amenities is Cambria, a small town of 5000 located about nine miles south. Despite its somewhat out of the way location halfway between Los Angeles and San Francisco, the village does have its own airport that's used by members of the Hearst Corporation.
Don't worry about missing Hearst Castle. You can't miss the turn into the very well-signed attraction on the inland side of the coastal highway.
Drivetimes to Hearst Castle
San Luis Obispo to Hearst Castle: 45 minutes
Monterey to Hearst Castle: 2.5 hours
San Francisco to Hearst Castle: 4.5 hours
Los Angeles to Hearst Castle: 4.5 hours
What to Do and See at Hearst Castle
"This place is huge!" I thought when we pulled into the sprawling parking lot. Hearst Castle doesn't shy away from being a tourist attraction. Its plentiful amenities are definitely designed to entice visitors to stay awhile.
The visitor center features three dining options, a movie theater, a gift shop, and the William Randolph Hearst exhibition. If you're unfamiliar with the Hearst family story, it's worth a cursory wander through the exhibit to get acquainted with their legacy and the Hearst Castle property.
There's no admission or parking fee for the visitor center, but it's hard to imagine that many visitors stop there. If you've gotten as far as the visitor center, you're probably planning to tour the actual castle.
Which tour to choose
The castle provides a dizzying number of tours: more than 10! Many of these tours are offered at several times throughout the day. The tour recommended for first-time visitors, the Grand Rooms tour, runs four times an hour.
With so many different tours offered throughout the day, if you're not picky, you can just show up at the visitor center and hop on the next available tour. like you can "wing it" when it comes to buying tour tickets. Of course, their website "strongly recommend reservations," but we decided to skip the hefty service fee and just wing it. We arrived a little after 10 a.m. Saturday and easily got tickets for the 10:30 Grand Rooms tour.
Regardless of which tour you opt for, it starts with a five-mile shuttle bus ride up to the Castle.
Once the bus starts rolling, a recorded guide, narrated by Alex Trebek of Jeopardy fame, kicks on. While recorded narration can often be a little cheesy, this one gives a solid overview of the property's history and points of interest.
Our Experience on the Hearst Castle Grand Rooms Tour
The site recommends the 60-minute Grand Rooms tour for first time visitors. This tour takes you inside the main mansion to view the social rooms where Hearst entertained the likes of Greta Garbo, Cary Grant, Winston Churchill, and Charles Lindbergh.
Our tour guide met us at the bus stop and started the tour by announcing that we would be viewing a number of "priceless antiques so feel free to touch absolutely nothing."
We started with a brief tour of the grounds. This included an empty Neptune Pool (it's since been refilled), outside artifacts, and the exteriors of the complex's three guest houses – Casa del Mar, Casa del Monte, and Casa del Sol.  Then we proceeded into the main house, Casa Grande.
Inside Casa Grande
The tour takes you through just four ground level rooms: the Assembly Room, Refectory, Billiard Room, and Theater. Although we only saw a teeny portion of the massive house, I still felt we got a good taste of Hearst's extensive collection of antiquities. His vision for the property can only be described as "lofty."
Many of the artifacts used in the house came right out of European castles and cathedral. In the mansion's only dining room, the Refectory, the walls are lined with choir stalls that once belonged to the Catalonian cathedral, La Seu d'Urgell Cathedral.
Once the tour concludes, you'll pass the house's Roman pool on your way back to the shuttle bus. This was hands down my favorite room we saw. Photos really don't capture how breathtaking it is.
If you're on one of the daytime tours, you're allowed to stay on the hilltop exploring the grounds and gardens for as long as you like. We lingered for about twenty minutes, wandering through the gardens and enjoying the views of the countryside before catching the next bus down the hill.
The Truth about William Randolph Hearst and his Big Sur Castle
Today the site (especially the film) glosses over the numerous "not so nice" aspects of William Randolph Hearst's character.
After all, his rivalry with Joseph Pulitzer, the other newspaper magnate of the late 19th century, is the stuff of legends. Orson Welles modeled the main character in Citizen Kane after him. He's often remembered as a crazed collector of antiquities who acquired many of the most incredible artifacts on display at Hearst Castle by preying upon European collectors' perilous finances after World War I.
The ruthless nature he used in his collecting hobby extended to his publishing business. He stopped at nothing – not even the truth! – to sell his newspapers. Throw in some philandering and a little family blood money and you've got an all-around unsavory guy.
But I think we do ourselves a disservice if we let that reality detract from the magnificence of Hearst Castle. However, ill-gotten both the artifacts on display at the Castle and the money used to construct the residence may have been, we can still enjoy seeing what was collected and built. Despite his many flaws, Hearst undeniably sought out and magnified beauty during his life.
Tips for Visiting Hearst Castle
Skip the cafeteria
We sure wished we hadn't grabbed two overpriced sandwiches from the site's cafeteria on our way out. You can find better dining  along nearby Moonstone Beach or in Cambria. Probably your best lunch option is to pack a picnic and enjoy it at the William Randolph Hearst Memorial Beach across the road from the visitor center.
Don't miss the shuttle bus
As you wait for your tour, don't get too distracted by the exhibition and gift shop. You need to queue up for your bus a few minutes ahead of your tour time.
The group sitting behind us on the bus were waiting for a few friends. They assumed since their friends had tickets for the 10:30 tour, the bus would wait until they arrived. Oh no. The bus rolls when it's time to go, regardless of if all the ticketed guests for that tour are on board.
Set a budget
As Lonely Planet very accurately writes in their description of Hearst Castle, "Much like Hearst's construction budget, the castle will devour as much of your time and money as you let it." Many people are upset by the high fees charged by California State Parks at Hearst Castle. However, considering the vast scope of the site and the number of employees required, paying $30 each for a tour seemed perfectly reasonable to me.
But if you're not careful, the site will pull you (and your wallet) under its spell. We only planned to do a one-hour tour, but bought lunch, then returned to the visitor center after exploring the San Simeon coast to use our "free" ticket to the Hearst Castle – Building the Dream film. Basically, know how much you want to spend and walk away when you've hit that limit.
Plan to stay a while
If you've never been to Hearst Castle before, plan to spend at least two hours at the site. Between a tour and the visitor center, we were surprised by how well the site held our interest. If you'd like to watch the 40-minute film that's included with any tour ticket, you'll need the better part of three hours to do the site justice.
If You Go To Hearst Castle
The visitor center is located at 750 Hearst Castle Rd in San Simeon, CA. A shuttle bus takes you the five miles from the visitor center to the hilltop mansion. You can only tour the mansion via a tour. Tour tickets can be reserved up to 60 days in advance.
Most people drive to Hearst Castle, but the site is also serviced by public bus from San Luis Obispo.
The site opens at 9 a.m. every day. Closing time varies depending on if the site is offering evening tours. Closed Thanksgiving Day, Christmas Day, and New Year's Day.
And yes, Hearst Castle is now open. The site reopened on May 11, 2022 after being closed for more than two years. The closures first stemmed from the COVID-19 pandemic, but heavy rainstorms in Spring 2021 so severely damaged the castle's access road that closure had to be extended. Happily, the castle has now resumed normal operations.
Do you share my affinity for big houses? Would you visit Hearst Castle if you were in Big Sur? 
Get the most out of your time on Boston's Freedom Trail walking path. These tips will immerse you in Boston's American Revolution history.
read more