A Visit to the Judy Garland Museum in Grand Rapids, Minnesota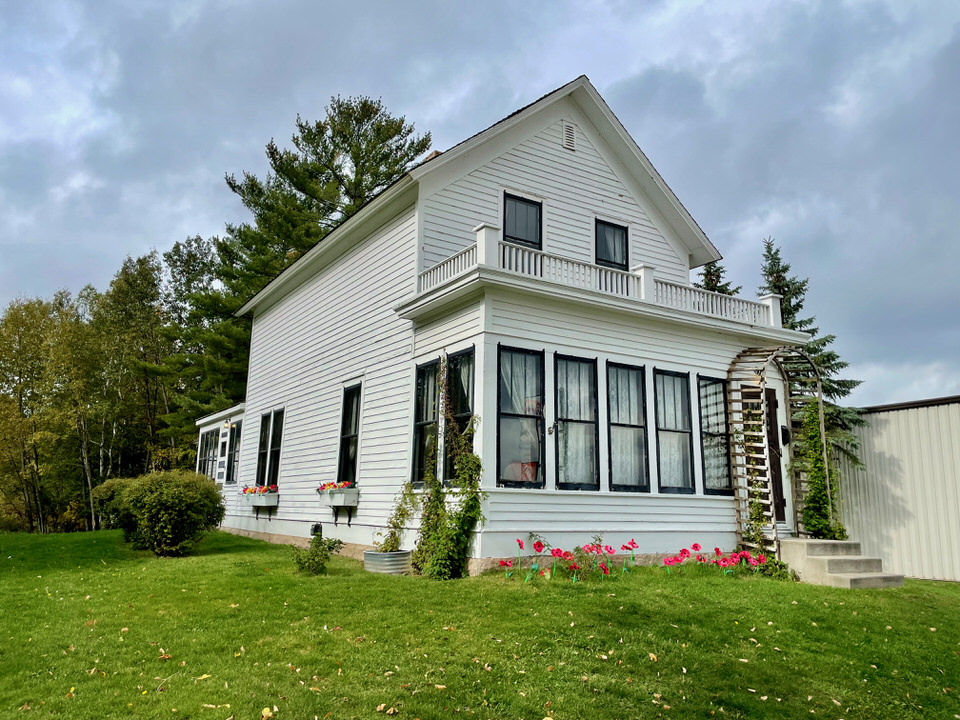 The Judy Garland Museum: little museum, big story
The Judy Garland Museum in Grand Rapids, MN knows how to find the spotlight.
This small museum celebrates the northern Minnesota town's most famous daughter – actress and singer Judy Garland. But you might know it better as the scene of a crime. One August evening in 2005, thieves broke into the Judy Garland Museum and stole one of the four pairs of ruby slippers Garland wore filming The Wizard of Oz. It took thirteen years to recover the slippers.
Much more recently, Grand Rapids and the Judy Garland Museum had the honor of being the first stop for John Oliver's traveling art exhibit. In 2020, to help support museums suffering during pandemic lockdowns, the Last Week Tonight host selected five small museums across the United States to host his unique collection. He also donated $10,000 to each museum.
I arrived in Grand Rapids just two days after the John Oliver exhibit shipped off to Chicago. Yes, I missed seeing the famous painting of "cuddling" rats. And while the closest pair of original ruby red slippers are in Washington D.C.'s Smithsonian Museum of American History, I still found plenty to enjoy at the Judy Garland Museum. 
Gotta run? Pin this post to come back and read later!
Why Visit the Judy Garland Museum
I've always had a passive interest in Judy. My family and I were four of the 30,000 people who attended the Grand Rapids Wizard of Oz Festival in 1989. My mom grew up watching the film every Christmas and she often put on the soundtrack when my brother and I were little.
Still, I'm no Judy Garland superfan. I liked Wizard of Oz well enough that one time I watched it . . . about three decades ago. I do watch Meet Me in St. Louis almost every Christmas, but I've never dug deeper into her filmography. Whenever I watch her perform, I'm struck by her spunk and star power. Despite her fleeting Minnesota connection, I do feel a certain bond.
While I certainly knew the Judy Garland Museum existed, I never prioritized a visit until  I listened to the C13Originals  true crime podcast No Place Like Home last summer. The podcast provides a deep dive into the ruby slipper theft and Judy's legacy. As soon as I could, I road-tripped across the Iron Range to finally see the notorious museum for myself.
What is the Judy Garland Museum?
The museum centers around the small, white clapboard house that Ethel and Francis "Frank" Gumm brought their newborn daughter Frances Ethel home to in 1922. Known primarily as "Baby," Frances joined older sisters, Mary and Dorothy. Thirteen years later, "Baby" adopted the pseudonym Judy Garland. 
The Gumm family moved to Grand Rapids in 1914 and into this house in 1919. When the Gumm family lived there, the house sat at 436 Hoffman Avenue, right on Grand Rapids' main drag (today's Highway 2). In 1938, hoping to construct a hotel or otherwise profit from the desirable location, the then owners of the home moved the increasingly outdated house. Today, the 1890s house sits in the middle of Grand Rapids' commercial district, right across from the Home Depot. It's a little odd to find a Victorian era house tucked amid box stores!
The Judy Garland Museum's location
To reach the Judy Garland Museum, drive south out of downtown Grand Rapids, cross the Mississippi River, and continue two miles through a tangle of stores and franchise restaurants. Eventually, the white clapboard house pops up on the west side of South Pokegama Avenue . . . right next to a large beige building that looks more like a farming store than a museum. This building houses most of the Judy Garland Museum exhibits, a gift shop, offices, and a second museum – the Children's Discovery Museum.
The space keeps the two museums very separate. You can tour the entire Judy Garland Museum, like I did, and never see more of the Children's Discovery Museum than the long hall leading down to it.  
What's in the Judy Garland Museum?
The Judy Garland Museum exhibits starts right by the public bathroom doors. Yep, you read that correctly. Right above the water fountain, you'll find photos and texts summarizing Judy's life and career.
It's an odd start for sure . . . almost like an afterthought. The front desk attendant made a special point of directing me to it, explaining that most people miss it. From there you continue into the more formal, but still slightly haphazard Judy Garland Gallery.   
A large cardboard cutout of John Oliver and a bunch of bare shelves greeted me at the Judy Garland Gallery entrance. There hadn't been time to fill the gaps left by the John Oliver exhibit and a few other key artifacts appeared to be loaned out. A little deeper in, there's a small theatre area where you can request to watch a number of films about Judy's life. I suspect the staff has you request a film to save themselves from having to listen to the same audio over and over. As someone who worked in a small-town museum with video exhibits for five years, I certainly feel that!
I decided to spare the front desk staff and forgo a film. As I pushed deeper into the museum, I quickly found myself surrounded by plexiglass covered shelves filled with Judy Garland movie memorabilia. The gallery focuses not on Judy Garland the person, but Judy Garland the commodity. There's movie posters, sheet music, LPs, dolls, and even a Judy Garland dress produced Sears, Roebuck, and Co. Wizard of Oz memorabilia fills the entire back corner, including the gingham jumper Judy wore as Dorothy, the carriage pulled by the Horse of Different Color, and a replica pair of those infamous ruby slippers.
A Judy Garland Museum or a Wizard of Oz Museum?
At this point, I started to notice a definite identity crisis. The museum might claim to celebrate Judy Garland, but it's clear a pretty diehard Wizard of Oz fan (or fans) was behind many exhibits. In fact, the museum has so much Wizard of Oz paraphernalia at their disposal that they devote an entire hallway to Wizard of Oz tchotchkes. In the summer, red poppies bloom outside the museum. You can stick your head through all sorts of wooden cut-outs of Wizard of Oz characters scattered around the museum grounds. 
Given that the Wizard of Oz is the ultimate American fairytale, I'm not surprised that the museum struggles to separate Judy Garland from her best-known role. When I listened to No Place Like Home, they pointed out just how pervasive Wizard of Oz references are in American culture. You guys, I didn't realize until that moment that even this travel blog is a Wizard of Oz reference, albeit, via Elton John.
The Ruby Slipper Theft at the Judy Garland Museum
While the Judy Garland Museum collection includes a number of shoes Judy wore during filming her movies, one pair is notably missing. In 2005, it took thieves 45 seconds to go about 10 feet inside the museum, smash a plexiglass cover, and steal the ruby slippers that the Judy Garland Museum was loaning from a private collector. The crime launched a 13-year investigation and prompted me to listen to a four + hour podcast about it.
During the investigation, the Judy Garland Museum had a replica pair of ruby slippers created for their display. There's an informational plaque to let you know that the pedestal the replicas rest on is "the actual pedestal" that thieves took the slippers from. Interestingly, the plaque hasn't been updated since 2018 and refers to the missing slippers as "an ongoing investigation."
Perhaps because I knew they were a replica I found the displayed pair a little underwhelming. They looked plasticky and cheap – more like something I'd expect to find in a chest of dress-up clothes than at the center of one of Minnesota's most mysterious heists and an eventual FBI sting.
Inside the Gumm Family Home
When you leave the Judy Garland Gallery, you turn onto an ADA-accessible ramp lined with framed Judy Garland photos. A film about her plays on a small screen at the ramp's center. As you get closer to the actual house where Judy spent her first four years, you start catching strains of Judy's greatest hits from speakers in the house. You'll also catch whiffs of that distinctive "old house" smell.
For me, the carefully refurnished house filled with period pieces is where the museum really shines. (What can I say, I love old houses in any size or shape.) It's highly doubtful any of the home's current furnishings actually belonged to the Gumm Family. This creates a somewhat dodgy false sense of history – a real no-no in the museum world. Instead, it's a sort of life-sized dollhouse presenting a typical Midwestern home of the 1920s.
The museum does a really nice job of scattering informational plaques throughout the house. This prevents visitors from sitting on the antique furniture while also telling the Gumm family story. If you need to cut your visit to the Judy Garland Museum short, I recommend breezing through the gallery and spending your time in the house.
There's No Place Like Home . . . But Is This Home?
I've said it before and I'll say it again: Judy left Grand Rapids when she was four years old. I lived in Effie, MN, a small town of 140, located about one hour north of Grand Rapids when I was four and I certainly do not consider Effie my hometown. But Minnesotans have a complicated, somewhat ungraceful relationship with our homegrown celebrities. We cling to them long after they've let us go.
By all accounts, Judy did harbor a sweet spot for Grand Rapids. When she returned for a hometown visit in 1938, she was quoted as saying, "It's a swell state, Minnesota. I'm proud it's my home, and I know a few hundred thousand of us who feel the same way." Later in life, she would say, "Basically, I am still Judy Garland, a plain American girl from Grand Rapids, Minnesota, who's had a lot of good breaks, a few tough breaks, and who loves you with all her heart for your kindness in understanding that I am nothing more, nothing less."
It's easy to dismiss Judy as another celebrity numbing herself with drugs and alcohol. But I think Judy's memory deserves a little more sympathy, especially with our modern understanding of mental illness. Riddled with anxiety over her appearance (she was 4' 11") and abilities, crippling bouts of depression pocked her career. And, keep in mind, she had a 45-year career and she died at age 47. I mean, if I'd been clocking in since age two, I might have an unhealthy relationship with sleeping pills too.
Maybe if we'd let Judy keep her identity of small-town Minnesota girl, her story would have gone a little differently. We'll never know.
If You Visit the Judy Garland Museum
The Judy Garland Museum is located at 2727 Pokegama Ave South in Grand Rapids' commercial district. The museum is open daily from 10 a.m. – 5 p.m. during the summer season with the last admittance at 4:30 p.m.  In the winter (October 1 – May 15), the museum keeps the same hours but opens only on Fridays and Saturdays. Admission costs $12 for adults, $8 for kids ages 12 and under, and $11 for AAA/CAA or military/veterans.
If you're not a museum person, this isn't the museum to convert you. Expect lots of cardboard cuts and so, so many Judy Garland dolls. I admittedly am a museum person and really enjoyed my visit. The museum does have COVID protocols in place and since I had the museum to myself, I felt extremely safe. If you happen to find yourself in the Grand Rapids area, budget about 45 minutes and swing by the Judy Garland Museum.
Have you watched any Judy Garland movies? Where's your favorite small-town museum? 
Get the most out of your time on Boston's Freedom Trail walking path. These tips will immerse you in Boston's American Revolution history.
read more