Attending the Kentucky Derby: First-Timer Need to Know Dos and Don'ts
 A Guide to Attending the Kentucky Derby as a First-Timer
I never really considered attending the Kentucky Derby. I grew up watching the infamous horse race and the other two Triple Crown races with my grandma and my love of the event continued into adulthood. But it never crossed my mind to actually travel to Churchill Downs in Louisville, Kentucky to watch the "Most Exciting Two Minutes in Sports" in person.
Then in 2017, I announced that I wanted to finish seeing all 50 of the United States*. A friend suggested we attend the Derby to check Kentucky off my outstanding state list. I couldn't think of a more fitting way to visit the Bluegrass State. And just like we were in Louisville, attending the 144th Kentucky Oaks and Derby over the first weekend of May 2018.
Except it wasn't just like that.
I found being a Kentucky Derby spectator far more complicated than anticipated. There just weren't many  Kentucky Derby guides online. I struggled to get a real sense of what to except at the United States' best known horse race. It felt like if you knew, you knew, and if you didn't. . . good luck.
Your Kentucky Derby experience can be much different!
Through trial and error, I've assembled the ultimate Kentucky Derby guide outlining dos and don'ts for a first-time attendee. My tips for attending the Kentucky Derby include when to start planning, how to pick your seat, what to wear, and the one emergency item you definitely want in your purse! Read on to learn what attending the Derby is really like.
This post may contain affiliate links. When you purchase something through these links, I receive a small commission that helps me create this blog's content. There's no extra cost to you. 
A Guide to Attending the Kentucky Derby for the First-Time
No time to read? Pin this Kentucky Derby tips post for later!
 Attending the Kentucky Derby Know Before You Go:
Don't assume it's all about the "big race"
Turns out, the Kentucky Derby's part of a multi-race, multi-day event. There's a definite festival vibe in Louisville leading up to and during Derby week. The official Kentucky Derby lineup includes three full days of racing: Thurby, an all-day event on Thursday tailored to the local crowd; Oaks Day on Friday for fillies races, and Derby Day itself on Saturday. Each racing day features 11 – 14 different races of varying lengths. Throw in a bunch of parties, a parade, and even a fashion contest, and the Kentucky Derby is about a lot more than a single 1.25 mile race.
Participants in the Kentucky Oaks Day Fashion Show
Do plan very far in advance
I cannot stress this enough. As I write, the 2021 Kentucky Derby Week is underway. Honestly, you're already a little late starting to plan your 2022 Kentucky Derby experience.
Sure, you can nab tickets up until the day of for the actual Kentucky Derby. But where will you stay?
Combine a small city – Louisville, population 600,000 – with the largest sporting event in the United States – Kentucky Derby averages 160,000 attendees on Derby Day – and it gets to be slim pickings for lodging really quickly.
Don't put off booking your plane tickets
Make a Kentucky Derby plan, then book those plane tickets! Flights into Louisville get jacked way, way up over Derby weekend. When I originally looked at flights in September, they were $600. By midwinter, they were $1300. Ask me why we flew into Dayton and rented a car . . . .
Do make sure you book through the official website
Sadly, you'll find plenty of shady outfits looking to profit off hapless would-be Derby goers. Don't be the person who books tickets that never materialize or who realizes they have fraudulent tickets at the Churchill Downs gates. In my experience, there's no cheap way to attend the Derby, so if it seems too good to be true, it probably is.
Use the official Kentucky Derby website to book tickets. If you're booking a package deal that includes Derby tickets, accommodations, etc. like we did (apparently, we book packages when we travel together?) use Derby Experiences. Derby Experiences is the only travel package provider actually connected with the Derby.
Don't spend too much time selecting seats
If, like us, you know infield general admission isn't for you, but you've never been to Churchill Downs, let alone a horse race, before, selecting a seat can feel downright monumental. With endless pros and cons to each seat section – price, location, type of seat, etc. etc. – it was enough to make me snap my laptop shut and reach for the aspirin.
But you know what? There's a Jumbotron. You'll "see" the finish from any seat. Set one or two seat priorities, buy your tickets, and stop gnashing your teeth.
We ended up in section 328, the Wicker Garden area. Spectacular seats for race starts. Basic shite for most finishes. We still had fun.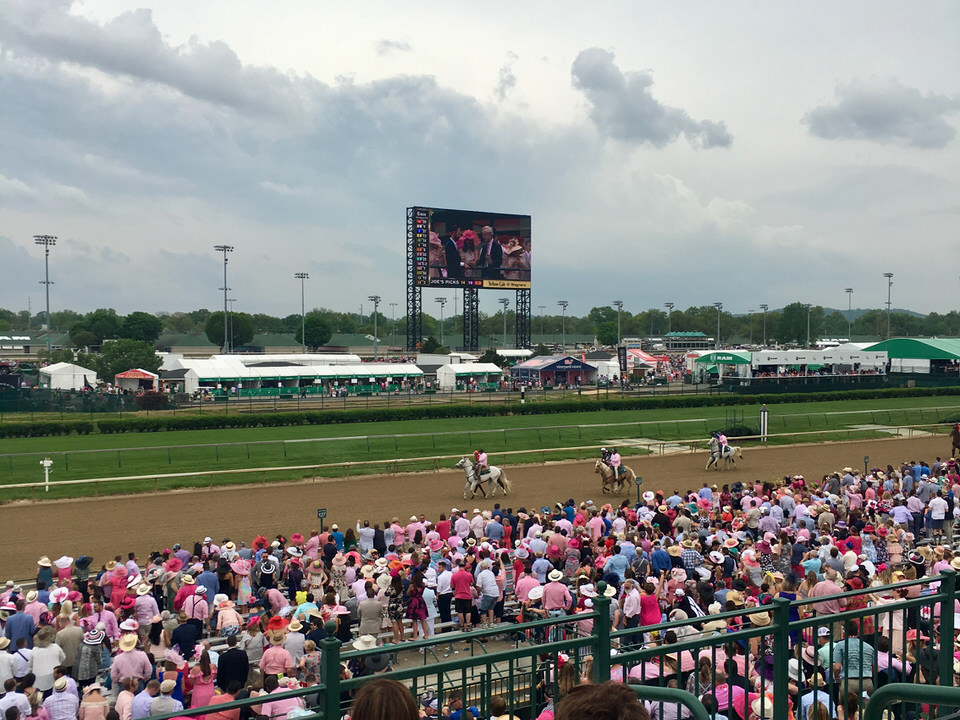 Do consider a ticket that includes food and drink
We choose our seats in part to get into a hospitality section. We received a catered buffet lunch each day as well as unlimited beer, wine, and soft drinks. This saved us from living off of $15 lobster rolls and cheesecake slices on a stick during our two full days at the track. You'll definitely save a little money this way, although mostly it's convenient versus economical. You still pay for specialty drinks like Mint Juleps, Lilies, and champagne. And okay, I did buy cheesecake on a stick too . . . .  
(Note: For 2021, Churchill Downs made Kentucky Derby tickets all-inclusive. We'll see if this continues when the event returns to full capacity.)
Don't procrastinate with restaurant reservations
Want to explore downtown Louisville after the races? So does everyone else. If your heart's set on eating a Hot Brown at the Brown Hotel for your Derby Day dinner, I don't even know how far in advance you need to book, but definitely earlier than we attempted!
Do some research about the racing horses ahead of time
If you plan to attend both Oaks and Derby Days at Churchill Downs, you have the opportunity to watch, and a bet on, over two dozen races. You by no means need to become an expert on horse racing, but do read an article or two about the contenders. Even a passing familiarity with the horses will make your time at the track so much more interesting and enjoyable.
What To Wear When Attending the Kentucky Derby
Don't worry too much about what you're wearing
Yes, the Derby's as much about fashion as it is about horses. But don't assume you need to don a major fashion house design. I wore a 7-year-old H&M dress and an 11-year-old dress I bought off the clearance rack at JCPenney . . . and got compliments. Basic rule of thumb – just wear what you'd wear to a formal summer wedding. After all, it's all about the hat, so don't worry too much about what you're wearing below your ears!  
Do wear comfortable shoes
Every "What to Wear to the Kentucky Derby" guide I read told me to wear heels. But my feet ached by lunchtime on Oaks Days in my 4" heels and I spent the rest of the weekend in ballet flats. After I spied a lady wearing Crocs, I realized there's really no shoe dress code. Might as well wear comfortable shoes . . . you're going to be stuck in them for eight+ hours.
Do wear pink on Fridays
Forget Wednesday . . . on Fridays we wear pink at Churchill Downs. Oaks Day on Friday is devoted to fillies (female horses) races. As a nod to these ladies, everyone . . and everyone, I mean, everyone wears pink.
Don't bring too small . . . or too large of a purse
For security reasons, Churchill Downs prohibits backpacks and limits purse sizes to 12"x6"x12". I advise curbing your fashionista instincts and opting for the largest crossbody purse you own. You'll want space to tuck your commemorative glasses when you drain your Lilies and Juleps and it's nice if your program fits completely inside too. It's also not a bad idea to pack some Derby Day essentials like bottled water, hand sanitizer, and toilet paper. (More on that later . . . )
How to Plan for Kentucky Derby Weather
Do bring some sort of rain gear
As you might expect from a springtime event, it's actually pretty common for it to rain at some point during the multi-day Kentucky Derby event. It rained more than 3" while we were at Churchill Downs on Derby Day. Read that again. Then pack a couple clear ponchos.
Don't be surprised if your hat melts
All those fancy hats you see at the Derby are carefully constructed . . . out of water soluble glue. A little water will warp them and well, let's not even talk about what 3" of rain does to it. Sadly, they can't be repaired after suffering water damage.
If there's rain in the forecast during your time at Churchill Downs you have two options: wear a hat you're okay with ruining or wrap your hat in clear plastic. Yes, we saw more than one trash bag wrapped hat on Derby Day 2018!
Do plan for a wide range of temperatures and weather conditions
Sure it rained 3" on Derby Day, but the day before we sweltered in a sunny 80 degrees and 99% humidity. Make sure you can modify your outfits for comfort in anywhere from 50 – 80 degree weather.
Don't forget the sunscreen
The sun might not always shine on my old Kentucky home, but when it does . . . If you're in open air seats, you'll be sitting in the sun for an entire day. Sure, the big hats help with sunburn mitigation. Just don't forget to apply sunscreen often to legs, backs, and shoulders that might be getting Vitamin D for the first time since last August.
What To Do When You're at Churchill Downs for the Kentucky Oaks and Derby
Do drink a Lily and Mint Julep
The Lily – a vibrant pink vodka concoction that's awfully close to Cosmopolitan – is the official drink of the Kentucky Oaks. A Mint Julep is the official drink of the Kentucky Derby. During the Derby, Churchill Downs makes these celebratory drinks available in commemorative glasses at every turn. While I prefer the Lily, it's basically sacrilege to attend the Derby and not drink a Julep, so you better have one of each.
Don't go into the museum on Derby Day
A recommendation somewhat dependent on inclement weather, but when we went into the Kentucky Derby Museum midday on Derby Day, we found it packed shoulder to shoulder with soggy race goers. In hindsight, we should have ducked inside on Oaks Day when everyone was enjoying the sunshine. Plan to use the long (sometimes hour+) gaps between races to hit up the museum earlier than later during your visit.
Do learn how to bet
For the first half of Oaks Day, we stayed away from the wagering windows at Churchill Downs. A quick read of the "How to Wager" guide in the official program boosted our confidence. Off I went to bid on Midnight Bisou.
We stuck pretty close to the minimum bid of $2 for our wagers and the small amounts made it feel like a game. My only regret is that we didn't start bidding earlier in the day. Not only do the bids help you become emotionally invested in each race, they also force you to learn about the race's fields.
Do buy a program
An official program from both the Kentucky Oaks and Kentucky Derby isn't just a fun, colorful souvenir. If you plan to bid at all during the races, these are important documents filled with stats you'll refer to throughout the day. They also provide other helpful info including maps of Churchill Downs and crash course tutorials on how to bid and how to decipher horse stats.
Do download the app
Do you need both a program and the Churchill Downs app? Yes. The app provides up to the minute information about the racing fields. We found it very helpful to have both resources. The app is free; just delete it once the weekend's over.
Do pack some toilet paper
Kind of gross, but 160,000 people go through a lot of toilet paper and Churchill Downs staff and volunteers can't always keep up with demand. Stash a small amount of TP in your purse to avoid a Derby Day bathroom crisis!
What to do if you have downtime in Louisville during Derby Week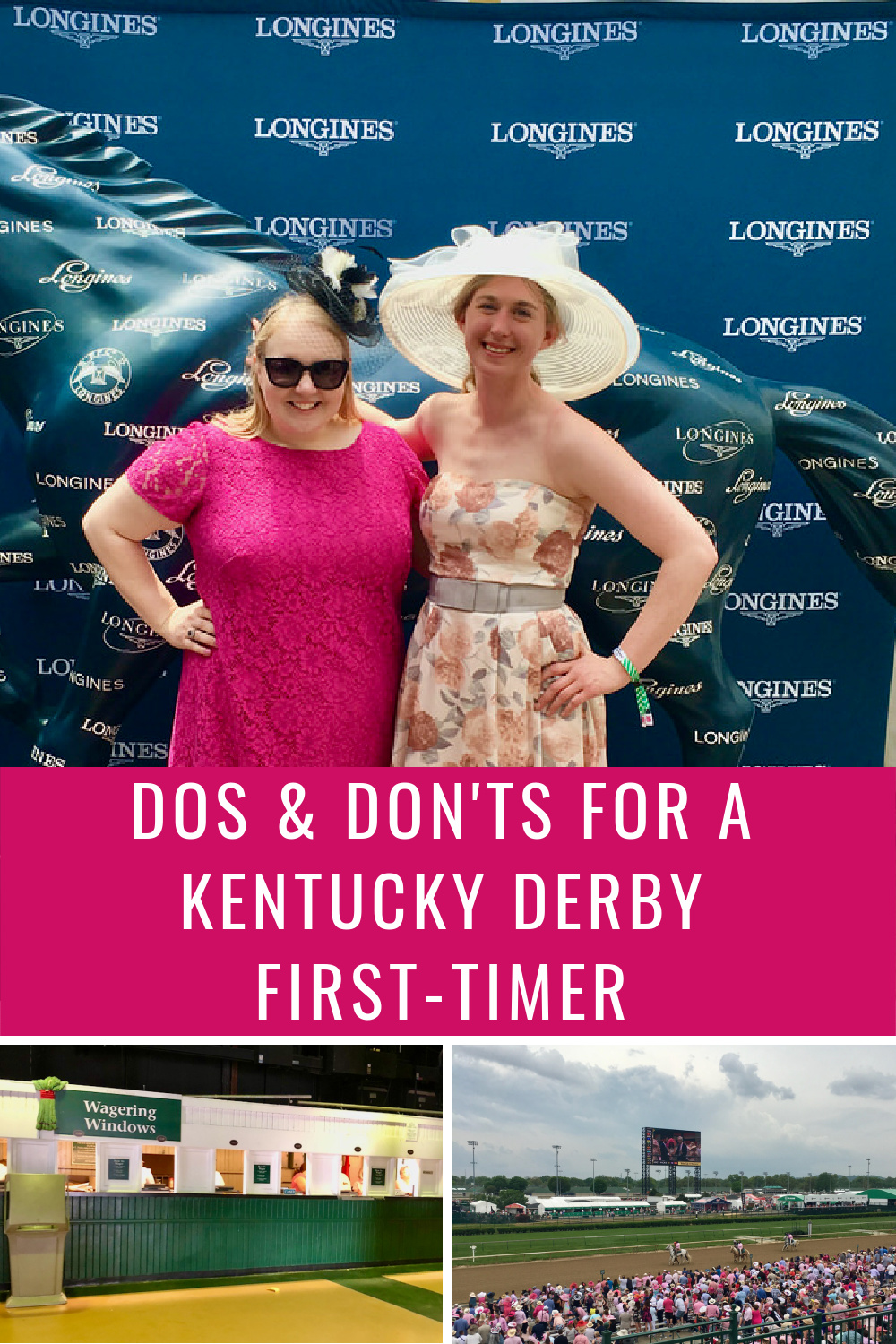 Would you ever go to the Kentucky Derby? If you've attended in the past, what are your words of wisdom for a first-time Derby goer?
*If you're wondering if I've made it to all 50 states yet, the answer is sadly, still no. I remain stalled out on these five!
A state of wide open spaces, there's no shortage of New Mexico places to explore on public lands. Here's a guide to the very best sites from Carlsbad Caverns to Lincoln National Forest and beyond.
read more