The Best of Cincinnati's Best Known Food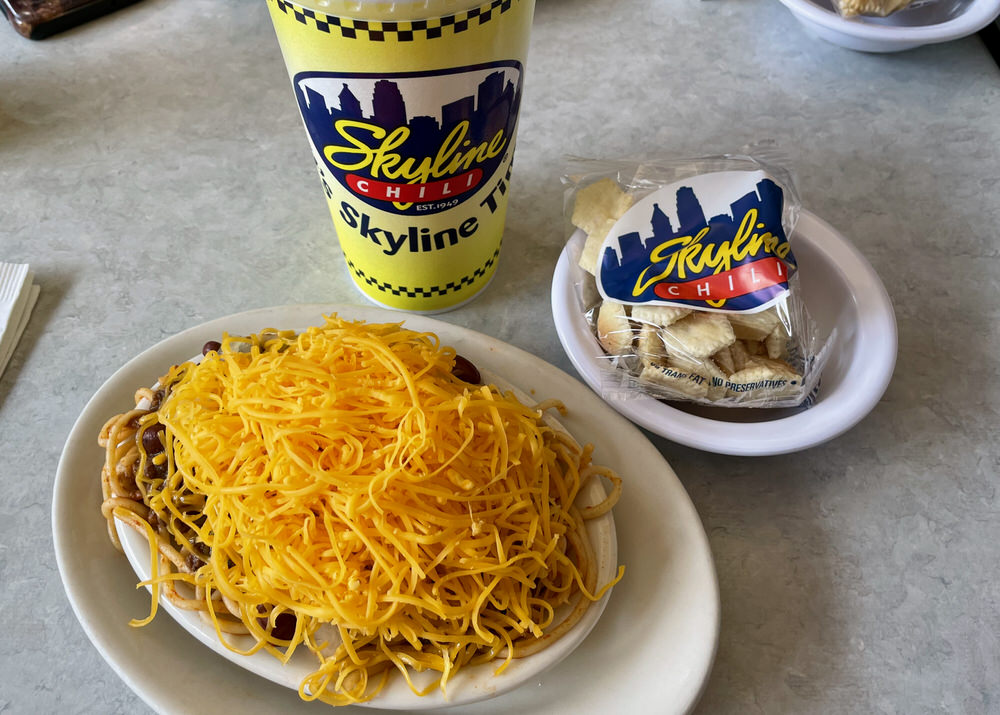 Fabulous Food that Cincinnati's Known For
One of my favorite things about traveling around the United States is sampling regional cuisine, but I've never really thought of Ohio – Cincinnati to be specific – as a food destination.
But it turns out Cincinnati has a very distinct food identity. During my brief visit to the Queen City in April 2022, I inadvertently gave myself a crash course in Cincinnati's best foods. I walked away with a full belly and a deep appreciation for this Midwest city's culinary contributions. If you're looking to make your next trip to Cincinnati extra delicious, read on!
What shapes Cincinnati food culture?
Yes, Cincinnati is the city that puts chili on spaghetti, but before we do a deep dive into that, let's take a minute to talk about the driving forces behind Cincinnati's unique food scene.
Not quite the Midwest, not quite the South, I (falsely) assumed that Cincinnati's food would be nondescript. But this city has served as an important hub since the early 1800s. As a result, people of all different walks of life have contributed to Cincinnati's culinary personality.
After all, in pre-Civil War days, the only thing separating Cincinnati from slave owning states was  the Ohio River. It should come as no surprise that a little Southern flair sneaks into Cincinnati cuisine. Whether you're looking for biscuits or barbecue, Cincinnati's serving it. 
Like so many American cities, the cuisine in Cincinnati also takes many cues from its immigrant populations. In particular, you'll taste Greek and German influences in Cincinnati food. Thanks to a wave of 19th century German immigrants, Cincinnati is one of the few places in America where you might find mock turtle soup on the menu. This city gives you plenty of "American melting pot" vibes when you look over a menu. 
Gotta run? Don't forget to pin this Cincinnati food guide!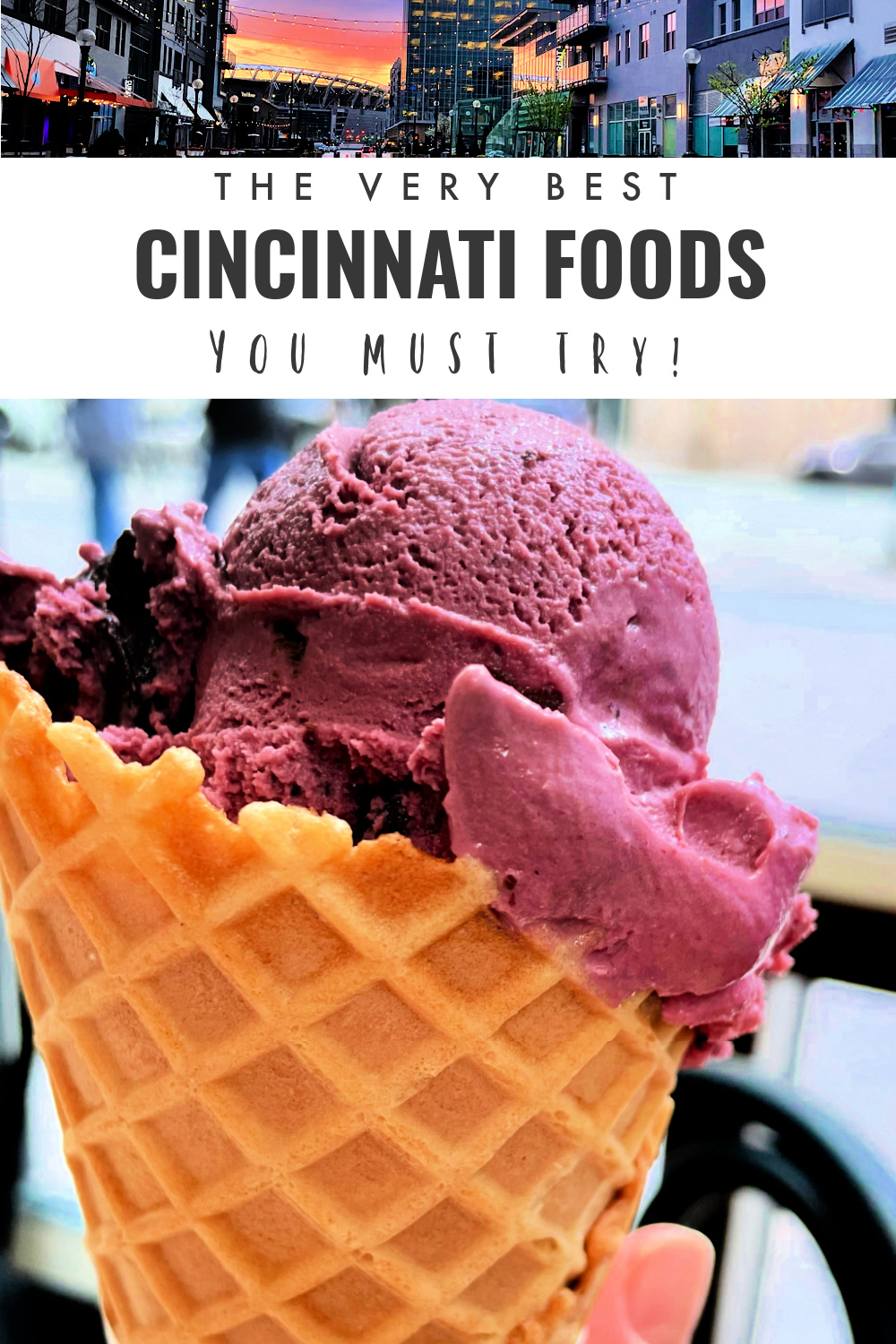 Cincinnati's Top Five Must Try Foods
1) Cincinnati Chili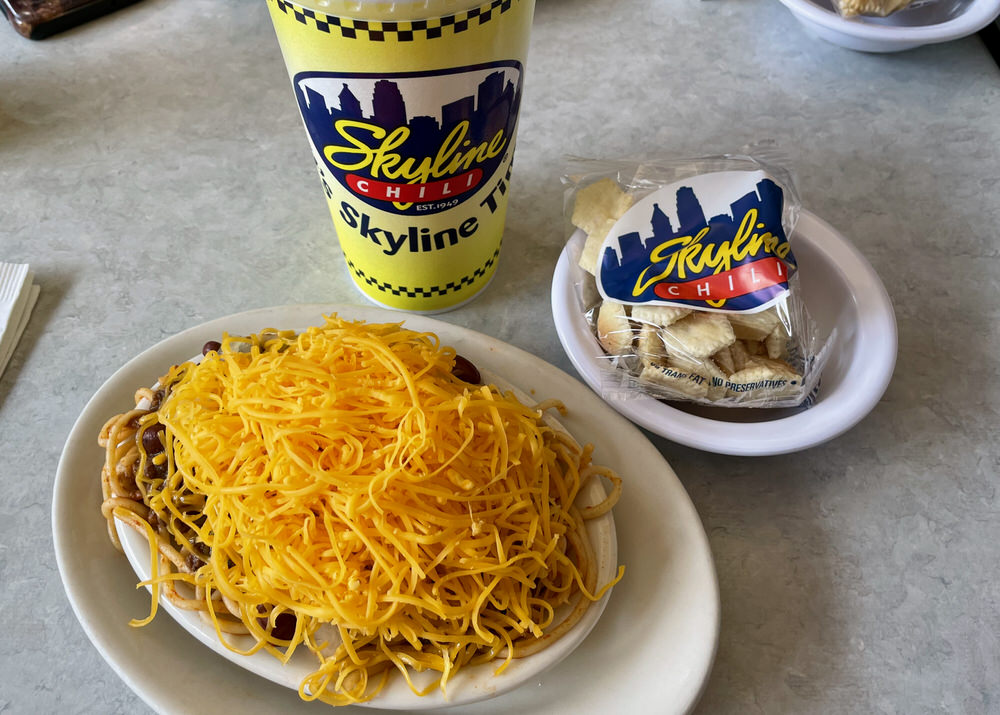 Hands down, Cincinnati's most iconic food, you really shouldn't visit the Queen City and not try the chili. You could write an entire book about Cincinnati's relationship this Mediterranean spiced ground beef sauce. Cincinnati chili wasn't at all what I was expecting, but I discovered (like so many Cincinnati children raised on the stuff) that once you've acquired a taste for it, you can't get enough.
Originally developed by Greek immigrants as a coney dog sauce, this unique Cincinnati fast food dates back to the 1920s. You can still order chili dogs in any Cincinnati chili parlor. However, the best-known Cincinnati chili delivery device is a bed of spaghetti noodles. Don't forget to top it off with an exorbitant quantity of shredded cheese!
Served with oyster crackers and optional Tabasco sauce, you're expected to know what "way" you want your Cincinnati chili. Your options are a three-way (chili, spaghetti, and cheese), a four-way with either raw onions or red beans, or a five-way (chili, spaghetti, cheese, raw onions, and red beans). I don't know what this says about me, but I recommend a five-way. 
Today, Skyline Chili is synonymous with Cincinnati chili, but this popular chili parlor chain was actually started by a former employee of the original Cincinnati chili parlor – Empress – in 1949. However, Skyline doesn't have the city's chili market pegged. You'll find plenty of Gold Star Chili parlors and other smaller chains all peddling the same product.
If you want to make Cincinnati chili when you return home, I recommend this Culinary Hill recipe. It freezes beautifully!
Looking for a vegetarian Cincinnati chili experience? You'll find one at Arnold's Bar and Grill. Arnold's also happens to be one of the oldest continuously operating bars in the United States so it's worth a stop in and of itself. 
2) Graeter's Black Raspberry Chocolate Chip Ice Cream
Graeter's is another absolute Cincinnati food institution. This chain ice cream parlor dates back to the 1870s. Graeter's shops dot Cincinnati, each offering a wide range of ice cream and bakery items. Cartons of their ice cream line area grocery stores.
Although Graeter's makes many different ice creams – including a lineup of ever rotating limited edition flavors – they're best known for their signature black raspberry chocolate chip ice cream. Most credit the deliciousness of Graeter's ice cream to the company's laborious small batch production process in 2.5 gallon French pots. In fact, the chocolate chips in its famous "chip" ice creams are made by pouring melted chocolate into the ice cream during the churning process. This explains the absolutely massive chocolate chunks in my cone! 
While I'd love to taste every single one of Graeter's ice creams, as a raspberry ice cream lover, I knew I had to try Cincinnati's infamous raspberry chip. The chocolate chunks are pretty intense, so if you love dark chocolate, this is the ice cream for you. And with people like Oprah Winfrey calling Graeter's the best ice cream they've ever tasted, you know you want to try it . . .
3) Buckeye Candies
My mom and I make peanut butter ball candies every Christmastime. However, as Minnesotans, we didn't realize that when we struggle to completely coat the peanut butter fudge filling with chocolate, we're actually making a famous Ohio candy – the buckeye.
In fact, the origin story of the buckeye candy comes from a frustrated home cook in the same exact situation. When she realized the uncovered circles of peanut butter at the top of her candies resembled the nuts of Ohio's state tree, the buckeye, she went for one of the most epic rebrands in culinary history. The name "buckeye" stuck. Now you can find these delicious candies all over the great state of Ohio.
And before you ask, no, folks in Ohio aren't called buckeyes after the candy. That originally derisive nickname dates back to the 1830s and gained popularity in the 1840 U.S. Presidential campaign, which Ohioan, William Henry Harrison, won.
Buckeye candies make a great Ohio souvenir to bring home from your Cincinnati trip. Pick some up at the Findlay Market or at Haute Chocolate in the Cincinnati suburb of Montgomery. If you want to sample the best buckeyes in the state, hop on the Ohio Buckeye Candy Trail.
4) Goetta
I'd never heard of goetta until our last morning in Cincinnati. When Betsy described it as being akin to white pudding from the British Isles, I knew I'd found the perfect Cincinnati food souvenir to bring home. 
Pronounced "gut-uh," German immigrants in the Cincinnati area developed this meat sausage to use up scrap meat. The mixture of offal, oatmeal, and spices has become a regional delicacy. Several Cincinnati companies, including Glier's and Queen City Sausage, keep the region well stocked with millions of pounds of goetta each year. 
I easily snagged a pound of goetta at Findlay Market. With a taste reminiscent of a fatty haggis, you usually panfry slices to enjoy like a sausage patty. It's especially tasty tucked into an egg sandwich.
To be clear, I have a surprisingly high tolerance for organ meat. While you won't find me preparing liver and onions for dinner, I am the girl who voluntarily saves her Thanksgiving turkey liver so she can make haggis each Burns' night. But if you're the kind of person who picks the puddings off of their full Irish breakfast plates, goetta might not be for you. And that's okay.
You won't find goetta on many Cincinnati restaurant menus. Instead, you need to venture to the market or grocery store if you have your heart set on sampling it.
5) Beer
Maybe this is a cop-out since you can drink beer pretty much anywhere in the United States, but Cincinnati's beer hall culture is truly unique and well worth celebrating during your visit. When German immigrants arrived in the Queen City, they brought their beer halls with them. The beer hall tradition lives on as strong as ever today.
While you can't beat the on-point ambiance and stunning interior of Taft's Ale House in a renovated Over-the-Rhine church, there are many, many breweries and beer halls to choose from. Some favorites include Rhinegeist Brewery, Madtree Brewing, and Northern Row Brewery. Don't forget about Hofbrauhaus right across the river in Newport, KY.
Other noteworthy Cincinnati foods to check out 
Metts
Similar to bratwurst and often confused with kielbasa, you'll find German style metts in Findlay Market and other Cincinnati grocers. This seasoned pork sausage sometimes made with beef and pork liver is smoked. In Cincinnati, you'll most often find them grilled and served on a bun. You can enjoy a spicy Queen City Hot Mett the next time you catch a Reds' game at the Great American Ball Park.
Smurf cones
Cincinnati food can be pretty surprising, but I still never expected the city to be America's epicenter for blueberry flavored soft serve ice cream.
I can't tell you how upset I am that I didn't learn about smurf cones until a couple months after returning from Cincinnati.
Popularized in the 1980s, when Cincinnati area amusement park Kings Island offered "smurf cones" to pair with a Smurfs themed ride, the cones have long outlived the actual ride. In fact, an uproar ensued when Kings Island phased out both the ride and the blue ice cream in the early 1990s. 
While the Smurf ride never returned to Kings Island, the blueberry flavored soft serve came back and appears to be here to stay. Now a sure sign of summer in Cincinnati is a blue soft serve ice cream cone.
Schnecken
I know by this point in this Cincinnati food guide you're probably shocked to learn that the Queen City is known for delicious German pastries . . . specifically schnecken. The most famous schnecken in Cincinnati came from the now defunct Virginia Bakery. These coiled, buttery rolls (schnecken means snail in German) resemble caramel rolls or Chelsea buns to untrained eye.
They also share a similar flavor profile with caramel rolls. Schnecken are made with enriched dough, butter, cinnamon sugar, and raisins. But it's the exorbitant butter content in schnecken that push them over the top to gooey unforgettable-ness. Virginia Bakery famously stuffed two sticks of butter into a "loaf" of just three rolls.
Although you can't visit Virginia Bakery today, Busken Bakery makes the Virginia Bakery recipe during the holiday season. You'll also find them in other Cincinnati bakeries, including Graeter's. Check out the Virginia Bakery Remembered cookbook to make your own.
LaRosa's Pizza
With locations all over Ohio, Kentucky, and southern Indiana, LaRosa Pizzeria is another Cincinnati food institution. This ubiquitous Cincinnati area pizzeria had its start at an Italian Catholic church fundraiser in the 1950s when Buddy LaRosa baked up a bunch of pizzas using his Aunt Dena's recipe.
Sweet tomato sauce and provolone cheese give LaRosa its distinctive flavor. If you're not in the mood for pizza, LaRosa shops also serve up pasta, hoagies, calzones, and desserts. Or if you're on a DIY kick, you can buy various LaRosa products in area grocery stores.
Clunkers
The clunker (sometimes spelled klunker) donut is an assuming blob of cake donut dough that's fried and rolled in a sugar glaze. And as you might already suspect, you can chalk these tasty delights up to those culinary geniuses: Cincinnati's 19th century German immigrants. Find them at Bonomini Bakery in Northside and various other area donut shops.
Butler County Donut Trail
I guess it should come as no surprise that the city that gave America the clunker knows how to celebrate donuts. Just north of the Cincinnati, you can hop on the Butler County Donut Trail. This trail features 13 different local donut shops which serve up various styles of donuts including clunkers, paczki, buckeye-flavored donuts, and donuts glazed with locally made maple syrup. Earn a t-shirt when you visit them all.
Have you been to Cincinnati? If so, what was your favorite thing that you ate there? More importantly, what distinctive Cincinnati foods did I miss?
A state of wide open spaces, there's no shortage of New Mexico places to explore on public lands. Here's a guide to the very best sites from Carlsbad Caverns to Lincoln National Forest and beyond.
read more