How to Spend 48 Delightful Hours in Cincinnati, Ohio
 Things To Do for an Amazing Weekend in Cincinnati
We found so many fun things to do in Cincinnati that we confused the locals.
"So you're just in Cincinnati . . . for fun?"
The man behind the Grater's counter looked genuinely baffled as he handed over my black raspberry chip ice cream cone. He'd just asked what we were doing in Cincinnati and we'd admitted . . .  we'd come to sightsee.
Cincinnati might not be the most popular Midwest weekend destination, but after our short visit to the southern Ohio city in April 2022, we wondered why. Locals may struggle to hype their city, but Cincinnati proved the perfect quick urban escape. Read on to learn more about what to do when you find yourself in Cincinnati . . . for fun. 
This post may contain affiliate links. When you purchase something through these links, I receive a small commission that helps me create this blog's content. There's no extra cost to you.
Gotta run? Pin now so you don't miss out on Cincinnati's charm!
Why Visit Cincinnati?
To be clear, we didn't end up in "the Queen City" on a whim.
A few years ago, the Cincinnati History Museum commissioned my friend Betsy, a skilled Civil War era seamstress, to consult and sew a 1860s era bodice for their Public Landing exhibit. I'd been fascinated by the city ever since reading Curtis Sittenfeld's Eligible – a modern retelling of Austen's Pride and Prejudice set in Cincinnati. After skirting Cincinnati on my way to the Kentucky Derby, I felt overdue for a proper visit.
Cincinnati definitely isn't just some sleepy Midwest city in flyover country. This city has both a distinct personality and fascinating history.
The first major American city formed after the American Revolution, today more than 2.2 million people live in its metro area. Although both in size and character Cincinnati reminded us of Minnesota's Twin Cities, a sprinkling of Federal style architecture gives a slight East Coast vibe.  With one of the strongest regional cuisines I've discovered in the Midwest, it's not hard to spend a very fun weekend in Cincinnati. 
Cincinnati Fast Facts
You'll often hear Cincinnati referred to as the "Queen City." I assumed the nickname stemmed from the city's early economy hinging on the Ohio River and riverboat queens. However, the nickname is more literary than literal.
In the early days of the United States many saw Cincinnati as a symbol of Manifest Destiny as white settlers crept westward across the continent. Several early 19th century writers called Cincinnati "the Queen of the West" – alluding to the city's role as a beacon of culture and civilization amid the American "wilds."
It's generally accepted that Cincinnati has seven hills . . . just like Rome, but there might actually be 10 hills.
Cincinnati is the birthplace of President William Howard Taft and the city also claims astronaut Neil Armstrong as a former resident. Today the city's celebrity residents include Emilio Estevaz.
The Perfect Two Day Cincinnati Itinerary
This Cincinnati itinerary assumes you have three nights and two full days in the city. However, you can mix and match these suggested things to do to fit any Cincinnati visit timeline.
Cincinnati Weekend Itinerary
Night One: Watch a game at The Banks
The first professional baseball team, the Reds, hail from Cincinnati so no surprise that this city takes its sports seriously. Sports stadiums line the Ohio River in downtown Cincinnati. This area south of 2nd street is a DORA, or "designated outdoor recreation area" . . . aka, you can drink outside here. Barricaded streets lined with astroturf create a pedestrian friendly party atmosphere. It kind of feels like a city-wide backyard barbecue.
When I glanced at a Cincinnati map, I assumed this area would be noisy and unappealing. But this ended up being our favorite spot in Cincinnati to grab dinner. The area offers ton of restaurants, bars, and food trucks as well as green spaces and great views of the river and Roebling Bridge.
Even if the Reds are out of town (like during our visit) you can still catch the game on the big screen display at the entrance to the Great American Ball Park.
Tour the National Underground Railroad Freedom Center
Cincinnati's definitive visitor attraction, the National Underground Railroad Freedom Center provides a comprehensive look at slavery both pre-American Civil War and how it continues today.
Because the only thing separating enslaved people in slave-owning Kentucky from free Ohio was the Ohio River, about 30% of the enslaved people who successfully navigated the Underground Railroad system passed through Ohio.
Located in the Banks area of downtown, two fragments of the Berlin Wall frame the center's front entrance. A bias learning center helps visitors understand racism and how slavery's legacy still shapes our perspectives. The highlight of the center's permanent exhibits is "From Slavery to Freedom," which explores the United States' three centuries of slavery.
Budget about two hours for your visit. We felt rushed in our hour and a half. The center offers several films, as well as interactive role-playing exhibits where you test your instincts on the Underground Railroad. You can even walk through a preserved slave pen that once stood in a Kentucky field about 60 miles from Cincinnati.
While it's not a feel-good stop, it's definitely an important one.
Eat Cincinnati Chili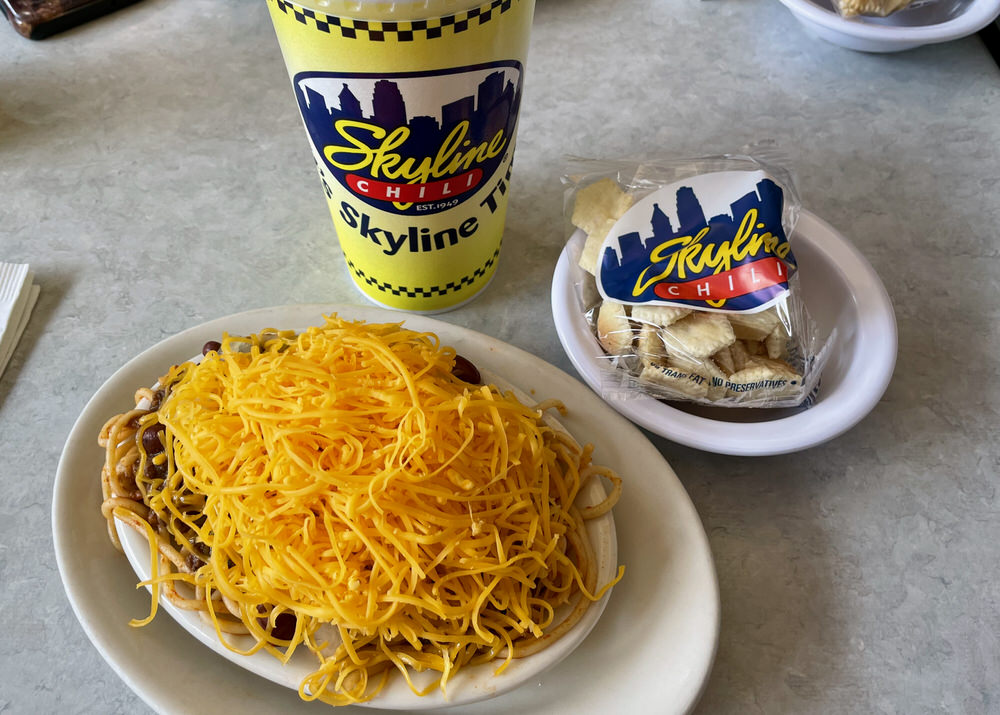 Many people have heard Cincinnati chili. But don't feel badly if you can't quite differentiate Cincinnati chili from "regular" chili. (Honestly, it's kind of like knowing the difference between Manhattan and New England clam chowder.)
Basically, Cincinnati chili is no Tex-Mex chili con carne. It's a Mediterranean spiced meat sauce very similar in flavor to the meat in Greek pastitsio.
Greek immigrants developed this unique Cincinnati fast food in the 1920s to serve over hot dogs. While you can still order Cincinnati chili dogs, it's best known for being ladled over spaghetti and topped with an exorbitant amount of shredded cheese. You order your spaghetti as either a three-way (chili, spaghetti, and cheese), a four-way with either raw onions or red beans, or a five-way (chili, spaghetti, cheese, raw onions, and red beans). 
Today, Skyline Chili is synonymous with Cincinnati chili, but this popular chili parlor is neither the first nor only chili parlor chain in town. Gold Star Chili and several other small chains keep Cincinnati well supplied with their most iconic food. In fact, Cincinnati chili is such a part of regional culture that we weren't even given a menu when we visited the 4th Street Skyline Chili.
We noticed that about 2/3 of our fellow lunchtime patrons ordered the spaghetti, while the remaining third got cheese coneys.
Here's a line-up of all the foods you should sample during your Cincinnati visit!
Shop at Findlay Market

Back in the day, Cincinnati had several public markets. Today, only one survives: Findlay Market in the Over-the-Rhine neighborhood. Stalls in the covered market – which dates back to 1852 – sell everything from fresh meat and candy to t-shirts and pottery. The buildings surrounding the market host independent food shops and restaurants.
This is no tourist trap. Locals use this market for their weekly shopping. It's the place to go to meet friends for brunch or coffee . . . or grab a pound of hamburger for dinner.
While the market's crowded hallways initially overwhelmed us, we found you simply have to get it into. We walked away with shopping bags filled with tea, candy, specialty sausage, and art work. Our favorite shops at the market included Churchill's Fine Teas, SKT Ceramics, and Neil Luken Meats.
Celebrate William Howard Taft
Findlay Market area sits less than a mile away from the birthplace and childhood home of President William Howard Taft. The 27th president of the United States, we all (erroneously) know Taft as the president who got stuck in a bathtub. While, the only Cincinnati born president, Taft joins a whole roster of Ohio-born presidents. A whopping eight former U.S. presidents hail from Ohio – the most from any state.
Interestingly, Taft always preferred law over politics. After serving a president from 1909 – 1913, he closed out his career as U.S. Supreme Court chief justice.
The National Park Service now operates Taft's childhood home as the William Howard Taft National Historic Site. You can take a ranger-led tour of the Greek revival home furnished in the Victorian style Taft knew as a child of the 1860s. If you (like most of us, let's be honest . . .) are a little hazy on the facts of Taft's life and legacy, hone up in the Taft Education Center. The center offers an introductory film and interpretative exhibits.
Drink beer
At one time, 50% of residents in Cincinnati's Over-the-Rhine neighborhood had German ancestry. That German heritage left a legacy of German style beer halls in Cincinnati. While I'll drink beer in any town, you really shouldn't go to Cincinnati and not drink beer.
You can't beat the great ambiance in Taft's Ale House. This famed Cincinnati beer hall sits in a former 19th century church just north of Washington Park.
Although much more modern, we also loved Moerlein Lager House in the Banks. This large restaurant sits on the site of the old Cincinnati Reds' stadium. A plaque on the floor near the hostess's booth commemorates where first base sat in the old ballpark. They also make a mean rack of ribs! 
Spot murals
Watch for murals as you move around Cincinnati. More than 50 murals walls around in downtown and adjacent neighborhoods. Find them all on the Cincinnati murals map.
Murals aren't uncommon in mid-sized American cities, but Cincinnati really levels up. Don't expect generic "greetings from _____" postcard scenes or gigantic wings. Since 2007, the youth arts program ArtWorks Cincinnati has worked with professional artists to transform blank walls all over greater Cincinnati. These large scale permanent murals are true pieces of art well worth seeking out. 
Day Two
Visit the Cincinnati History Center
Although this massive museum complex inside Cincinnati's beautiful art deco Union terminal mostly caters to kids and families, it topped our list of Cincinnati attractions.
Betsy served as both consultant and seamstress for the dress shop in the Cincinnati History Museum's Public Landing. I love a good street scene exhibit.  At the Cincinnati History Museum, you walk into a variety of 1860s Cincinnati shops, including the dressmaker's, a print shop, and a beer hall.
Although we didn't spend a lot of time here, we certainly enjoyed ourselves. If you want to see dinosaur skeletons, learn about space, and experience Cincinnati history through hands-on exhibits, head straight here. If you're not traveling with children, this shouldn't be your first stop, but it's worth a visit if only for the stunning lobby.
See some art
Since it was literally less than a block from our hotel, we couldn't skip the Taft Museum of Art. Our visit fell right as the house wrapped up a major rehabilitation project. We couldn't tour the house, but instead got to view 50 pieces of significant artwork gathered in a gallery setting. Typically these pieces are scattered throughout the house to reflect how the last private owners of the house, David (the president's half-brother) and Anna Sinton (yes, that Sinton) Taft would have displayed them.
I love a good art museum, but even I get dazed by gallery after gallery of art. We really enjoyed the approachable size of this small collection brimming with amazing paintings, ceramics, and furniture. (That's a Turner in the photo above.) Still, we'd have loved to see the beautiful 200-year-old house without a layer of scaffolding. Next time! 
Have afternoon tea
We had afternoon tea at the BonBonerie in the East Walnut neighborhood. However, you can stay at the Taft Museum of Art for tea. You'll have to order your tea noshes ala carte at the museum's Lindner Café since they don't normally offer a formal afternoon tea service. However, the beautiful sunny setting reminded me of English orangeries. An absolutely lovely spot to enjoy a cup of tea and/or glass of wine.
Enjoy the bridges
Several bridges span the Ohio River between Cincinnati and Covington/Newport Kentucky. Not only do these bridges link these co-dependent communities, they're important parts of Cincinnati's character.
I guarantee within 24 hours of being in Cincinnati, someone will tell you that the John A Roebling Suspension Bridge served as the prototype for another famous bridge: New York City's Brooklyn Bridge.
In addition to the beautiful Roebling Bridge, don't miss the Purple People Bridge. This purple pedestrian bridge provides a safe spot for walkers and bikers. You can also rent it out for weddings and other events. If you want to tell someone "you walked to Kentucky," walk an easy three-mile loop using these two bridges as well as the Newport Riverwalk and Ohio River Trail.
Explore the city's green spaces
Unlike say, New York City or Savannah, Cincinnati isn't known for its parks. But Cincinnati abounds with lovely green spaces. Our poor little frozen Minnesotan hearts absolutely melted when we found tulips blooming in Lytle Park. Don't forget Washington Park. Stately Symphony Hall watches over this multi-block sized park in the Over-the-Rhine neighborhood. 
What to do if you have a third day in Cincinnati
Visit Fiona at the zoo
As the second oldest zoo in the United States, Cincinnati Zoo and Botanical Garden has always been a destination zoo. More recently, it regained the national spotlight when the zoo welcomed Fiona the Hippo. The first Nile River hippopotamus born at the zoo in 75 years she became an immediate social media sensation.
While we didn't have time to visit the zoo located in the Avondale neighborhood about four miles north of downtown during our quick visit, we do have another very good reason to return to Cincinnati. Fiona will become a big sister in August 2022! Baby hippos? Yes, please!
Explore the Mount Adams neighborhood
If we'd had another day in Cincinnati, I definitely would have explored the Mount Adams neighborhood. I didn't know anything about this area before our visit, but our hotel overlooked it and I found it so intriguing. Located just east of downtown, this steep hill neighborhood is known for historic buildings. At the top of Mount Adams, sits Eden Park. There you'll find the Krohn Conservatory and Cincinnati Art Museum.
Hitch a ride on a riverboat queen . . . for a dinner cruise
The Ohio River has shaped Cincinnati's economy and culture for centuries. What better way to close out a visit to the Queen City than to head out on a riverboat queen! Several riverboat cruise companies operate in Kentucky on the river's south shore. The closest, BB Riverboats in Newport, KY,  offers a variety of cruises including lunch, sightseeing, and dinner cruises. We seriously contemplated a dinner cruise, but the weather didn't cooperate for us. 
Where To Stay in Cincinnati
100% by happenstance, we ended up in the Lytle Park area of Cincinnati. Happily, this is the  perfect spot for two history buffs to stay.
In the 1970s, locals fought to save this neighborhood from being demolished in a major freeway project. I'm so glad they succeeded!
In this little island amid a tangle of highways, you'll find federal and Victorian buildings, including the University Club, Taft Museum of Art, and the Phelps Building, along with beautiful Lytle Park. The neighborhood is a 10-minute walk from the Banks and a five-minute walk to closest Cincinnati Bell Connector station.
We stayed in the Residence Inn, located in the Phelps building. Granted, our stay was especially sweet because we were upgraded from our two-queen room to a two-bedroom suite with a full kitchen, living room, and two ensuite bathrooms. Although we didn't take advantage of all the hotel's amenities (it was a little chilly to partake at the rooftop bar), we sure appreciated the complimentary hot breakfast and the option to dine on-site.
In downtown Cincinnati, you'll find a bunch of chain hotels and some boutique hotels. As you move out of the downtown into Over-the-Rhine and other neighborhoods, you'll find more B&Bs and vacation rental options.
How to get around in Cincinnati
Like most Midwestern cities, Cincinnati's public transportation options are minimal. Rather than figure out the city's bus system, we used ride-share apps to cover longer distances. We flew into Cincinnati/Northern Kentucky International Airport in Hebron, KY, about a 20-minute drive southwest of Cincinnati's downtown. It wasn't a problem to grab Lyft both too and from the airport, even with a departing flight at the butt crack of dawn.
How to ride the Cincinnati Bell Connector
If you're looking to get between Cincinnati's downtown and Over-the-Rhine neighborhood, you can't do much better than the Cincinnati Bell Connector.
This streetcar runs 18 hours a day (reduced hours on Sundays) and swings by each of the 18 stops on its 3.6 mile loop approximately every 20 minutes. Oh, and it's completely free to ride. You just get on!
One of Over-the-Rhine's best-known residents, Emilio Estevez, announces upcoming stops to riders. We loved the user-friendly Cincinnati Bell Connector and just wished it connected more of the city.
Have you ever been to Cincinnati before? What's your favorite thing to do in the Queen City?
A state of wide open spaces, there's no shortage of New Mexico places to explore on public lands. Here's a guide to the very best sites from Carlsbad Caverns to Lincoln National Forest and beyond.
read more