Where to Find Smokey Bear in New Mexico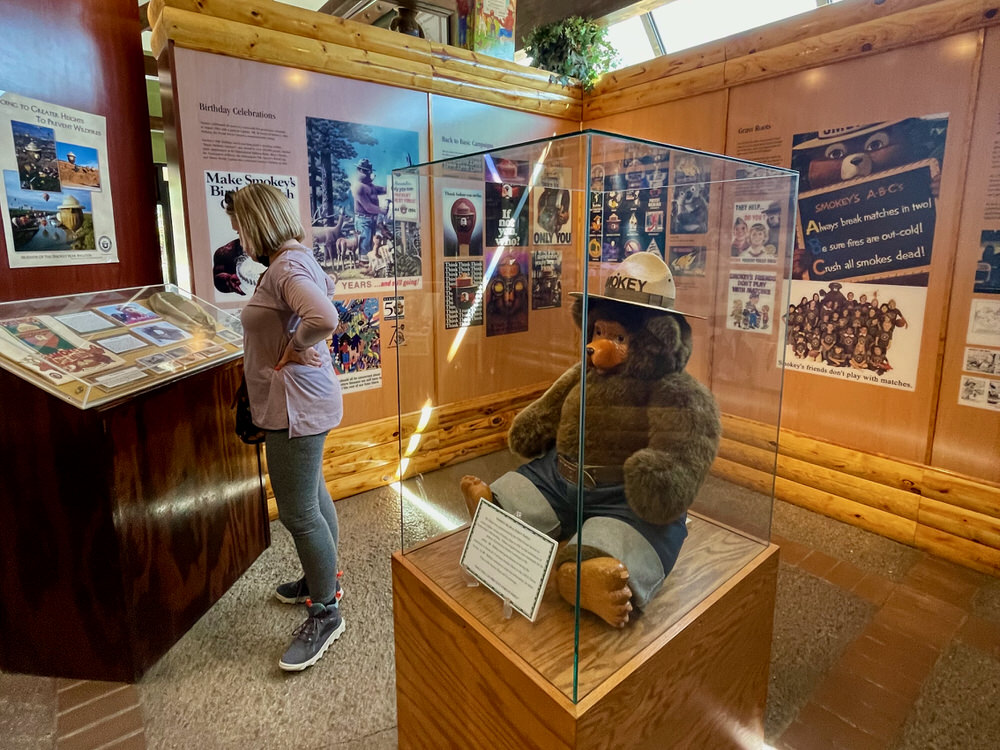 Smokey Bear Places in New Mexico
As soon as I started officially planning a trip to New Mexico, I hoped to do something related to the state's most famous native son . . . Smokey Bear.
I knew America's most beloved black bear had been discovered during a wildfire in New Mexico in 1950. But I found it difficult to track down places that celebrated this wildfire preventing bear.
Sure, the ranger district where Smokey was discovered in the Lincoln National Forest is now called the Smokey Bear District. But I wasn't sure if we'd find anything truly Smokey Bear related to do in this region of south-central New Mexico. At the very least, I figured we could stop at a U.S. Forest Service ranger station and maybe buy some t-shirts.
Happily, on the very last day of our New Mexico travels, I discovered the Smokey Bear Historical Park. Located in Capitan, New Mexico surrounded by Lincoln National Forest, this small museum and garden proved the perfect quick road trip stop to celebrate Smokey.
Love Smokey? Pin these Smokey inspired travel stops for your New Mexico road trip
Smokey Bear = a lifelong love affair

Smokey Bear's a pretty big deal in my family. As the child of two U.S. Forest Service employees, I read the The True Story of Smokey Bear comic book innumerable times. In my early twenties, I spent three summers working the local Forest Service office's front desk. Absolutely my favorite summer job, I spent my days helping Boundary Waters visitors, handing out Smokey bags to kids, and even once dressing up as Smokey when the kindergarten class visited.
Today, I own a business in the middle of a fire-dependent ecosystem. In fact, just last summer, the entire Boundary Waters Canoe Area Wilderness and Superior National Forest were closed briefly due to extreme fire danger. Needless to say, Smokey's message that "only you can prevent wildfires," hits very close to home.
As the 1970s' slogan goes, "I think I love you, Smokey Bear!"  
Who was/is Smokey Bear?
Most people know that Smokey Bear was a real black bear used to spread fire prevention messaging. However, the concept predates the actual bear.
In the early 1940s, wanting to encourage Americans to prevent costly wildfires that would divert resources from fighting World War II, the U.S. Forest Service tested several ad campaigns. A campaign using licensed Disney characters from Bambi proved especially effective. Inspired by America's seemingly infinite love of animated forest animals, the Forest Service decided to create their own cartoon fire preventing bear. In 1944, they premiered Smokey Bear.
Fast forward six years . . . . a Taos Pueblo Snowball crew fighting the Capitan Gap Fire discovered a badly burned three-month old bear cub. The crew bandaged up the little bear and nicknamed him Hotfoot Teddy.
Ranger Ray Bell, along with his wife Ruth and their two children briefly fostered the cub. As news of the cub's rescue spread, the country hailed the cub as a "real life Smokey." Soon, he was on his way to the National Zoo in Washington D.C. to serve as the living symbol of fire prevention.
He "worked" as the U.S. Forest Service's fire prevention mascot until 1975. By then he'd reached the ripe old age of 70 in bear years and faced mandatory retirement. He died the next year and was flown home to be buried at Smokey Bear Historical Park, not far from his birthplace.
What is the Smokey Bear Historical Park?

Smokey Bear Historical Park is a small museum with an attached garden in the heart of downtown Capitan, New Mexico. This small south-central New Mexico town of approximately 1500 sits in a gap in the Capitan Mountain range. Several businesses with Smokey Bear inspired names line the town's main street. The park opened in its current configurations in 1979, although Capitan has attracted Smokey Bear tourists like me since the 1950s.
You drive through a portion of Smokey Bear Ranger District of the Lincoln National Forest to reach Capitan.  However, this park has no connection with the U.S. Forest Service. Instead, the Energy, Minerals, and Natural Resources Department of the New Mexico State Forestry runs the park and garden.
What to do and see at the Smokey Bear Historical Park
Most notably, you can visit Smokey's grave in the garden behind the museum. The grave has a view of the mountain where firefighters discovered the little burned cub. Nearby, you can also visit a memorial for New Mexico's fallen wildland firefighters.
Some write-ups of the park critique the garden's small size. Although it's only the size of a city lot, I found it very nicely done with many informational signs about the park's history, Smokey Bear himself, and an overview of the area's natural history.
Small signs identify each plant in the gardens. Although we visited in late winter, I imagine it would be an especially lovely place to visit in the summer. It felt very appropriate to find Smokey nestled among the native plants he knew as a cub.
Interestingly, the original plan for Smokey's grave was to bury him on the mountain where he was found. But considering the place this bear held in so many Americans' hearts, someone had the foresight to realize people would want to easily access his grave and pay their respects. I'm thankful that the residents of Capitan graciously share their town and allow us to visit a "very good bear's" grave.
The museum at Smokey Bear Historical Park
With an admission rate of $2 per person, I'll admit, I didn't have high expectations for the Smokey Bear Historical Park Museum. However, sometimes good things really do come in small packages.
The museum devotes their front room to Smokey Bear's personal history. Here you learn how Smokey went from a public service announcement campaign to a living, breathing American icon. One of my favorite parts was a video interview with Ranger Ray Bell talking about his family fostering little Hotfoot Teddy.
As you wind through the rest of the museum, the exhibits turn to overviews of America's history with wildfire and wildfire ecology.
In the center of the museum, a ten-minute film about wildfire runs every 15 minutes. Our timing was off – we were either in the middle of it, or there was a wait for it to start – so we ended up skipping. I probably would have made time for it if it had been specifically about Smokey Bear.
Is it worth visiting Smokey Bear Historical Park?
If you're a die-hard Smokey fan, this makes a perfect New Mexico stop. But if you only have a passive interest, don't go out of your way to visit. However, if you happen to be passing through the area, definitely swing by. It only takes about 30 – 45 minutes to do the museum and park justice, so it won't cut into your travel day much.
And I do recommend passing through this portion of the Lincoln National Forest. Along from the Cloudcroft area in the Sacramento Mountains, this ranked as one of the prettiest section of New Mexico we drove through. I loved watching the landscape transform from flat ranch lands into beautiful hillsides covered with pinyon trees as we drove from White Sands National Park to Capitan. We also quickly realized how difficult the area's steep terrain makes fighting wildfires. Yikes!
Personally, I'm so glad we took the time to visit the Smokey Bear Historical Park. I'd been imagining this corner of the world since the first time I read The True Story of Smokey Bear so finally seeing it in person was a special treat. 
This detour also brought us into a less developed part of New Mexico. After several visits to very busy National Park Service sites, it felt lovely to ramble around the quiet mountain town of Capitan. While a steady flow of visitors meandered through during our visit, the pace was decidedly less frenetic than what we'd experienced earlier in Carlsbad, White Sands, and Bandelier.
If you visit the Smokey Bear Historical Park
Located at 118 W. Smokey Bear Blvd, right on the U.S. Highway 380, the main way into town, there's a $2 (cash only) admission fee to the museum and garden. Kids ages 6-12 are $1 and kids under six get in for free. 
The museum operates Tuesday – Sunday from 9 a.m. – 4:30 p.m. in the winter and 9 a.m. – 5 p.m. in the summer. In addition to being closed on Mondays, the park is closed for Thanksgiving, Christmas, and New Year's Day.
Other Smokey things in Capitan, New Mexico
Smokey Bear Restaurant
We grabbed lunch at the Smokey Bear Restaurant right next door to the Historical Park. This small diner is definitely a local hangout. With a standard diner menu, the food's nothing out of the ordinary, but we enjoyed the friendly service and impressive Smokey Bear inspired décor. They even had Smokey Bear print curtains!
They're known for their homemade pies, but for some reason that I now can't remember, we skipped pie and headed straight for the museum. What were we thinking? Never skip an opportunity to eat homemade pie!
Smokey Bear Museum Gift Shop
I went in thinking this one-room log cabin was the gift shop for the historical park. But it's actually a separate, volunteer-run spot that's been going since the late 1950s. Part gift shop, part museum, this small space is absolutely stuffed Smokey Bear memorabilia including posters, figurines, and scrapbooks.
Maybe we caught them at a low-inventory moment, but if you're looking for a special Smokey Bear item, you may do better at a National Forest ranger station, National Park Site, or any place that stocks Smokey products from the Landmark Project.
Other Capitan, New Mexico Smokey Bear inspired spots
You'll also find Mama Bear R.V. Park, Smokey's Country Market, and the Smokey Bear Motel. Of course, the section of U.S. 380 that serves as Capitan's main street is known as Smokey Bear Boulevard.
What would Smokey say about the current wildfires in New Mexico and the rest of the United States?
Smokey Bear is a very old bear now, but his work is never done. With climate change, each fire season starts earlier and earlier. Although our visit fell in late March, we visited just a couple weeks before the McBride Fire started near Capitan. This fire went on to burn more than 6000 acres, claiming more than 200 homes and two lives. By the end of April, many of the New Mexico sites we'd visited were threatened by wildfires.
Smokey's original messaging focused on our personal responsibility to extinguish matches (and, let's be honest, cigarettes . . . it was the 1950s . . . ) and put out campfires cold to the touch. While these are still best fire practices, after several years of significant drought in the American West caused by climate change, Smokey's message that "only you can prevent forest fires" hits a little harder these days.
My heart goes out to all the firefighters and support personnel working increasingly exhausting fire seasons. It's time we all heed Smokey's wise words and do our bit by leading eco-friendly lifestyles.
It's Smokey Bear, not Smokey the Bear
FYI: You'll often hear people erroneously referred to "Smokey the Bear." But Smokey's name is just Smokey Bear; no "the" before "bear."
The confusion stems from the 1952 song Smokey the Bear written by Steve Nelson and Jack Rollins and covered by Gene Autry. The songwriters added "the" to Smokey's name so the lyric syllables matched the rhythm.  
When you talk about Smokey, save yourself that syllable and just call him Smokey Bear.
Are you familiar with Smokey Bear? Would you go to the Smokey Bear Historical Park?
Stunning Antelope Island State Park, located less than an hour outside of Salt Lake City, makes a perfect day trip or camping destination.
read more