Winter Hiking On Minnesota's North Shore: Six Excellent Trails
Discover Winter Hiking in Northern Minnesota
When you think of winter in northern Minnesota, you probably think of skiing, snowshoeing, and even snowmobiling. But did you know you can still go hiking in northern Minnesota during winter?
Although northern Minnesota is known for its network of cross-country ski trails and numerous ski hills, you'll find countless ungroomed hiking trails just waiting to be explore on foot. (Please, do not hike on any trails groomed for skiing.) Whether you head to any of the North Shore Minnesota state parks, a section of the Superior Hiking Trail, or a favorite waterfall this winter, you'll soon see that the seasonality of hiking in northern Minnesota is simply a state of mind.
Read on for my very favorite trails for winter hiking along Minnesota's North Shore of Lake Superior.
This post may contain affiliate links. When you purchase something through these links, I receive a small commission that helps me create this blog's content. There's no extra cost to you.
Pin now so you can check out all of these hikes on your trip up the North Shore this winter
Why hike on Minnesota's North Shore in winter?
Maybe you think tromping through snow in subzero temperatures sounds a little crazy. But I urge you not to wait for warm weather to explore northern Minnesota on foot. After all, you're going to be waiting a while – winter up here can last six months!
You can only cozy up in front of the fire watching the 7' of average snowfall pile up for so long. Luckily, winter in northern Minnesota is gorgeous and many of the hikes in this post simply aren't as spectacular when the ice and snow have melted.
Contrary to popular belief, you don't always need specialized outdoor equipment like skis or snowshoes to explore many favorite Minnesota trails in winter. The hiking options in this post typically just require winter boots and a parka.
A day on the trails is the best way I know to take advantage of winter's fleeting daylight. So, pull on those boots and get hiking this winter. Your mental health will thank you!
(Don't forget to warm up at a favorite North Shore coffee shop after your hike!)
What you need for North Shore Winter Hiking
Winter on the North Shore is no joke. It's imperative that you dress in a way that will allow you to endure subzero temps, gusty winds, and all manners of precipitation. No one plans to sprain an ankle or get lost. Proper clothing ensures an unfortunate situation doesn't turn dire.
Your winter hiking clothing essentials
Winter jacket – I love my DSG Avid Ice Fishing Jacket. Absolutely loaded with pockets, it's also a flotation jacket which makes it especially great in early winter.
Snow pants – I prefer these lightweight, fleece lined pants over the heavy bibs your mom used to send you out sledding in.
Base layer – I like Minus 33's midweight items
Wool sweater – Natural fibers are your friend in winter and a good wool sweater is like an old winter friend. I'm still wearing an Old Navy wool turtleneck sweater I got at the turn of the millenia!
Wool socks – If you have nice warm winter boots, you just need one layer of good wool socks.
Winter boots – Forget hiking boots, to go winter hiking in northern Minnesota, you need bonafide winter boots. I love my Schnee's Pac Boots. They might be a little cumbersome, but they're toasty warm and have great traction. My mom swears by her Icebugs, carbide-studded boots great for icy conditions.
Thick stocking cap – Opt for function over fashion
Mittens or winter gloves – I personally find mittens way warmer than gloves.
Depending on conditions you might also need:
Ice cleats – especially helpful in late winter when the more intense sun can make things icy
Down vest – On very cold days throw a down vest over your sweater for extra warmth
Balaclava – In windy conditions, a thin balaclava under your hat can make all the difference!
The biggest mistake people make when dressing for outdoor winter activities
You've probably heard that you should "dress like an onion" in winter. While a lot of clothing layers is definitely the key to staying nice and toasty, only your base layer should be skintight. Often I see people worried about getting cold pull on layer after layer of clothing. Sometimes it gets to the point that they can't raise their arms over their heads and their feet just squeeze inside their boots.  This might feel like you're donning an impenetrable armor against cold air, but if the cold air can't get in, the warm air also can't get out.  
To really stay warm outside, use your clothing to turn yourself into a human quilt. Make sure your clothing is loose enough to create warm pockets of air around your body, especially your feet. There's a reason we all wear ridiculously large hats and boots – that trapped warm air keeps the chill off literally from head to toe.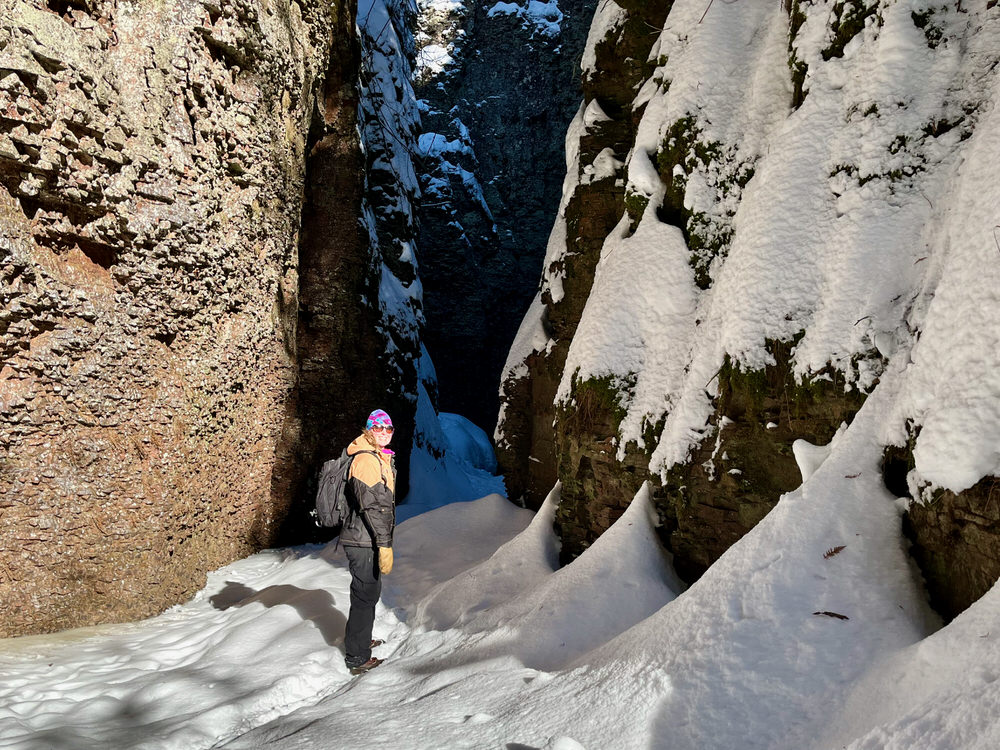 Winter Hiking Day Pack Essentials
If you've ever gone down the rabbit hole of watching missing persons documentaries, you may have noticed that a lot of day hikers perish on seemingly innocuous trails. Often the difference between life and death is just a day pack filled with a couple lightweight items. Even though all hikes in this post are quite short, you still need to be prepared for an unexpected catastrophe, especially if you're hiking alone.
A pair of socks
Spare base layer
Packable vest (if not already wearing one)
Two ways to start a fire: matches, lighter, and/or flint
Twice as much water as you think you'll drink
At least 500 calories worth of snacks: CLIF bars, trail mix, nuts, tuna packets, etc.
Headlamp and/or flashlight
Navigation aid that works without cell service: paper map, GPS, and or Gaia app
To snowshoe or not to snowshoe
Many people consider snowshoeing a separate activity from hiking, but to me, they're one and the same. Snowshoes are simply a tool sometimes employed on winter hikes. Unless you're hiking through several inches of fresh snow or breaking a trail across a lake, I usually don't find snowshoes helpful. They're cumbersome and slow, but when you need them, indispensable.
I hiked all the trails described in this post without snowshoes. Since these trails are popular and well traveled, the hikers before you will have probably created a nice compacted trail to cruise down. But even if it hasn't snowed recently, it never hurts to throw snowshoes in your car just in case trail conditions are squirrelier than expected.
The Six Best North Shore Trails For Winter Hiking
Ogantz Trail at Jay Cooke State Park
Technically not right on Minnesota's North Shore, most travelers pass Jay Cooke State Park on their way up to Lake Superior. The Ogantz Trail is the perfect spot to stretch your legs after a couple hours in the car. Pick up the trail in the Oldenburg Point Picnic Area, just a mile up MN Highway 210 from the park's infamous swinging bridge.
This 1.8 mile loop trail shares its name with Jay Cooke's childhood friend Chief Ogontz of the Wyandot Tribe in Ohio. The trail starts with two overlooks of the dramatic St. Louis River gorge. If you look carefully, you'll spy the Swinging Bridge up the river. At the second overlook, several informational plaques discuss the development of Jay Cooke State Park. In winter, you'll probably need to remove snow if you want to read them!
The trail meanders downhill through the hardwood forest. After briefly leveling off, the trail then loops around to climb back uphill to the parking area. Although you may see some skiers on the trail, Ogantz Trail is designated for snowshoers and hikers. The trail isn't difficult, but the final hill climb will certainly get your heart pumping. If you love a trail that combines history, vistas, and peaceful woodland wanders, you'll love the Ogantz Trail.
About the Ogantz Trail
Access point: Jay Cooke State Park on Minnesota Highway 210 between the towns of Carlton and Fond Du Lac
Parking: Oldenburg Point Picnic Area
Trail style: Loop
Length: 1.8 miles
Difficulty: Easy
Notes: You need a Minnesota State Park pass to park at Oldenburg Point.
Shovel Point at Tettegouche State Park
Shockingly, I didn't do this well-known clifftop trail until last winter. This very easy trail located right behind the Tettegouche State Park visitor center and rest area frankly has more absolutely jaw-dropping views than a trail of its short length deserves. Winter makes the trail particularly spectacular. Enjoy gazing out over  ice-covered Lake Superior bays and cliffs.
An easy .6 mile hike one way takes you to the end of Shovel Point, a spit of rhyolite rock that sticks out .2 miles into Lake Superior. Along the way, you'll spy Palisade Head, access a beach, and peer up and down Lake Superior's North Shore. After you've enjoyed exploring the clifftop, be sure to hike to the mouth of Baptism River so you can get a view of Shovel Point itself.
Because of its short, accessible nature, this trail is always pretty packed down and easy to walk on. However, that compacted snow can turn to ice on warm, sunny winter days. You might prefer wearing ice cleats to navigate slick spots on the hills and staircases. And remember, always exercise caution around cliff edges. Shovel Point is 656' at its highest point and that's a long way down!
About the Shovel Point Trail
Access point: Tettegouche State Park, located on the right hand side of U.S. Highway 61, five miles north of Silver Bay
Parking: Access from Tettegouche State Park Visitor Center
Trail style: Out and back
Length: 1.2 miles round trip
Difficulty: Easy
Notes: You don't need a state park permit if you park at the visitor center, but consider buying on anyway to support Minnesota State Parks.
Moss Lake Trail on the Gunflint Trail
No one ever seems to talk about the Moss Lake Trail in the mid-Trail area of the Gunflint Trail and I'm here to change that. Developed in the mid 2010s without fanfare, this nice woodland trail runs the entire length of Moss Lake's south shore. The trail features one spectacular north-facing overlook of Moss Lake and the Boundary Waters beyond, as well as several "peekaboo" vistas through the forest.
If you have a hiking partner and two cars, you can make a nice four-mile through-hike starting either at the Caribou Rock Trail or Moss Lake portage and ending on the South Lake Trail. This route lends itself best to an early winter hike. Since the trail receives very little use, it's a safe assumption that you'll be breaking trail and as the winter wears on, the snow (obviously) just gets deeper and deeper.
However, if you opt to tackle the Moss Lake Trail in deep winter, you can turn this moderate hike into a nice six-mile loop. Just hike the trail westbound until you intersect with Moss/Birch Lake portage, then turn around and head east straight across the frozen lake.  Return to your car via the Moss Lake portage to the Hungry Jack Lake Road. Just remember that you'll definitely need snowshoes to make the trek across Moss Lake.
About the Moss Lake Trail:
Access point: Located down the Hungry Jack Lake Road, Cook County Highway 21, approximately 32 miles up the Gunflint Trail outside of Grand Marais 
Parking: Access from either the Moss Lake portage parking lot or the Caribou Rock Trail.
Trail style: A thru-hike with two vehicles, out and back, or a loop in winter
Length: 4 – 6 miles depending on which route you choose
Difficulty: Moderate
Notes: This trail isn't well known and many Gunflint Trail hiking trail publications don't mention it. If you're a Gaia app user, it does show up on that map.
Kadunce River Hike
I think the Kadunce River Hike is the most magical winter hike on Minnesota's North Shore, but it can be intimidating if you've never done it before. Because you're actually hiking up a frozen river, the margin of error is a little higher than on your typical tromp through the woods.
For this hike, you'll follow the Kadunce River about .9 miles north. You'll access the river right at the start of the Superior Hiking Trail spur trail that runs up the east side of the river. From there, scramble up three waterfalls, hike through a slot canyon, and tour the canyon's cliffs and alcoves. Yes, it's just as enchanting as it sounds.
Depending on ice conditions, you may be able to the hike the river all the way to where it connects with Superior Hiking Trail spur trail. When I did the trail in January, the ice on the last .10 mile of the river looked pretty sketchy, so we scrambled up a steep cliff to rejoin the spur trail and used the spur trail to return to our cars. 
If you don't know how to judge ice conditions, simply stick to the established path. This is a pretty popular hike, so if you don't see any tracks, the ice probably isn't safe. This isn't a trail to go rogue on. Wet feet in 0 degrees are no joke. Make sure you have dry socks and shoes waiting in your car, just in case.
About the Kadunce River Hike:
Access point: Access the river via the Superior Hiking Trail spur trail on the north side of Highway 61 on the east side of Colvill, about 10 miles north of Grand Marais. You'll see a user-developed path down to the river through the snow.
Parking: Park at the Kadunce Wayside Rest on the southside of U.S. Highway 61. (The highway signs spell river as "Kodonce.")
Trail style: Loop: go north on the river, then return to your car via the Superior Hiking Trail spur trail.
Length: 1.8 miles round trip
Difficulty: Moderate
Notes: You can only hike up the river in deep winter. By early March, the lengthening days start eroding the river ice. It's always best to consult with a local before heading out to make sure conditions are safe.
Devil's Kettle at Judge C. R. Magney State Park
If you want a pleasant, short walk through the woods, hit up the Devil's Kettle Trail in Judge C.R. Magney State Park, about 14 miles north of Grand Marais right off of Highway 61. Because Devil's Kettle – the waterfall that partially disappears into a natural stone cauldron – is a well-known North Shore attraction, there's almost always good tread on this trail. While the actual waterfall phenomenon that is Devil's Kettle is often too iced over in winter for it to be particularly rewarding destination, I do recommend hiking as far as the waterfall just below Devil's Kettle.
You can walk right up to this small, but churning waterfall. Just exercise caution and common sense near the water's edge. I always find something so therapeutic about the sound of running water in the dead of winter when everything's been still and quiet for so long. Just be warned, you do need to descend approximately 14 flights of steps to reach this waterfall! 
If you're hiking this trail in late winter, the entire path will likely be very icy. I definitely recommend ice cleats, especially for the return trip which is almost completely downhill. 
About the Devil's Kettle Hike:
Access point: Across the Brule River bridge accessed from the main parking area at Judge C.R. Magney State Park, 14 miles north of Grand Marais 
Parking: Park at Judge C.R. Magney State Park.
Trail style: Out and back
Length: 2 miles round trip
Difficulty: Easy, but be extra caution on the trail's infamous staircase with nearly 200 (snow-covered) steps.
Notes: You need a Minnesota state park pass to access the Devil's Kettle trail.
High Falls at Grand Portage State Park
High Falls at Grand Portage State Park deserves a visit in all seasons. Although the tallest waterfall in Minnesota is truly at its finest during the winter melt in late April or early May, it's worth visiting in the frozen months to see the 120' drop sporting an ice cap. A quick .6 mile hike from the visitor center gets you to three observation platforms. The first platform gives you a bird's eye view of the falls. Be sure to hike down to the lower ones to get the quintessential shot of the waterfall straight on.
In warm weather months, the trail to High Falls is ADA accessible. Although crews do their best in the winter to keep the paved path clear, I'd be hesitant to take a wheelchair up the path; it can be pretty icy in spots. When we went in mid-March, the path was clear enough to hike just in boots as long as you skipped around a little bit to avoid icy patches. Still, considering the easy trail and short distance, this is really more of a leg stretcher than an actual hike.
If you decide to turn it into a real hike, head up to Middle Falls another 1.5 miles up the river. You'll definitely need snowshoes if you decide to continue on the trail past High Falls. Whatever course you decide on, don't forget to wave to Canada on the other side of the Pigeon River!
About the High Falls Hike:
Access point: Pick up the trail behind the Grand Portage State Park visitor center
Parking: Amble parking in front of the visitor center
Trail style: Out and back
Length: 1.2 miles round trip, with the option to go farther if you decide to continue up the path towards Middle Falls
Difficulty: Easy, but watch for ice
Notes: The state park visitor center doubles as a wayside rest so you don't need a state park pass. If it's open, plan to spend a little time with the visitor center exhibits.
Do you like hiking in the winter? Have you ever explored Minnesota's North Shore in winter?
If you enjoyed this post about winter hiking in northern MN, be sure to check out my other hiking posts!
In Boston's North End, you'll find excellent Italian bakeries and a fierce cannoli rivalry between Mike's and Modern Pastry. But who's the best? I took matters into my own hands. Read on for the ultimate compare and contrast of Mike's and Modern's cannoli offerings.
read more